Tenth AGDA National Biennial Awards winners announced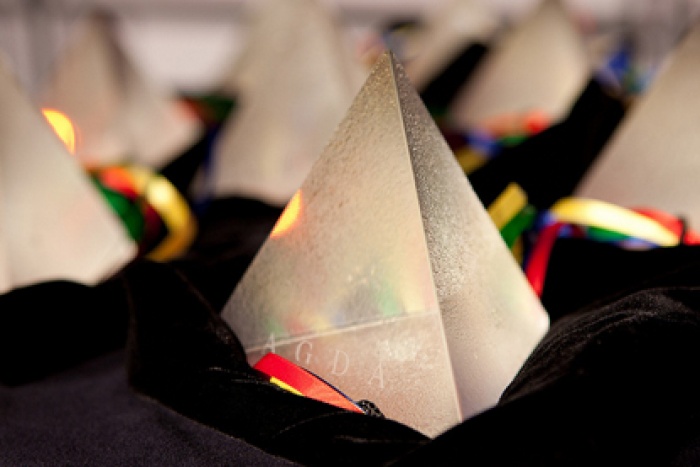 18.10.2010 News
Brisbane (Australia)
- The cream of the crop of the Australian design community came together on 16 October 2010 at the Brisbane Convention Centre for the 's presentation of the 10th AGDA National Biennial Awards.
Some 2000 plus entries were received for the Awards across 18 categories, including Corporate Identity, Publications, Digital Media, Packaging, Environmental Design and Design Effectiveness. In total there were 416 winners, comprising of 241 Finalists, 167 Distinctions and 8 entries achieving AGDA's highest accolade, the Pinnacle.
6 Student and 11 Judges Choice Awards were also presented, and the judges were unanimous in their assessment of the high standard of exhibited work.
The evening was opened by AGDA Premium Partners, Artisan Recruitment and Autodesk both declaring their enthusiasm in being involved and providing greater insights into their capabilities in working with AGDA members and its community.
AGDA's 5 'founding fathers' - Mimmo Cozzolino, Richard Henderson, Stephen Huxley, Trevor Flett and Wayne Rankin - were nominated by AGDA for the Icograda Achievement Award in recognition of their vision and contribution to the formation of AGDA in 1990.
Gary Wilson was there to introduce the latest inductees to the AGDA Spicers Paperpoint Hall of Fame, Max Robinson (1934 -) and Harry Williamson (1939 -) with as always, a highly charged and entertaining speech.
Representatives of other AGDA Partners and Sponsors were also on stage to present category awards - Australian Paper, Dalton, Digital Ink, Finsbury Green, Finn Roache Lawyers, K.W. Doggett Fine Paper, Left Right & Centre, Paperpoint, Raleigh Paper, Spicers Paper, TafeSA and The Letter D.
View the night's fun filled proceedings on
Flickr
.
Photographs by SeeSaw Photography, Brisbane, Queensland.
See the full list of winners on the
AGDA website
.
---
For more information, please contact:
Rita Siow
AGDA Awards Manager
T: 08 8204 0949
M: 0439 887 399
E:
gm@agda.com.au
Susan Walker
AGDA Communications Assistant
M: 0433 068 360
E:
communications@agda.com.au
About the AGDA
The Australian Graphic Design Association (AGDA) is the national organisation for professional graphic designers. It was founded in 1988 to facilitate the advancement of the graphic design profession in Australia. Its goal is the establishment of fair and productive working relationships between graphic designers and their clients.
www.agda.com.au