Five AGDA founders honoured with Icograda Achievement Award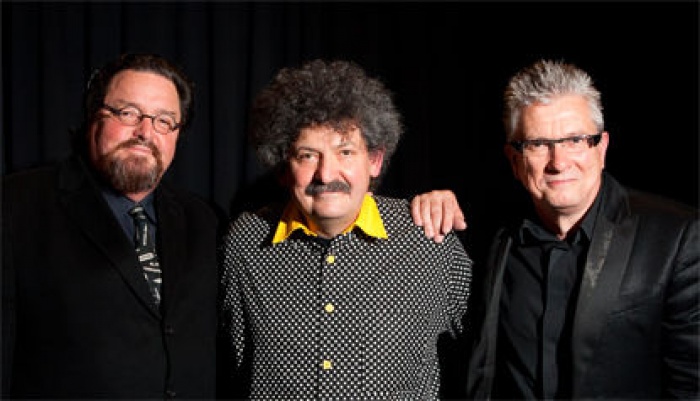 17.10.2010 News
Brisbane (Australia)
- The five founders of the Australian Graphic Design Association were honoured as a team with an Icograda Achievement Award at the 10 AGDA National Biennial Awards on 16 October. The awards were closing gala of
Optimism: Icograda Design Week Brisbane
.
The Australian Graphic Design Association (AGDA) was founded in June 1988 by a small, dedicated group of Melbourne-based designers. Fifty designers from across Australia marched into history when they joined together on stage at the Mildura Conference to symbolise their solidarity and commitment to its formation. In 1990, AGDA was incorporated and its first national annual general meeting was held.
Created in 2001, the Icograda Achievement Award honours an outstanding career. The Award may be presented to an individual or a team in recognition of outstanding and consistent achievement in the practice, education or promotion of communication design.
Above: Russell Kennedy introducing the Icograda Achievement Award during the AGDA National Biennial Awards dinner. Photo: Seesaw Photography
Icograda President Russell Kennedy introduced the honours, noting that AGDA has set an example for many members of the Icograda network, through its stance on free-pitching, its support to members on issues such as intellectual property and its continued advocacy of the value of design. Trevor Flett, Mimmo Cozzolino and Richard Henderson were on hand to receive the award on behalf of the group.
About the recipients
Wayne Rankin served as National President for AGDA's first formative years and has been a practising Designer for some 30 years. Wayne has been operating the Rankin since 2002. A vanguard of the design digital technology since the early 80's, Wayne's current passion combines traditional printmaking monotypes with digital printing. Three years ago he started a climate action group in Warrandyte and now runs seminars and expos for the community on sustainability.

Mimmo Cozzolino
is one of Australia's most-loved graphic designers and co-author of Symbols of Australia. Mimmo's main interest now is photography. In 2003 he won the Leica/CCP Documentary Photography Award and held an exhibition titled "Flush": plastic bottles found in the Yarra, scanned at high resolution and printed at a large size. In 2005 he exhibited "Sub-Urban Shadow-Plays", a series of intimate portraits of friends. He reflects that as a designer, he used to look at products at the beginning of their cycle. As an artist, he now looks at products at the end of their cycle.
As co-founder of Flett Henderson & Arnold Design, and until recently as Chairman of FutureBrand,
Trevor Flett
has been responsible for the design and creation of many significant Australian Branding Icons, FMCG Programs, Not for Profits and Multi-National Organisation. After 35 years, Trevor now practices his creativity between his commercial art in Brand|Reputation|Architecture and his fine art painting, with five solo painting and drawing exhibitions under his belt and regular involvement in 10 group shows to produce artworks and exhibit their works of the Australian Landscape.
Stephen Huxley
's background as a designer and creative director ranges from print and television commercials through to exhibition design and motion graphics. He has worked in advertising, graphic and exhibition design and illustration in the United Kingdom and Australia. He writes regularly on design and media issues. Stephen was instrumental in leading the re-establishment of Swinburne School of Film and Television, serving as Associate Professor. He is the Director of Swinburne School of Film and Television and Head of Academic Group, Digital Media Design (formerly Multimedia Design) and has been acknowledged with innumerable awards.
Richard Henderson
has creatively driven some of Australia's most significant brand identity projects spanning over 20 years. In 2003, Richard founded R-Co Brand Identity, producing award-winning work for MCG, Tennis Australia, World Cycling Championships, Melbourne Convention Exhibition Centre, Unlimited 2010: Designing for the Asia Pacific, Yarra Trams and Australian Super. He was also the Brand Identity Director for the Sydney 2000 Olympic Games and the Visual Identity Consultant for the Melbourne 2006 Commonwealth Games. Richard continues to devote his life to the graphic design profession globally.
---
For more information:
Fareed Ramezani
Membership and Communications Manager
T: +1 514 448 4949 x 222
F: +1 514 448 4948
E:
framezani@icograda.org
Icograda. Leading Creatively
Icograda is the world body for professional communication design. Founded in 1963, it is a voluntary assembly of organisations concerned with graphic design, visual communication, design management, promotion, education, research and journalism. Icograda promotes communication designers' vital role in society and commerce and unifies the voices of graphic designers and visual communicators worldwide. Today, Icograda repesents almost 200 organisations in 67 countries and regions around the globe.