The Icograda ADAA Mentorship Program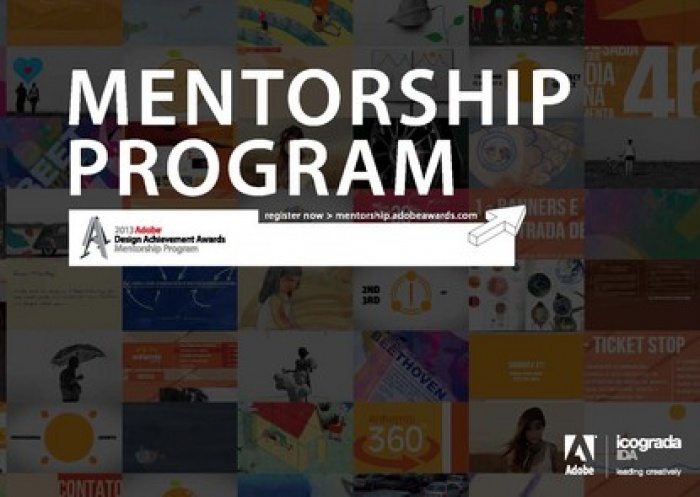 15.12.2013 News
As Icograda celebrates 50 years of leading creatively, the Secretariat is seeking Mentors for the 2014 ADAA Mentorship program.

Icograda's commitment to design education and design as a medium for social change is embodied in the initiative. The aim is to pair design professionals at the forefront of the industry with the talented, up-and-coming designers of tomorrow - fostering a mutually beneficial relationship between Mentor and Mentee and facilitating a global exchange of ideas.

This is a unique opportunity for the Icograda network to create new links, foster growth for emerging designers and engage limitless potential through creative leadership.

Interested individuals should fill out the Mentor Profile form.


ADAA Mentorship program
The ADAA Mentorship program is open to all student participating to the
ADAA
. The program is divided into two parts; The Portfolio review, and the 5 | 5 | 5 Adobe Mentorship Program.
Each Mentor works with 10 students. One of the students is selected to receive a 5-month mentorship dialogue, and the remaining nine students receive a portfolio review.
5 | 5 | 5 Adobe Mentorship Program: The mentorship consists of 5 one-on-one virtual sessions with 5 predetermined objectives.
Portfolio review: The portfolio review consists of providing comments, advice, and feedback for the students.
Mentorships and portfolio reviews can be very flexible, since they are done virtually. The pair creates their own agenda, to ensure a mutually rewarding experience.
---
For inquiries, contact:
Elizabeth Carbonell
Project Manager
Icograda Secretariat
ecarbonell@icograda.org
About Adobe Systems Incorporated
Adobe is changing the world through digital experiences.
adobe.com
About Icograda
Icograda is the world body for professional communication design. Founded in 1963, Icograda promotes communication designers' vital role in society and commerce.
icograda.org