THE MAKING OF A DESIGN SOCIETY IN IRAN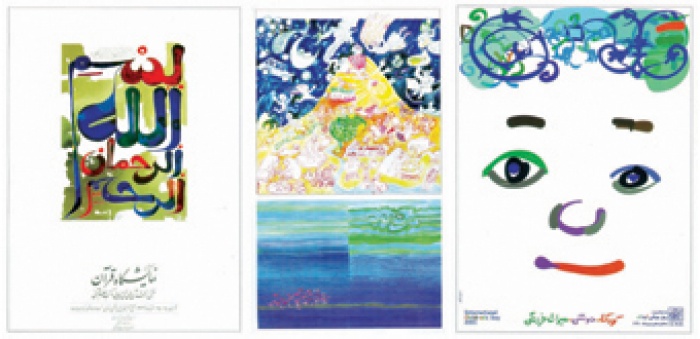 12.01.2004 News
Istanbul (Turkey)
- Iran is a vast country, with many cultures. It used to be cradle of different ancient civilisations which have been all grasped within a nation which in return created a civilisation of its own. A century ago, Iranians were famous for their creativity and inventiveness in art, architecture and handicraft. In calligraphy, painting, architecture, ornamental designs like jewellery, tile work, textile, hand-made books and manuscripts, Iranian have developed sophisticated skills and a style which has had a large influence in Asia, if not in the world.
But graphic design is quite young in Iran. The first graphic design works can be found some sixty years ago. They were produced by artists who worked by instinct or in response to their admiration for what was happening in the industrialised parts of the world, namely the western world.
Long after the Iranian society had been subject to great political, social and cultural changes, graphic designers faced a new situation and only 6 years ago they decided to form the Iranian Graphic Designers Society (IGDS). This opened a new era for graphic design in Iran, an new era that Masood Sepher will allow you to discover during his presentation at the 'Building Bridges' semainar in Istanbul (Turkey).
Born in 1956, Masood Sepehr worked as design director at the Ministry of Higher Education Publishing Department. Masood has established his graphic design studio and consultancy (Sepehr Partnership) since 1985 and is a design consultant to many governmental and private companies and institutes in Iran. He designed Farsi fonts and four Iranian National Orders (out of ten altogether) and two Military Orders. Masood has designed many logos, books, and corporate identity programs. He is the author of many articles and papers in Iranian magazines on matters concerning graphic designer in Iran and also author of the IGDS Professional Code of Conduct
For further information please contact:

About the Icograda Design Week in Istanbul:
The two-day 'Building Bridges' seminar is part of the Icograda Design Week in Istanbul (Turkey), from 27 to 31 January 2004.
Held on 30 and 31 January, this seminar is free of charge but registration is requested. Seats will be given on a 'first come, first served' basis. It will bring together designers from Australia, Bosnia/Herzegovina, Brazil, Canada, China (Hong Kong), Denmark, Great Britain, Greece, Iran, Israel, Lebanon, Russia, South Korea and Turkey to share their experiences and influences from their own regions. The seminar will showcase new perspectives on the diversity of graphic design today.

For more information and registration: http://istanbul.icograda.org