URBAN LIFT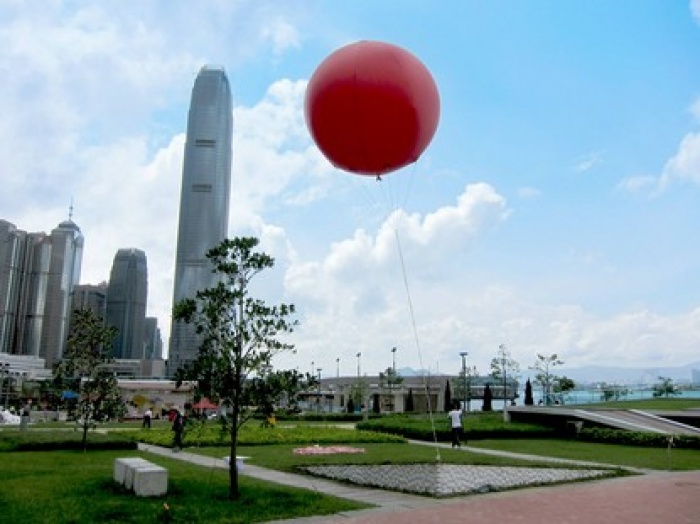 11.06.2014 Features
This summer, three young landscape architects from HKDI will unveil their installations at the prestigious Tamar site on Hong Kong's harbour front. The article was originally published in SIGNED magazine.
---
This summer after eight months of concepts, design and construction three installations by young landscape architects from will be unveiled at the prestigious Tamar site on Hong Kong's harbour front. HKDI's SIGNED magazine reports on a project that seeks to create an engaging destination for city residents.
On a windy afternoon in late February, a crowd of people with determined expressions, stacks of documents and an abundance of ideas gathered on the grassland at Tamar Garden, a new public space adjacent to the HKSAR government headquarters. They were not there to "occupy central", although they also share a vision about shaping the city. The gathering was three groups of HKDI students whose artworks will be installed at Tamar Garden from May through August. They were sharing their design concepts with professional architects and managers from the Garden's management team, for whom feasibility and safety are prime concerns.
"The installation will be displayed in public and you have to assume people will come and use it in different and innovative ways, though sometimes not the ones you expect. Some people sit on the installation and others use it as a body-building apparatus, regardless of whether it's supposed to be interactive or not," says a manager from Tamar Garden's management team. "These scenarios mean that we need to give the visitors some hints as to how to appreciate the installation, or reinforce parts of the stainless steel supports to minimise maintenance and optimise visitor experience."
Issues such as these may not have been the first concern of the 10 students who proposed a 40-square-metre art installation called Co-linear for the Tamar site. Inspired by Gabriel Dawe's visual language of coloured threads, the team wanted to attach colourful hemp ropes to stainless steel rods by metal rings to form a net of three-dimensional hexagons to symbolise the relationship between people in society.
"It's a rare opportunity," says Sara Wong, project leader, prominent local artist and co-founder of Para/Site Art Space, a top Hong Kong gallery. "A number of groups of students have been challenged regarding practical considerations such as safety, stability and scale. This project provides students real experience in meeting these challenges, allowing them to think about landscape architecture from a new perspective."
The student project is part of the ArtAlive@Park project, initiated in 2009 by the Art Promotion Office of the Leisure and Cultural Services Department and held previously in 2010 and 2012. The two main aims of the project are to bring art to public spaces and provide young artists from local educational institutions with a showcase for their talents.
"In the tiny city of Hong Kong, there are more than 1,000 public spaces, including parks, botanical gardens, zoos, promenades and playgrounds," notes the Foreword for the 2012 ArtAlive@Park exhibition. "As parks are important public spaces where citizens gather and relax, we hope that they can also become a backdrop for more interesting artistic encounters." Since the inception of ArtAlive@Park, about 10 student artworks have been installed in various public spaces ranging from Hong Kong Park to Tuen Mun Park, and along the coastline from To Lo Bay to Victoria Harbour.
Students from the Landscape Programme at HKDI, who were invited to create installations to be displayed at the Tamar Garden in summer 2014, have been working on their concepts since September 2013.
To start, Wong encouraged students to go to museums in Hong Kong, and identify which exhibitions fascinated them most and why. "By observing curated artefacts about Hong Kong's history and cityscape, we hoped to stimulate students' imaginations and thoughts in an artistic way," says Wong. After this activation process, the students made site visits and conducted site context analysis.
"Students in the Landscape Architecture programme are trained to understand the design of outdoor space, and be prepared to become landscape architects."
Unlike architects or interior designers, landscape architects are involved in the planning, design and direction of outdoor public areas, landmarks and structures to achieve environmental, social or aesthetic outcomes.
Yasmin Chir, another project leader and lecturer at HKDI said, "New Town Plaza in Shatin, developed in the 1980s, represented the first time the concept of Landscape Design was brought to Hong Kong. Currently, only a dozen companies are qualified to practice and the profession is not widely known. However, its contribution permeates every corner of Hong Kong; a landscape architect needs to undergo an intensive training encompassing basic design, planting design, landscape architecture theory and history, technology and visual communication. HKDI has offered the Higher Diploma in Landscape Architecture at HKDI since 2012 to fill this gap."
Landscape architecture design's central role is to create new sense of space through design based on a thorough review of the existing environment. Wong says, "site context analysis involves the systematic investigation of historical, physical, cultural, and environmental conditions, and the influence of these conditions on the designed features and the other way round. For instance, the circulation of visitors influences their first sight of an artwork; we can help them to fully appreciate that artwork. The shift of sunlight and shadows cast by the headquarters buildings alters the perceived aesthetics. The art installation should not be isolated from the rest of the environment but should be part of the whole."
The Tamar project is unique, says Chir, partly because of the prominence of the site. "Our artist advisers have told us that their names seldom appear on work they have created for public spaces, whereas working for private clients it's not usually possible to display work in such a prestigious site."
The 4.2-hectare Tamar site is the former location of the Royal Naval dockyard of the British Forces Overseas Hong Kong, which remained here from the end of World War II until 1990, when the naval station moved to Ngong Shuen Chau. The site has witnessed many historical and controversial events, including the sunset farewell ceremony featuring the East Tamar Garrison parade, part of Hong Kong's handover from the United Kingdom to China on 30 June 1997. In 2003, at the end of the SARS epidemic, the Hong Kong government created the "Harbour Fest", a major concert event featuring the Rolling Stones, to celebrate Hong Kong's emergence from economic crisis. However, this was heavily criticised as being "poorly organised" and "a waste of public funds".
The site now includes the HKSAR Government headquarters complex designed by Rocco Yim and Tamar Garden, where the three installations will be located. The site connects with cultural and convention facilities to the east, financial and commercial hubs to the south and Garden Road, which is rich in history and heritage, to the southwest.
Wong says the political, cultural and historical significance of the site had inspired students to propose many ideas to convey messages central to the governance and lifestyle of the city. Concepts such as such as "freedom of speech, reminiscences of heritage, workplace pressure and the disappearance of the ridge line in the city were put forward. Others included re-thinking people's leisure time and the role of the park; Hong Kongers don't think of the park as the place to go for relaxation, they'd rather play computer games, which also creates a lot of pressure."
The workplace pressure group are bringing their concept to life with an installation entitled Raise up, which will lift up a piece of grassland with an installation of balloons beneath it to create a metaphor that positive energy can lighten pressure and uplift the spirit. The brightly coloured balloons will be a beacon, sending a message of hope to Admiralty's stressed white-collar community.
Another group creating a project named Pipe me not, which expresses concerns with issues of daily communication. The team uses pipes to connect two raised entrances where sounds can be inputted and conveyed. The remainder of the pipe is hidden underground and travels in a complex way to represent the misunderstanding, distortion and mistrust of people's daily communications. Part of this underground arrangement can be seen through a piece of tempered glass.
"They separate the two communicators but allow the conversation to be transmitted. It's like a primitive communication tool," says Wong, "In all three installations, students are rethinking the role of the park to engage people, as a place for communication and interaction."
In January and February 2014, workshops were organised to help polish and develop design ideas into the three projects that will finally be installed in the Tamar Garden. Students created design models for expert scrutiny and comment. "We involved artists, who stimulated and inspired students, to further develop their concepts; an architect to help students modify and refine designs into buildable items, in terms of material choice or structure; and construction engineers to see if any projects needed practical modifications."
And, of course, advice from the management team at Tamar Garden was critical as well. "What kind of issues might emerge in the construction process and what are their potential impact; these were the considerations we have needed to constantly bear in mind for the past two months."
Parallel to the process in which students refined and finalised their designs, the three installations were tendered to construction companies. In six weeks, starting from April, construction will take place and the artworks will be unveiled in May. This will be followed by art tours, parent-children carnivals, art workshops and music shows coordinated by Hulu Culture, a non-profit organisation created to promote local culture.
Wong concludes that the three artworks will transform the Tamar landscape through the manipulation of light, space and sound. "My expectation is that our students' actual artworks should lead to abstract thoughts and implications – those regarding communications, relationships or lifestyles. Even though they are tangible objects, their works address intangible issues."
Delivering intangible value – indeed, this is the core of the contribution generated by the creative industry, and something that will shape the future of Hong Kong in the most constructive sense.
---
Reprinted with permission from
SIGNED magazine
,
©2014 All rights reserved.
This first appeared in SIGNED magazine vol. 8
About Hong Kong Design Institute (HKDI)
A leading design education provider in the region,
HKDI
is committed to offering excellent learning opportunities to keep pace with the growing demand of the creative industries.
The state-of-the-art HKDI campus at Tseung Kwan O is an international award-winning architecture, designed to encourage a dynamic flow of people and ideas, and equipped with the latest learning facilities and exhibition spaces, to enhance the creative learning experience at HKDI.
Our comprehensive design programmes encourage active participation and nurture our students' creative thinking, cultural sensitivity and global perspective. Active collaborations with industry provide our students with first-hand knowledge of the latest industry trends.
About SIGNED magazine
First published by HKDI in December 2011, SIGNED is a magazine with an international perspective that features outstanding works, experts, trends and issues in various aspects of Design, including architecture, communication, digital, fashion, product and interior design. Each issue consists of world-class features that reveal the fruits of HKDI's commitment to creativity, sustainability and multicultural scholarship. Produced by deluxewords.