VCUQatar presents 'Faculty Focus 2009' exhibition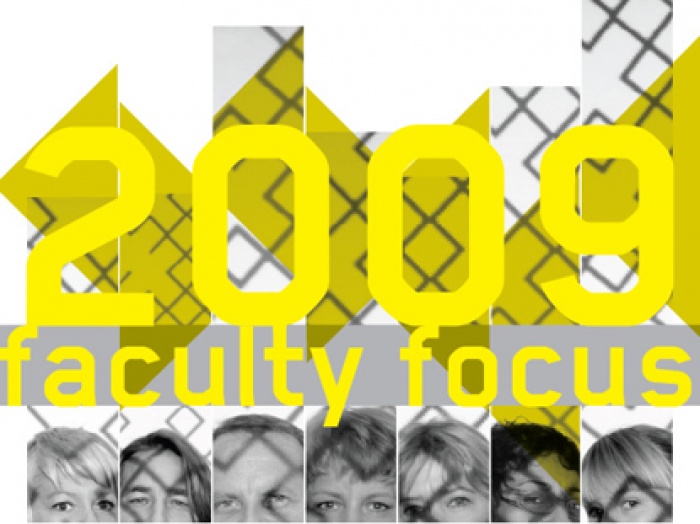 01.12.2009 News
Doha (Qatar)
- 's Gallery Presents 'Faculty Focus 2009', an exhibition of works by artists and designers who are teaching and researching at VCUQatar, an Icograda Education Network Member. The exhibition runs until 23 January 2010 and is open to the public.
Each year The Gallery at VCUQatar invites teaching faculty in Art Foundation and the art and design departments to submit proposals for entries into next academic year's Faculty Focus exhibition. It provides faculty members an opportunity to present their results of current artistic and design research and exploration in the environment of a more select, juried exhibition that might fulfill a research requirement and provides enhanced visibility to both the artists and the work of the university at large.
This year's exhibition has been juried by a group of three professionals in the local arts and design community in Qatar: the architect and collector Osama Abu Sitta, the advertising, branding and media entrepreneur Anthony Ryman, and the curator Wassan Al-Khudhairi. The works they chose for the exhibition reflect the wide ranging interests and practices of VCUQatar faculty and include paintings, fashion and textiles, furniture and installation. All are reflective of a visual discourse of individual faculty members with their environment. The faculty exhibiting this year are Maja Kinnemark, Muneera Spence, Emilie Burnham, Della Reams, Brett Kearney, Johan Granberg, and Melanie McClintock.
The exhibition is scheduled from 2 December 2009 - 23 January 2010. The Gallery at Virginia Commonwealth University in Qatar is open Sundays to Thursdays, 10:00 - 17:00 or by prior appointment.
---
For more information please contact:
Dr. Jochen Sokoly
Assistant Professor in Art History and Gallery Director,
Virginia Commonwealth University in Qatar
PO Box 8095
Doha, Qatar
T: +974.492 7200
E:
jsokoly@qatar.vcu.edu
W:
www.qatar.vcu.edu
About Virginia Commonwealth University in Qatar:
Established in the US in 1838 and in Qatar in 1998, Virginia Commonwealth University offers students from all over the world the opportunity to earn Bachelor of Fine Arts degrees in fashion, graphic, interior design and painting & printmaking and a Master of Fine Arts degree in design studies. A team of highly skilled professors provide rigorous curricula that prepare students to assume leadership roles in the professional design field of their choice. VCUQatar regularly organizes and hosts exhibitions, gallery events, world-class conferences and holds an annual fashion show. The documentary entitled "VCUQatar", which highlighted the 10 year anniversary of Virginia Commonwealth University in Qatar's rich history and the education the students are receiving, won a Capital Emmy at the 51st Emmy Awards in April 2009. VCUQatar is supported and funded by the Qatar Foundation.
www.qatar.vcu.edu
About Qatar Foundation for Education, Science and Community Development
Founded in 1995 by His Highness Sheikh Hamad Bin Khalifa Al Thani, Emir of Qatar, and chaired by Her Highness Sheikha Mozah Bint Nasser Al Missned, Qatar Foundation is a private, non-profit organization committed to the principle that a nation's greatest natural resource is its people. The headquarters of Qatar Foundation are located within its flagship project, Education City, a fourteen million square-meter campus which hosts numerous progressive learning institutions and centers of research, including branch campuses of six of the world's leading universities, plus a cutting-edge research and development center. Qatar Foundation also works to enhance the quality of life in Qatar by investing in community health and development.
www.qf.org.qa