YOUNG MONTREAL DESIGNER WILL WORK AT LES ATELIERS DE PARIS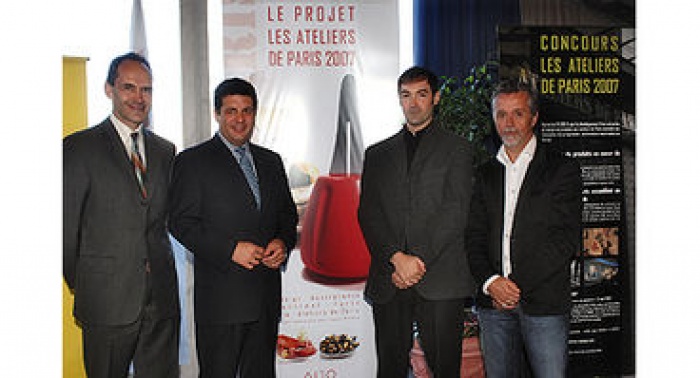 27.08.2007 News
Montreal (Canada)
- In the wake of the cooperation agreement signed between the cities of Paris and Montreal in April 2006, the Design Montreal Bureau of Ville de Montreal, in partnership with the Ministere du Developpement economique, de l'Innovation et de l'Exportation du Quebec, the Direction du Developpement Economique et de l'Emploi of the city of Paris, and Alto Design, awarded Louis Drouin, a young Montreal industrial designer, $25,000 in financial aid to help him develop and launch a line of kitchen utensils during a six-month stay at Les Ateliers de Paris that starts in November. The event was held at Montreal s city hall, in the presence of Benoit Labonte, member of the executive committee responsible for culture, heritage, the downtown area and design, the program's partners, the members of the selection committee, and several guests from Montreal's academic and industrial design communities.
Louis Drouin, a young Montr al industrial designer
Following a call for candidates among product design graduates, Louis Drouin, who holds a degree in industrial design from Universite de Montreal, was selected on the strength of his portfolio which showed initiative and entrepreneurship in the product design projects he undertook both as a student and a trainee at various industrial design consultant firms.
The members of the selection committee were seduced by his project to develop a line of high-end oyster party products aimed at revamping the dining experience through such kitchen utensils as the oyster knife, the lobster pliers, and the seafood platter. These will be produced by a limited series production process adapted to the high-end market, which could later be upgraded for larger scale production.
As the capital of gastronomy, Paris is the ideal place to start such a production and marketing project. Several Parisian food experts will be asked to use the shop developed and produced concepts to ensure that the final product meets the industry's needs. A study of the attitudes of Parisians towards culinary aesthetics will also help position the products on the North American and European markets.
Les Ateliers de Paris
The city of Paris has long been promoting exchanges between creators with a view to reinforcing international relations in the creative sector, a move that has created jobs both at home and abroad. Such exchanges were greatly facilitated by the creation of Les Ateliers de Paris in 2006.
Located in the heart of Faubourg Saint-Antoine, Les Ateliers de Paris are dedicated to the development of creative enterprises in the fields of design, fashion, and arts and crafts. As a centre of hospitality, promotion and exchange between design professionals, Les Ateliers de Paris will provide this young Montreal designer with working space and free access to equipment and an exhibition gallery. The financial aid will cover his expenses during his stay in Paris.
"The Ateliers de Paris incubator not only will provide Louis Drouin with working space and an opportunity to meet and work with other creators, it will also provide a support network that will help him develop and market his line of kitchen utensils. Our aim is to help him establish long-lasting contacts so that he could envisage with serenity the production and marketing of his products in France and North America. Canada is a formidable laboratory of design concepts, and we are confident Louis Drouin's ideas will be a great challenge to his French counterparts. Hopefully, this program will soon provide a French designer with a similar opportunity to work in Montreal," said Patrice Vermeulen, head of the Direction du Developpement Economique et de l'Emploi de la mairie de Paris.
"This first tangible offshoot of the design cooperation agreement signed between the cities of Paris and Montreal will greatly enhance Montreal's status as a UNESCO City of Design. The project is the result of the collective effort of the Quebec government and the private sector aimed at fostering and enhancing exchange between young designers from Paris and Montreal, and, above all, at supporting the entrepreneurs who wish to create their own enterprises. It is a great opportunity for a Montreal industrial designer to develop professionally abroad. And Louis Drouin has shown true entrepreneurial spirit. No doubt, he will make most of Les Ateliers de Paris project incubator," said Mr. Labonte.
Minister of Economic Development, Innovation and Export Trade, Minister of Tourism and Minister responsible for the Montreal region, Raymond Bachand, is especially proud to be associated with a project that is part of the new Design Innovation program born of the Strategie quebecoise de la recherche et de l'innovation. "Our goal is to support enterprises that use design in their innovation process in order to promote a Quebec product, to enhance competitiveness, and develop a brand image both nationally and internationally. In addition to this program, the Quebec government provides support to enterprises using design through our design tax credit, which is unique in the world," stated Minister Bachand.
Proud of its contribution to this project as a private financial partner, the industrial design consultant firm Alto Design will sponsor the laureate by providing consulting support during the preparation phase and throughout the workshop.
"Our role in this project is to identify emerging talent in product design and to help it develop in an environment and support network like those offered at Les Ateliers de Paris. We warmly wish Louis Drouin that his residency will influence his way of seeing objects and allow his talent and creativity to shine among his French colleagues. The financial aid also underlines our firm's commitment to the promotion of new industrial design talent in the coming years," said Mario Gagnon, president of Alto Design.
---
For further information please contact:
Stephanie Jecrois
Design Montreal
Service de la mise en valeur du territoire et du patrimoine
Direction de la planification et des interventions strat giques
303, rue Notre-Dame Est, 6e etage
Montreal, Quebec H2Y 3Y
T: +1 514 872 5388
E:
sjecrois@ville.montreal.qc.ca
About The Design Montreal Bureau

Under the coordination of the Design Montreal Bureau, the Ateliers de Paris competition was developed with the cooperation of the Ministere du Developpement economique, de l Innovation et de l Exportation du Quebec, the Paris city council and Alto Design. Created in January 2006 by Ville de Montreal, the Design Montreal Bureau's mandate is to implement a municipal plan of action aimed at enhancing Montreal's design and its status as a city of design.