in memoriam: essam abu awad (1958-2021)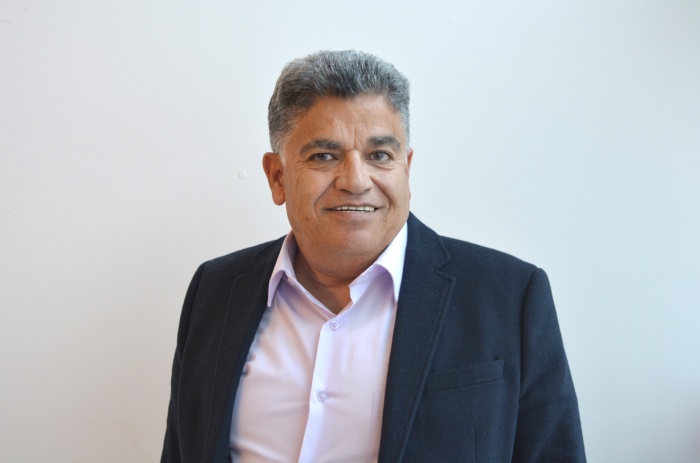 05.04.2021 News
It is with deep sadness that we announce the passing of our dear friend and colleague Essam Abu Awad (1958-2021). In addition to serving on the ICoD Executive Board (2019-2021) Essam was an inspired designer, advocate and educator of design in the Middle East.
In the ICoD family, Essam always stood out with his passionate dedication and great insights, yet his greatest quality was that he was also compassionate, humble and kind.
—Iva Babaja, Former ICoD President (2013-2015)
Since 1999, Essam was an educator, and ultimately, Dean in the Faculty of Art and Design at the University of Applied Science Private University (ASU) (Jordan), a pioneer educational institution established in 1992, renowned for its art and graphic and interior design programmes. Previous to this esteemed position, Essam ran his own graphic design media company, MIDAS in Amman. He founded and served as President of Middle East Design Educators Association (MEDEA) from 2015 onwards and served as a representative of his home organisation for ICoD, IIID and Cumulus (the International Association of the Universities and Colleges of Art, Design and Media).
ICoD Platform Meeting 2018 Beijing. Essam Abu Awad with Cihangir Ístek ICoD Vice President (2015-2019) (Turkey).
ICoD Platform Meeting 2018 Beijing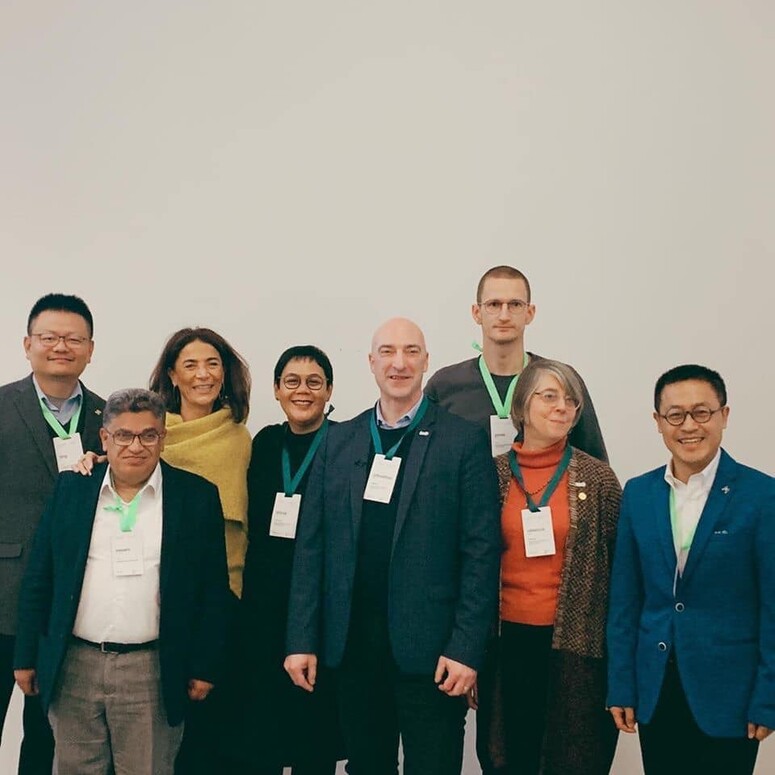 ICoD Executive Board 2019-2021 (Vancouver 2019)
A great supporter of expanding professional standards for design in the Middle East, Essam played an active role as a participant and speaker at numerous design conferences worldwide.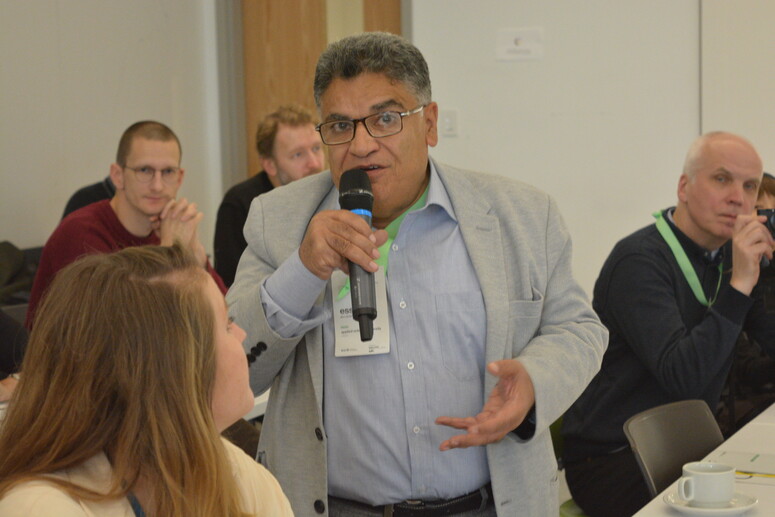 ICoD Platform Meeting 2019 Vancouver
At each design gathering, Essam not only elevated the status of design by bringing insight and knowledge from his region, his open, friendly manner made him many international colleagues, friends and even a design "family". He was part of the ICoD family for more than a decade. Many came to the forefront wanting to remember Essam by sharing their words and condolences:
Essam was a true professional, committed to the Middle Eastern design community, and a real gentleman. When we Skyped, I would joke that I could see him in Amman, "just across the River Jordan", when looking East from my window in Tel Aviv. As neighbours in an often difficult neighborhood, there was more between us than the mere 50-mile geographical distance. Yet from the first time we met, the values we shared as activists in the international design community created an immediate bond and understanding. Designing is universal, and the two of us spoke the same language. I am happy that from the time we first met in 2014, we were able to closely cooperate within the ICoD community - as colleagues, and friends. His passing is deeply felt. May his memory be a blessing.
—David Grossman ICoD Former President (1999-2001 and 2015-2017) (Israel)
Time flows differently in the ICoD community. You meet Members every two years, yet after the very first meeting together many bonds are forged that are stronger than casual friendships. There is an instant sense of becoming a family, which is so emblematic of ICoD culture in the world of such large organisations. I have pondered this many times and came to a conclusion that the sense of being is something greater than ourselves, sharing the same ideals and passion for design is what makes this bond so strong and unique. And no one had more passion or dedication to these ideals than Essam Abu Awad, a man I have been privileged to call a friend for well over a decade. In the ICoD family, Essam always stood out with his passionate dedication and great insights, yet his greatest quality was that he was also compassionate, humble and kind. He was such a vivid presence that it is impossible for the reality that he is gone to sink in. I vividly recall every meeting, conversation and especially the last time I saw him over brunch in Montréal. I will remember him as he was then— exquisitely honest yet always kind, a humble friend and man who truly dedicated his whole life to design. The gap he leaves in our hearts and the ICoD community remains.
—Iva Babaja ICoD Former President (2013-2015) (Croatia)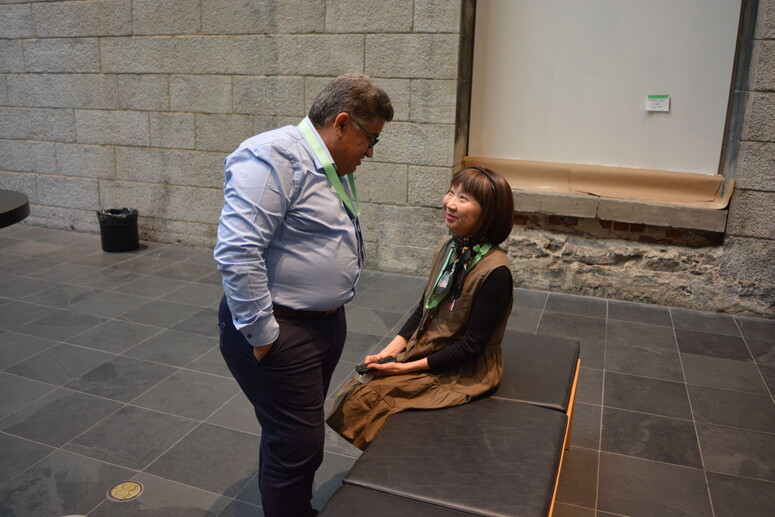 Essam chatting with Rita Siow at the Platform Meeting Montréal 2017
The first time I met Essam, I was struck by how kind his eyes were. It was a case of a first impression being spot on. Through the years, at various ICoD AGMs and events, we always made sure to have a meal together, usually with Rita Siow. One of my most prized memories is of a long evening we three had in a coffee shop in Gwangju, South Korea. Rita and I asked questions about his life and teaching in Jordan. As the evening wound down into night, we dove deeper into more serious topics of religion, history, and geopolitics. Essam answered our questions, talking on and on with such generosity, and giving us — two people who knew so little about his corner of the world — a glimpse into his life. That's who Essam: ever the teacher. Losing him is a huge loss to the ICoD family.
—Rebecca Blake ICoD Treasurer (2017-2021) (United States)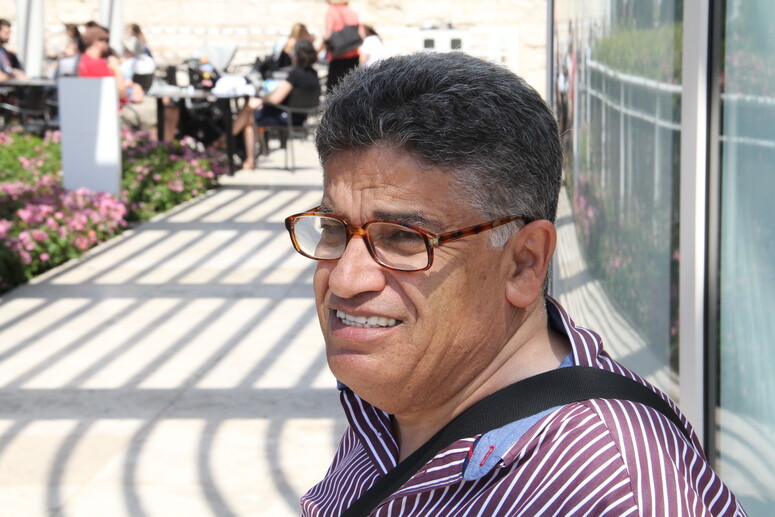 ICoD Platform Meeting 2016 Pasadena (California)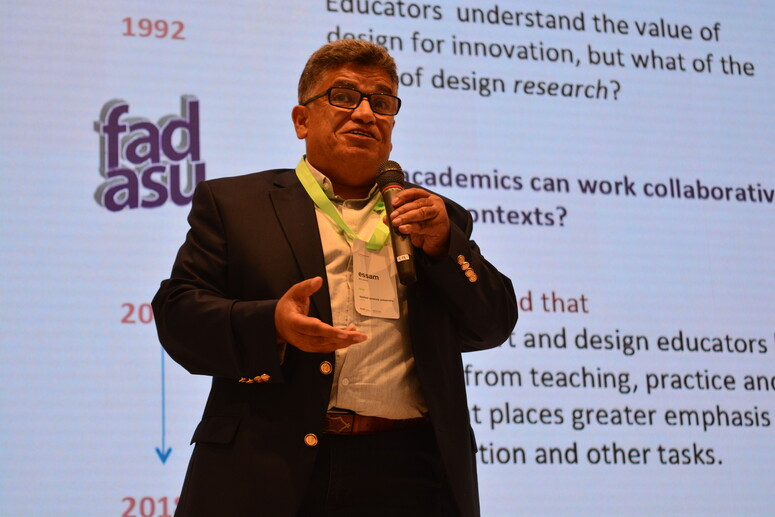 ICoD Platform Meeting 2018 Beijing
It is a sad loss, such a sweet person he was. I have known Essam for quite some time, but I would like my last memory of him to be a nice joke that we exchanged during the Typoday 2020 in Amman, which we organised and co-chaired. He was introducing me to the public, among them was the Princess Basma (sister of late King Hassan of Jordan), so he introduced me as "His brother", and I added "Twin brother" and that was our laugh after this joke.
—Antoine Abi Aad, ICoD Vice President (2015-2017) (Lebanon)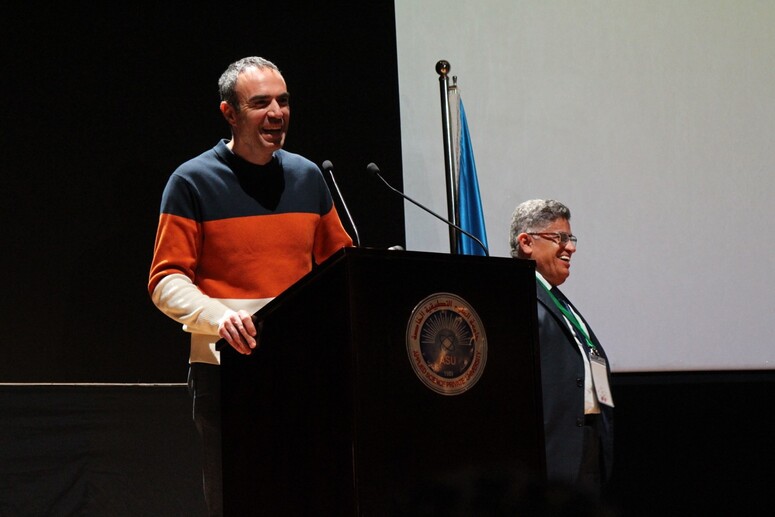 Typoday 2020 in Amman. Antoine Abi Aad, ICoD Vice President (2015-2017) (Lebanon) and Essam Abu Awad.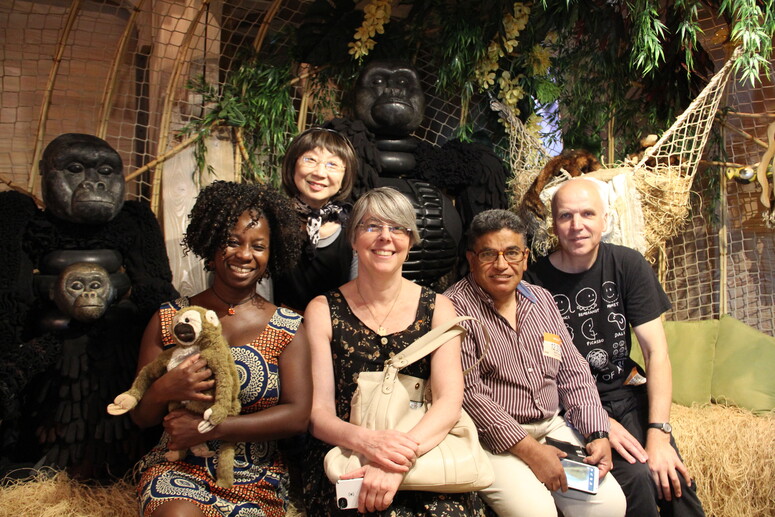 Above: Zelda Harrison, Rita Siow, Rebecca Blake, Essam Abu-Awad and Gediminas Lašas
Whenever I met Essam, respect, wisdom and trust shone from his quiet face. We had the privilege to spend time together during ICoD Meetings to discuss and to discover new things. He was dedicated to design, design education, and to the international community of design. He was an extraordinary man and good friend. It is hard to realise that we will not meet again. However I know, that his bright face will stay in our memories.
—Gediminas Lašas, ICoD Member (Lithuania) and partner, Neringa.
I first met Essam at the Platform meeting in Beijing 2018. He gave me the impression of a humble, polite, and relatively quiet man. We met again and were elected together as Vice Presidents to the 2019-2021 Executive Board in Vancouver. He, [Vice President Chao] Zhao and I sat together at lunch during the first Board meeting, on our first day as Board Members at the campus of Emily Carr. That was nice memory. I wish Essam and I could have had more time working together for ICoD and our design communities around the world, and getting to know each other better. But this is life.
Good bye Essam. RIP. We will certainly miss you!
—Ting Xu, ICoD Vice President (2019-2021) (China)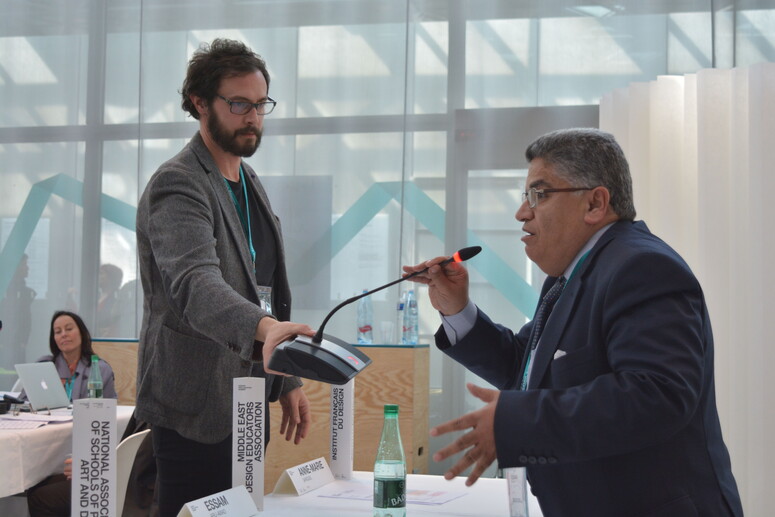 Design Declaration Pre-Summit Meeting Saint-Étienne (France) 2019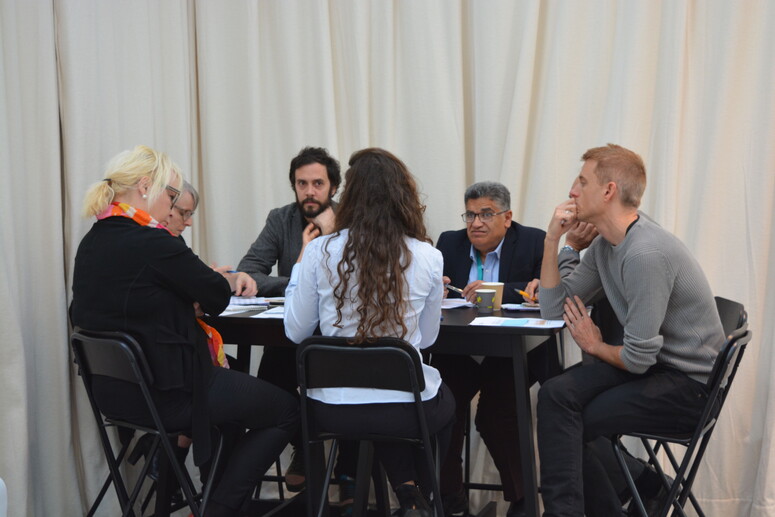 Design Declaration Pre-Summit Meeting Saint-Étienne (France) 2019
We will always remember Essam with his kindness, friendship, knowledge and common sense. I am very happy that our paths crossed so frequently through our work with ICoD. I pass my deepest condolences to the design community, his loved ones and students.
—Yeşim Demir Pröhl ICoD Vice President (2011-2015) (Turkey)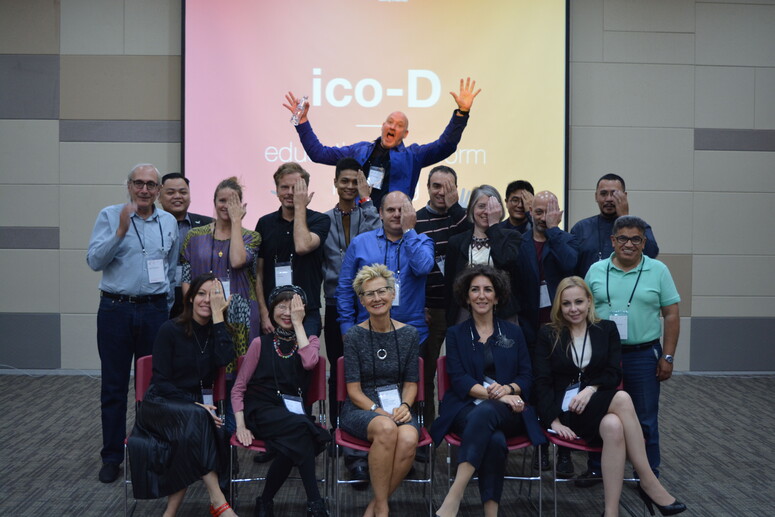 ICoD Educational Platform Meeting 2015 (South Korea)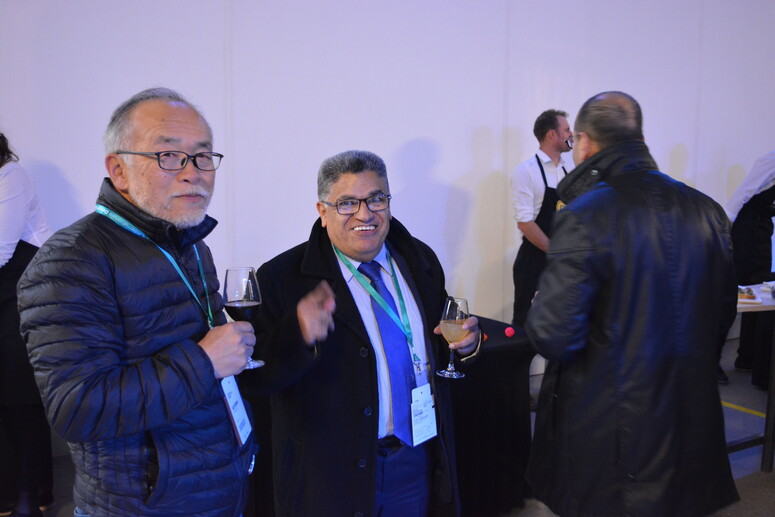 Saint-Étienne 2019
What incredibly sad news. I feel so incredibly privileged to have known Essam and even more privileged that he and the Board shared a dinner in my home during the last physical Board Meeting of ICoD before Covid arrived. Fortunately on that evening I really got to know him. We spent a long time talking and as our conversation progressed I realised the depth of his soul, his compassion, his humour, his dedication to design for all the right reasons and his true understanding of empathy. He invited me to Jordan to speak at a conference and then Covid arrived. I am so sad we could not meet again. He will be sorely missed in our design community.
—Des Laubscher, ICoD Vice President (2015-2019) (South Africa)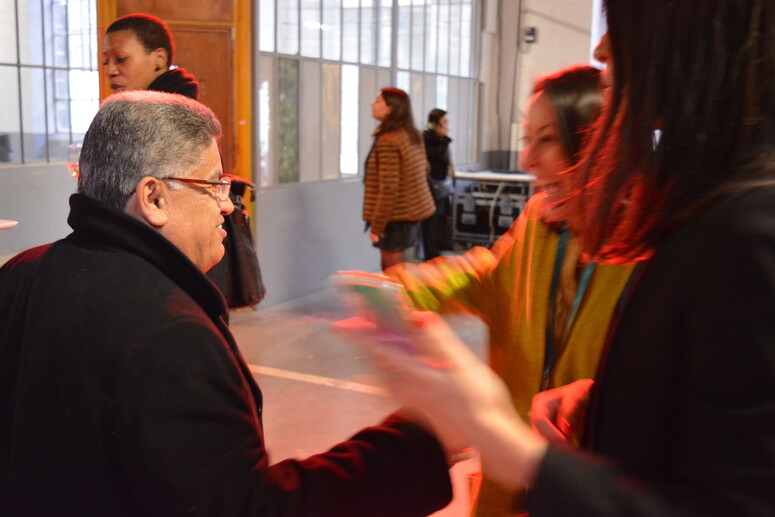 Essam with ICoD Managing Director Ana Masut and Events Coordinator Elizabeth Carbonell
I recall first meeting Essam at an Icograda Design Week in Hong Kong and was immediately impressed by his huge personality in spite of his small physical stature. We met again on several occasions in other parts of the world but unfortunately never had an opportunity to spend face-to-face time on our own. I followed his participation in ICoD activities via social media since I retired from the Board, particularly his passion for education and representing his region in the global design community. It is clear that he was passionate about the organisation and was dearly loved by all.
—Jacques Lange, ICoD Former President (2005-2007) (South Africa)
Essam has been a supporter of ICoD for as long as I have been involved, perhaps longer. He was a very nice man, always friendly and always passionate. Best wishes to you and all our ICoD brothers and sisters.
—Russell Kennedy, ICoD Former President (2009-2011) (Australia)
I share the grief with all of you and it is shocking to hear about Essam who was such a dear dedicated ico-D friend for a long time. R.I.P.
—Don Ryun Chang, ICoD Former President (2007-2009) (South Korea)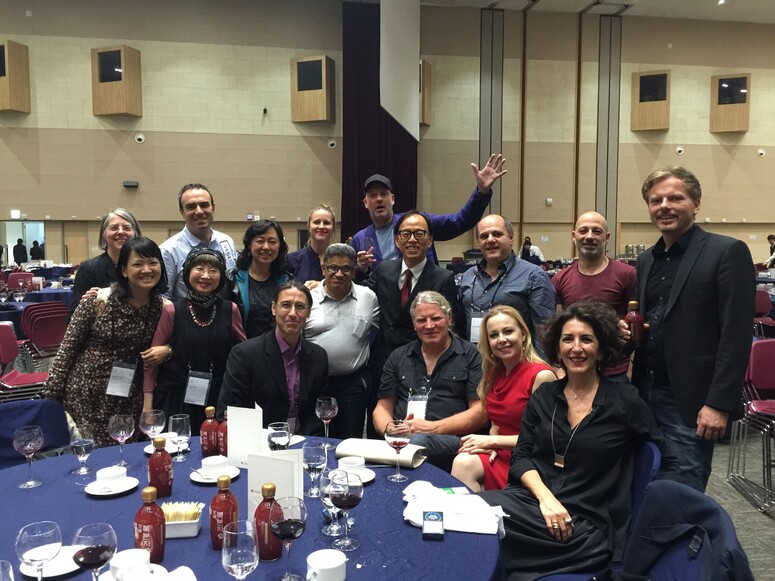 Eeum Design Connects 2015 (South Korea)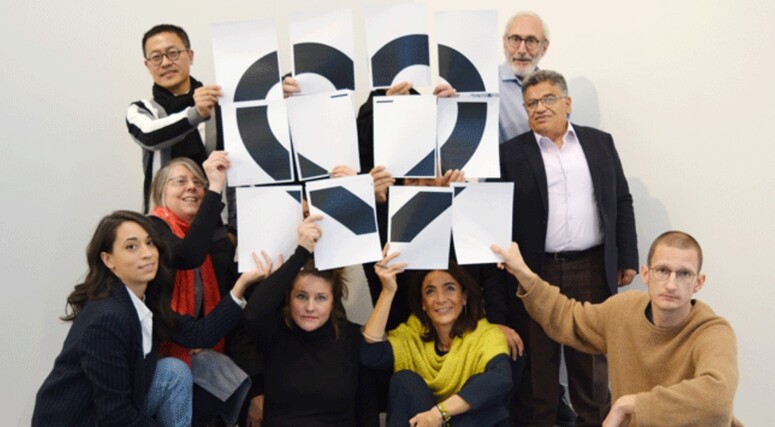 ICoD Executive Board 2019-2021
We will miss you Essam <3