Sue Tallon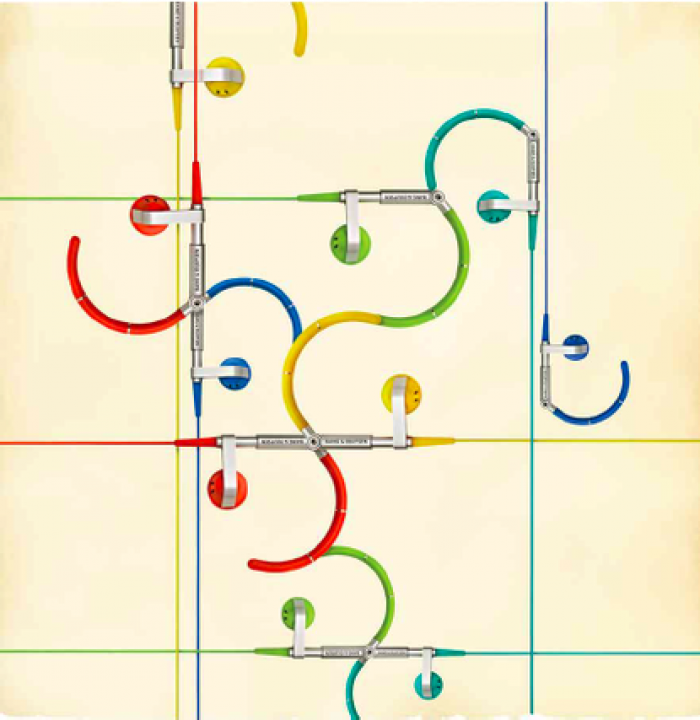 31.10.2013 Features
Ruth Hagopian
In this interview, originally published in the September/October 2013 issue of Communication Arts, photographer Sue Tallon tells us about her career path and her fresh approach to the look of food photography.
---

The first time you see Sue Tallon's food shots, you wonder if they're real. They look like photos, yet their hyper color and their shine and shadows are so graphic, they pop. In a genre that traditionally favors natural beauty, the intense hues and high contrast of Tallon's still lifes blur the line between photography and illustration and present a fresh approach to the look of food photography.

" I want objects and foods to have personalities," Tallon said, describing how she pushes color, deepens darks and brightens brights to bring out her subject's dimensional qualities. The style has a strong commercial appeal and has attracted high-profile clients, including bbdo, Goodby Silverstein & Partners, Kraft Foods, Sonic Corp and tbwa\Chiat\Day.
Commuting from her home in Oakland, California, Tallon crosses the bay to work in an industrial building in San Francisco's Dogpatch neighborhood, a tiny enclave of creatives and entrepreneurs. Three photographers share a workroom with Tallon, combining two expansive studios into one sunlit 3,500-square-foot space. While Steve Reich's musical loops and phasing played from her computer, Tallon reviewed her images and remembered when she considered giving up photography.
" I was constantly trying to figure out what the commercial world wanted so that people would hire me," Tallon said of her early years of self-employment. She was frustrated at talks given by successful photographers, such as Jim Erickson and Dan Winters, when they advised their audiences to "do what you love and be yourself in your work." Tallon thought, "I'm just churning out catalog work and I have no idea how to do that."
But she couldn't walk away from photography knowing she hadn't brought more of herself to her work. Tallon had to create a new body of still lifes, with a completely new approach. This time, she didn't edit herself during the process and didn't allow self-criticism to interfere with seeing what patterns emerged.
" It was very exciting," she said. "I started really seeing myself coming through and realized that visually, I'm super graphic. I focus on objects, not their environments. I also respond hugely to patterns, texture and repetition in everything I like to look at, and in the music I listen to." Tallon's experiments developed into a portfolio and a website that captured the attention of art buyers and lent credence to Erickson's and Winters's advice. "When I started revealing that very personal stuff in my work, I started being accepted as a commercial photographer and started becoming successful."
Photography was an enduring part of Tallon's childhood during the 1960s and 1970s. Her father was a hobbyist who often annexed the family bathroom for his darkroom. He traveled internationally selling shortwave radios and moved the family from Argentina, where Tallon was born, to Colombia, Montréal and finally Southern California in 1971 for her last few years of elementary school. As she grew, her childhood interest in drawing and painting transferred to the camera, because she liked its "combination of chemistry and light."
The Brooks Institute of Photography in Santa Barbara, California, offered a three-year program in the '80s and Tallon enrolled after high school. She studied tabletop technique, photo illustration and especially how to use light. "I remember seeing my first print come up from a 4 × 5 negative," she said. "Up until then, I had only shot 35mm. The leap in quality was a thrill." She was technically skilled after graduation, but in need of experience, so for the next three years she ran errands, found props, styled and printed as a freelance assistant in Los Angeles. Tallon worked for car, celebrity, food and architectural shooters until Ace Gallery Los Angeles hired her as its in-house photographer in 1989. Soon she was immersed in the world of contemporary art and ideas.
" The guy who ran Ace was notorious in the art world as a shady, semi-charming character," she said. "But he also cared about the art." Tallon photographed video, sculpture, kinetic and installation art that had moving parts, laser beams or steam coming out of them. "I shot with a 4 × 5 view camera at eye level and he pointed out how the art would take on a different weight and dimension if I shot it lower. I learned how to really see objects and how to compress their characteristics into one two-dimensional image."

Working on her own, Tallon developed lighting techniques to enhance her graphic style. She noticed photographers using specular light for people and portrait shots in the early 2000s and wanted that sharpness and intensity in her still lifes. "Nobody was using it for food as far as I could see," she said, "but I liked its crisp quality. I wanted food to feel heroic, larger than life." The effect also intrigued Margaret Johnson, a partner at Goodby Silverstein & Partners. "I'd never seen anything like that for food," she said. "You look through portfolio after portfolio of all these allegedly amazing food shooters and it's really kind of a sea of sameness."
Tallon was hired for their campaign showcasing the fast food at Sonic, the drive-in restaurant chain. "Her whole approach is just more artful and graphic," Johnson said. "She thinks of food sculpturally, which is different, especially for fast food. Sonic loved it. We were treating food like a character rather than just a prop." The retoucher applied Tallon's techniques on set, keeping the process flowing. "You felt like you were working as a team, which isn't always the case," Johnson said. She also asked for Tallon's help on Sonic's tv commercials, adding, "We did a lot of tests and experimenting to get the 'Sue Tallon' graphic quality and color when we shot live action."
When Kraft Foods needed a clean and bright look for a campaign to promote its new dressings, Tallon got the call. Kay Gautraud, an art producer at tbwa\Chiat\Day\la worked with her on the massive shoot. "We said we have 200 shots and we need to get them done in a 3-week span," she said. "Sue was the only one who said, 'Why don't we do this, why don't we do that?' It's a breath of fresh air when a photographer has all the answers before you even get on the call. Especially when you don't have all the pieces of the puzzle in front of you."
With so much to shoot, Tallon had three mirrored lighting setups going on at one time and four food-styling teams, with one team always prepping to go on set. "As soon as the client approved the shot, it went right into retouching," Gautraud said. "It was almost an assembly line of food photography to get everything done so quickly, but each shot was unique. She really took the time to make sure all 20 people there really liked what was coming out before she went on to the next."
The photographs' high contrast made the foods look crunchy and chunky, which meant they would be equally clear shown small on mobile phones and Kraft's website or large on billboards. While the look was something new for Kraft, Tallon's photos fulfilled the demands of traditional food shots. Gautraud's checklist included: "Make it active, make it beautiful and make the color so vivid the vegetables look fresh and people want to reach out and grab it."
The Kraft campaign was a complex shoot on a very tight schedule, and when Tallon heard she was considered exceptionally calm on the high-pressure assignment, she laughed. "The schedule was not ideal, but I just felt confident," she said. "Maybe it's because everything scared me so much when I was little. I was just a super-shy person, terrorized all the way until I was, like, 20. I think I just got older and at this point, nothing scares me anymore."
In person, Tallon's self-assurance translates to an informal cool. She's relaxed, thoughtful and when she's not working, she's building home projects or enjoying the outdoors, fly fishing with her friend Amy. In the studio, she continues alternating between her commercial images and personal still lifes made with her collections of found textures from the salvage yard. Using lace, string, plants, keyboard components, belt buckles or vintage placemats in her composites, Tallon is fascinated by their pure shape and texture. "I think a lot of that comes from my work in the gallery," she said. "I was shooting objects that had so much power themselves, there was nothing else but the object that needed to be photographed."
Contemporary art continues to inspire her. Tallon enjoys the concepts and shapes found in Kara Walker's silhouettes and the glossy, reflective surfaces of Jeff Koons's sculptures. She also likes the work of Andrew B. Myers and Grant Cornett, two photographers who deal in surprising and compelling ways with the same elements found in her work: objects, style, color and space. For Tallon, her still lifes offer her an endless supply of content and meaning. "There are so many dimensions to everything," she said. "I don't need to edit my questions. I need to revel in them. That's where I want to be when I make pictures."
---
Reprinted with permission by Sue Tallon and Ruth Hagopian, All rights reserved.
This article first appeared the September/October 2013 issue of Communication Arts
Communication Arts
.
About the author
Ruth Hagopian began writing about fine art at the San Francisco Art Institute, where she received her MFA. She was a cofounder of Visual Strategies, a design firm in San Francisco, and writes about art and design.