icographic 03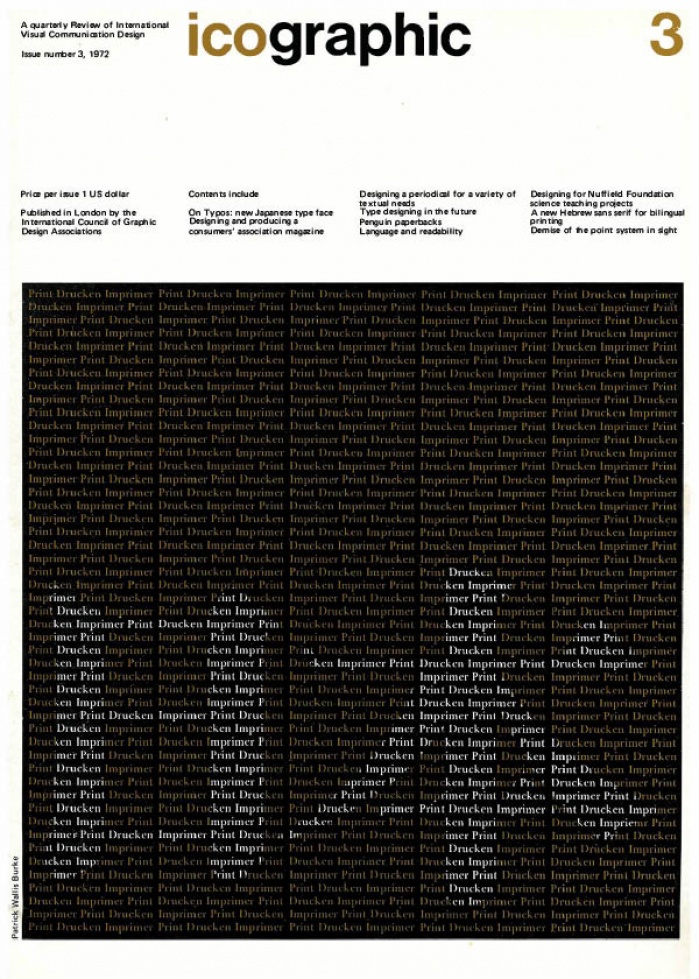 TABLE OF CONTENTS
1      Introduction Ernest Hoch 
2      A standard specification for print production Maurice Goldring and Angela Hackelsberger
Maurice Goldring and Angela Hackelsberger are in practice as information design consultants (Maurice Goldring Associates, London). Maurice Goldring is chairman of the SIAD/STD Typo­graphers' Computer Working Group
4      On 'Typos': new Japanese type face Shin-ichi Seki
Shin-ichi Seki is a lecturer at Shizuoka University and a member of the Japanese Society for Science of Design.
6      Designing for Nuffield Foundation science teaching projects Ivan and Robin Dodd
Ivan and Robin Dodd were among the first British designers whose practice concentrated to a consider­able extent on design for education.
8      Our next issue
Design education will be the theme of icographic 4, and the same issue will be devoted to the role of the designer in education—a role that is taking shape in various countries and in many forms.
10      Designing a periodical for a variety of textual needs Peter Burnhill
Peter Burnhill is Head of Design Department at Stafford College of Art and Design. He is a member of the Working Party on Typographic Teaching and a founder member of the SIAD/STD Typographers' Computer Working Group, one of whose study groups he chairs.
12      Penguin paperbacks Germano Faceta
Germano Facetti is a member of Alliance Graphique lntenationale. As art director of Penguin Books Limited he was responsible for the well-known Penguin restyling programme.
14      Designing and producing a consumers' association magazine John Miles
John Miles, a partner in Banks and Miles, London, discusses experiences with one of the periodicals for which their practice is responsible.
16      A new Hebrew sans serif for bilingual printing Asher Oron
Asher Oran is a freelance graphic designer devoting part of his working week to the Graphic Design Department of the Bezalel Academy of Arts and Design, Jerusalem.
18      Language and readability Tibor Szanto
Tibor Szanto is art director of Magyar Helikon, Department of Luxe Editions, Budapest.
20      Type designing in the future Hermann Zapf
Hermann Zapf, a former chairman of the Type Designers' Committee of the Association Typographique Inter­nationale writes about the funda­mental changes facing the alphabet designer today.
23      The demise of the point system in sight Ernest Hoch
Ernest Hoch teaches at Reading University and practises in London. He is chairman of the lcograda Standardization Commission.
25      Our collective knowledge
As a means of adding to the collective knowledge of our organization, the Executive Editor invites contributions to icographic from members or suggested experts in member countries. Members can assist in ensuring a steady flow of source references, and of book reviews, as one facet of this function of icographic.