2009 ED-AWARD WINNERS NOW ONLINE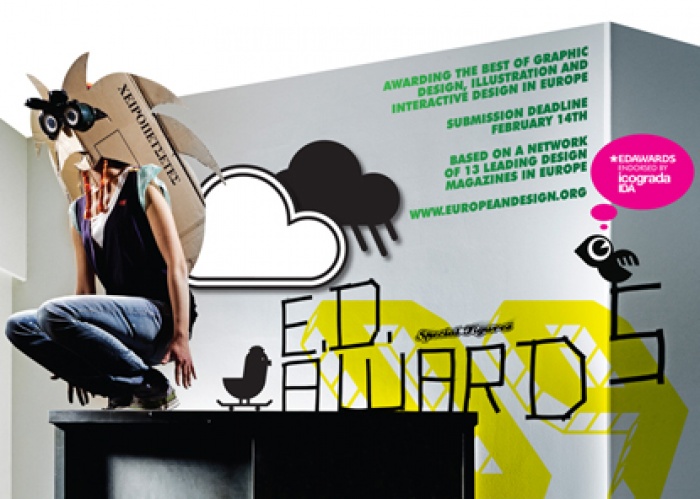 19.05.2009 News
Zürich (Switzerland)
- The online gallery of winners is now available for the , an Icograda endorsed event. Presented during European Design Week in Zürich, Switzerland, the ED-Awards celebrate European design with all its regional distinctive elements as well as its common grounds. The three-day celebrations from 15-17 May included several exhibitions, a three-day conference and the award ceremony.
The 2009 ED-Award Gold winners include:
Brand logo: Vidale-Gloesener Sarl (Luxembourg)
Brand implementation: Lava grafisch ontwerpers (Netherlands)
Brand implementation: Bleed (Norway)
Company implementation: Fuenfwerken Design AG (Germany)
Company implementation: a | part (Luxembourg)
Annual report: Dietwee design and communication (Netherlands)
Book cover: Vier für Texas (Germany)
Book layout: formdusche (Germany)
Brochure: Jäger & Jäger (Germany)
Product catalogue: Studio Laucke (Netherlands)
Artistic catalogue: Creative Inc (Ireland)
Magazine: Sole 24 ore Spa (Italy)
Promotional site: Moving Brands (United Kingdom)
Motion Graphics: Nomint Motion Design (Greece)
Miscellaneous digital Punchcard: Aer Visual studio (Netherlands)
Packaging food and beverages: Remo Caminada graphic design (Switzerland)
Packaging food and beverages: Edenspiekermann (Germany)
Packaging Miscellaneous: Designbolaget (Denmark)
Printed Self promotion: Thijs Verbeek grafisch ontwerp (Netherlands)
Printed Self promotion: Enric Jardi disseny gr?fic (Spain)
Digital self-promotion: KMS TEAM GmbH (Germany)
Self-initiated projects: Susanne Stahl & André Gottschalk (Germany)
Original typeface: Suitcase Type Foundry (Czech Republic)
Calendar: Graphic design studio by Yurko Gutsulyak (Ukraine)
Calendar: Ando bv (Netherlands)
Poster series: Bendita Gloria (Spain)
Miscellaneous printed: bauer konzept & gestaltung gmbh (Austria)
View the winning work on the
ED-Awards website
.
2009 Hall of Fame: Adrian Frutiger
During the event, designer Adrian Fritiger was presented with the 2009 Hall of Fame award. The recipient is selected from nominations put forward by representatives of the leading European design magazines. Criteria for the award include exceptional work, peer recognition and a contribution to educating the public in regards to communication design in Europe. The winner is selected by the designers who enter the ED-Awards.
---
For more information, please contact:
European Awards
Sokratous 157
176 73 Athens
Greece
T: +30 210 9593033
F: +30 210 9523607
E:
info@ed-awards.com
W:
www.ed-awards.com