6TH MACAU DESIGN BIENNIAL EXHIBITION OPENS AT THE HANDOVER GIFTS MUSEUM OF MACAU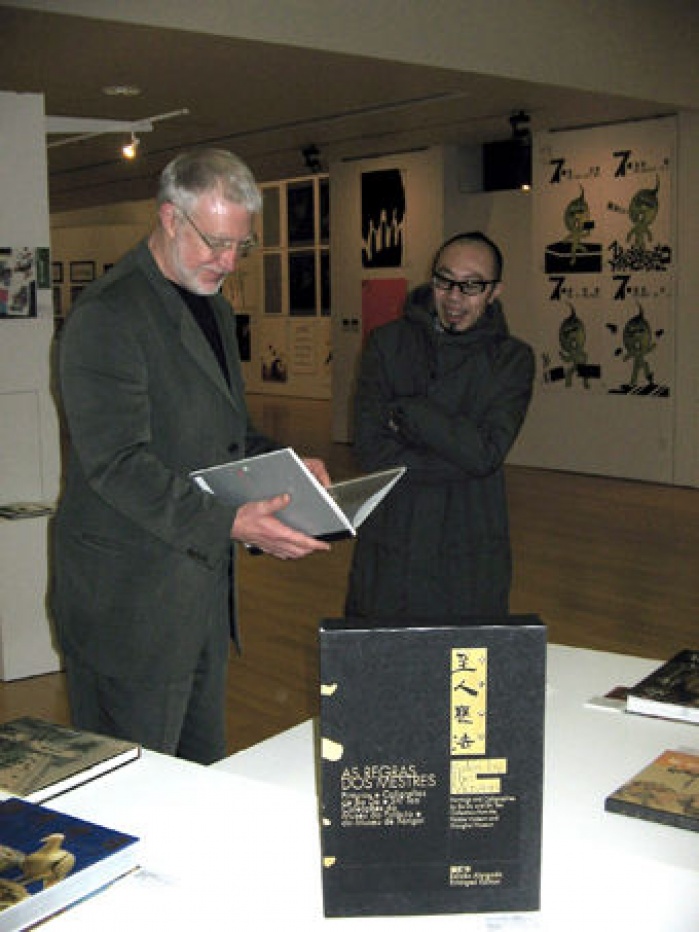 31.01.2006 News
Macau (Macau)
- On Saturday, 21 January 2006, members of the Macau Designers Association (MDA) gathered at the newly opened Fisherman's Wharf for the Awards Ceremony of the 6th Macau Design Biennial. Robert L. Peters, past Icograda President (Canada), and Icograda Vice President, Ruth Klotzel (Brazil), were on hand for the dinner and presentations.
The exhibition of selected and award-winning work is on display at the Handover Gifts Museum of Macau. Award winning pieces become part of the permanent collection of the Macau Art Museum.
Peters, a member of the jury, said, "the quality of poster design and visual communications on display is excellent." He made special note of the work done for Macau's cultural institutions.
Members of the Icograda Executive Board had the opportunity to tour the exhibition with Macau Designers Association President, Nelson Wong, and Leong Chi Kin, graphic designer for the Macau Museum of Art (pictured above) during a visit to Macau on 22 January 2006.
The biennial received over 600 entries and has built on the success of opening up the competition to designers from mainland China, Hong Kong and Taiwan in 2003. The event has grown consistently under the leadership of Nelson Wong and his team. Wong chaired the organising committee for the Biennial for 1998 > 1999 and 2002 > 2003, prior to being appointed president of the Association.
Submissions were divided into "Macau Region" and "China Region". In the "Macau Region", entries were accepted in the categories of graphic design, advertising design, interior design, exhibition design, web page design, package design, illustration design and commercial photography. In the "China Region", entries were accepted in the categories of poster design, logo and identification mark systems and package design.
A catalogue will be available later in the year.
---

For further information please contact:
W: www.adm.org.mo

The 6th Macao Design Biennial
The biennial is organised with the support of the Civil Administration Department Macau SAR, the Macau Art Museum and the Culture Department of Macau SAR.