Adobe celebrates winners of 10th Annual Design Achievement Awards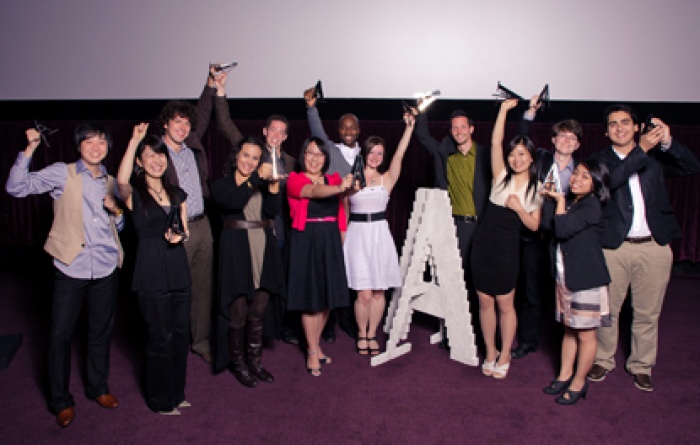 24.10.2010 News
Los Angeles (United States)
- Adobe Systems Incorporated (Nasdaq:ADBE) today announced the winners of its (ADAA), celebrating global student achievements that bring technology and the creative arts together.
The awards honour the most talented and promising student graphic designers, photographers, illustrators, animators, digital filmmakers, developers and computer artists from the world's top higher-education institutions. Since the ADAAs began in 2001, close to 20 000 students across 52 countries have participated in this competition.
"The Adobe Design Achievement Award competition attracts the best student designers in the world. We feel fortunate to be able to shine a light on these future creative leaders," said Ann Lewnes, senior vice president of corporate marketing, Adobe.
For the second consecutive year, Adobe has collaborated with Icograda, the International Council of Graphic Design Associations, to attract student submissions from the Icograda Education Network and select an international panel of design experts to judge the awards.
"The students have done things that are so fresh and innovative because they are pushing the technology and the software is allowing them to do things they couldn't have done before," said judge Meg Barbour, principal at The Barbour Shop.
Renowned designer, Stefan Bucher, served as the Master of Ceremonies during last night's ceremony at the Regal Cinemas Premiere House in Los Angeles, California. Winners were recognised in 12 categories across interactive media, film and motion and traditional media:
Browser-Based Design:




Tiago Cabaco

, "Case Study: Kalvika," Academy of Art University, United States
Non-Browser Based Design:
Anthony Mattox, "Pulsus," Maryland Institute College of Art, United States

Application Development:




Andrew Mahon and Zeke Shore

, "VoxPop," Parsons The New School for Design, United States

Mobile Design:




Laura Bordin

, "Heart Lift," IUAV University of Venice, Italy

Installation Design:




a team led by Marco Werner

, "Buchmesse 2009," Dortmund University of Applied Science, Germany

Animation:




Napatsawan Chirayukool

, "What Makes Your Day?" Kingston University, United Kingdom

Live Action:




Victor Aloji

, "Ad Against Child Sexual Abuse," Hamburger Technische Kunstschule, Germany
Motion Graphics:
Edeline Bernal, "29," York University/Sheridan College, Canada
Illustration:
Soonkyu Jang, "World Championship 2010," Dankook, Korea
Packaging:
Linna Xu, "Ilford Film," York University/Sheridan College, Canada
Photography:
Natalia Luzenko, "To Wait and See," Fachhochschule Wuerzburg-Schweinfurt, Germany
Print Communications:
Chiharu Tanaka, "MONYO+MOJI," Academy of Art University, Japan
The winning entries can be viewed on the
ADAA Gallery
, along with the 2010 finalists and those who have placed and won over the previous nine years. Winners were selected by a global panel of industry judges based on originality, effectiveness in meeting the communication objectives outlined for each submission category, and contestant(s) skills in applying Adobe products.
Judges include:
Meg Barbour
(United States), principal/"first chair" at The Barbour Shop, a renowned post-production shop for TV, film, Web and mobile;
Steve Cornwell
(Australia), CEO of brand identity company, Cornwell Design;
Diego Marini
(France), Accelerated Solution Environment network graphic designer and art director;
Bruno Porto
(Brazil), graphic designer, educator and consultant;
Kevin Slavin
(United States), managing director and co-founder of Area/Code, creators of cross-media games and entertainment;
Erik Spiekermann
(Germany), creative director of Edenspiekermann and former ambassador for the European Year of Creativity and Innovation; and
Lawrence Zeegen
, head of school of communication design, Kingston University (United Kingdom).
"It's very important for design education to be engaged and involved in producing the kind of graduates who are going to change perceptions within the design industry - ones who will rock boats, rather than row boats and those who will continue to move the industry forward," said judge Zeegen, head of school of communication design, Kingston University.
All individual and leaders of the group category winners received a USD $3000 cash prize, a winner's certificate, a 3D award, a copy of Adobe® Creative Suite® 5 Master Collection software (individual winner) or his/her choice of either Creative Suite 5 Design Premium, Creative Suite 5 Web Premium or Creative Suite 5 Production Premium education version software (group winner). Individual winners and team captains will also receive a one-year mentorship with a design leader from the Icograda network and may be appointed to the Icograda Youth Advisory Panel.
---
For more information, please contact:
Diala Lada
Projects Manager
T: +1 514 448 4949 x230
E:
dlada@icograda.org
About Adobe Systems Incorporated
Adobe revolutionises how the world engages with ideas and information - anytime, anywhere and through any medium.
www.adobe.com
About Icograda
Icograda (International Council of Graphic Design Associations) is the world body for professional communication design. Founded in 1963, Icograda promotes communication designers' vital role in society and commerce.