AFRIKAN ALPHABETS: THE STORY OF WRITING IN AFRIKA' NOW AVAILABLE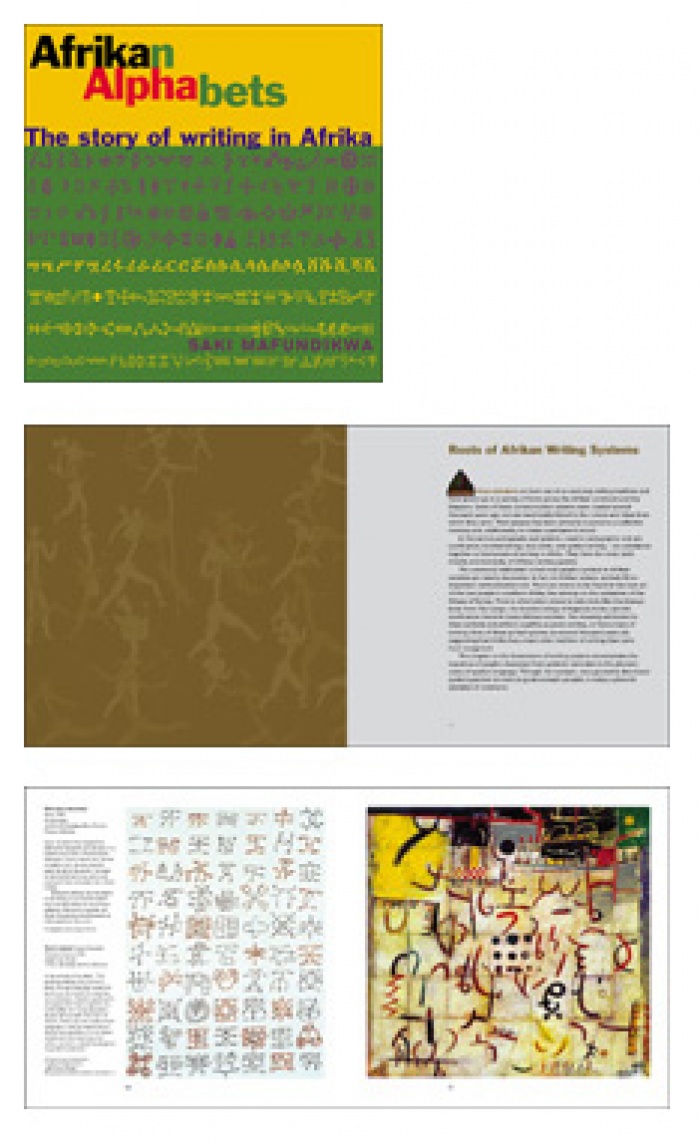 05.07.2004 News
Brussels (Belgium)
- African alphabets have a rich cultural and artistic history. Sadly, their story is little known both within and outside of Africa. The beautifully designed and illustrated book 'Afrikan Alphabets: The Story of Writing in Afrika' sets the record straight in a way that is easily accessible to everyone. Written by Saki Mafundikwa, graphic designer and founder of Zimbabwe Institute of Vigital Arts (ZIVA), the book documents the rich alphabets and visual symbols of Africa and reveals the continent's valuable contributions to the history of visual communication.
For the last twenty years, Saki Mafundikwa periodically researched and travelled across the African continent and Diaspora to present an exceptional account of the alphabets history and usage, including entertaining anecdotes and a wealth of highly graphical and attractive illustrations. Among the alphabets that are analyzed and illustrated are scripts such as Mende, Vai, Nsibidi, Bamum, Tifinagh; and the Somali and Ethiopian scripts. Other alphabets, syllabaries, paintings, pictographs, ideographs, and symbols are also compared and contrasted.
Few people realize that African societies were writing before the arrival of Europeans, in fact at the time Europeans 'discovered' the Vai script of Liberia in the early 19th century, literacy was more widespread among the Vai people than in certain parts of America and Britain. This reality is completely at odds with the popular 'Dark Continent' theory.
Mr. Mafundikwa explains, "The hope is that Africa is seen in a different light, that the prejudices of the past are finally laid to rest in the trash can of history." He adds, "The story of writing in Africa illustrates humanity s desire to create ways of record-keeping and communication. Sadly, most people do not know of Africa s achievements and contributions to history and to humanity. The words 'civilization' and 'writing', to many, are synonymous with 'Westernization'. This informative book will be of interest to anyone fascinated with African culture and art. The author adds, "For most of us Afrikans, history was not necessarily OUR story. My book is an attempt at telling a small part of it."
Afrikan Alphabets: The Story of Writing in Afrika
Published by Mark Batty Publisher, available nationwide Summer 2004
Case bound with dust jacket, priced USD $34.95
ISBN 0-9724240-6-7, 8 X 8 inches, 192 pages
Visit
www.markbattypublisher.com
under Books
---
For further information please contact:
Saki Mafundikwa
E:
sakimaf@hotmail.com
About Saki Mafundikwa
Saki Mafundikwa is a graphic designer, typographer and design educator. He holds an MFA from Yale University and is the founder and director of the Zimbabwe Institute of Vigital Arts (ZIVA), the first graphic design and new media training college in Zimbabwe.
About ZIVA
Zimbabwe Institute of Vigital Arts (ZIVA) is a member of the Icograda Education Network. To learn more about ZIVA, visit their IEN web page at:
www.education.icograda.net/web/school.shtml?s=ziva