GRAFICEUROPE CONFERENCE FEATURES INTERNATIONALLY RENOWNED SPEAKERS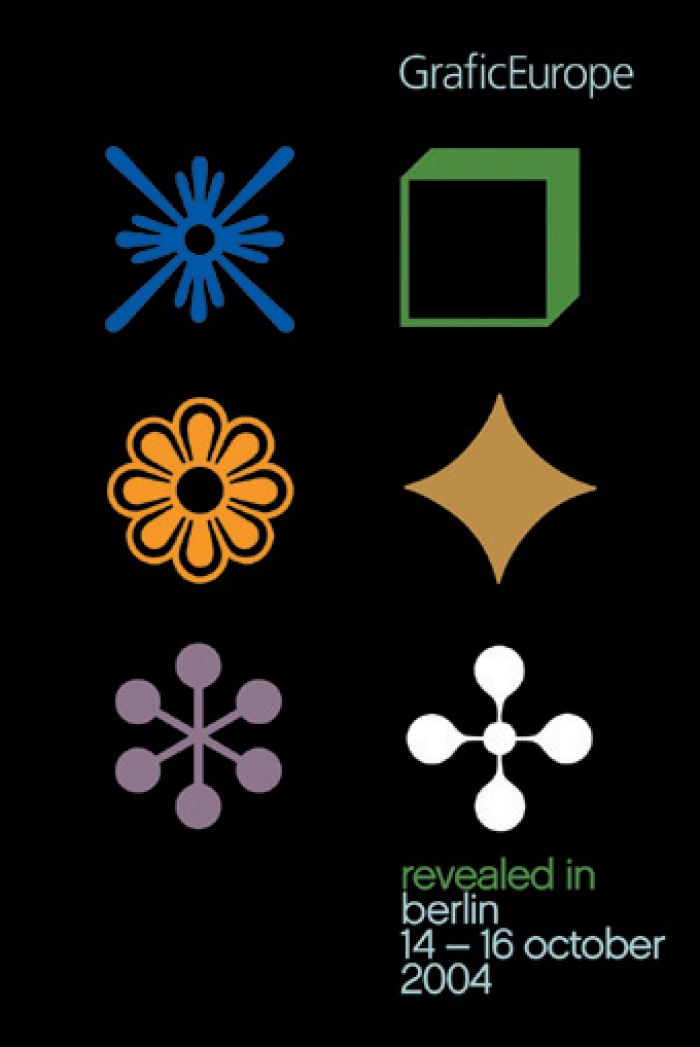 05.07.2004 News
Brussels (Belgium)
- GraficEurope will present today's most intriguing practitioners working on the frontlines of design's ever-expanding territory. Focussing on the themes of Locality and Craft, presenters of this year's conference will explore the questions: What are the tensions inherent in being local in a global society? What is the value of local identity, a sense of place, belonging to a culture? And how is graphic design redefining craft knowledge for the twenty-first century? Conference participants will discover the sources of inspiration, passions, and politics that feed the working processes of over 25 speakers engaged in the most extraordinary design thinking and practice today.
GraficEurope's roster of internationally renowned speakers includes:
Alan Fletcher, Alan Fletcher Design, London
Andrea Tinnes, DasDeck, Berlin
Angela Lorenz, ALorenz, Berlin
Cornelia Blatter and Marcel Hermans, COMA, Amsterdam and New York
Daniela Haufe and Detlef Fiedler, cyan, Berlin
David Linderman, Fork Unstable Media, Berlin
Denise Gonzales Crisp, North Carolina State University, North Carolina,US
Ed Fella, California Institute of Arts, Valencia, US
Erik Kessels, KesselsKramer, Amsterdam
Hjalti Karlsson and Jan Wilker, karlssonwilker inc., New York
Ian Anderson, The Designers Republic, Sheffield, UK
Joerg Koch, 032C, Berlin
John C. Jay, Wieden + Kennedy, Tokyo
Jonathan Barnbrook, Barnbrook Design, London
Jonathan Ellery, Browns, London
Joshua Davis, Joshua Davis Studios, New York
Karin Fong, Imaginary Forces, Los Angeles
Kim Hiorth y, Rune Grammofon, Oslo, Norway
Lawrence Weiner, conceptual artist, New York and Amsterdam
Louise Schouwenberg, design critic, Amsterdam
Matt Hanson, Visual Intelligence Agency, Brighton, UK
Omar Vulpinari, Fabrica, Treviso, Italy
Paula Scher, Pentagram, New York
Peter Girardi, Funny Garbage, Los Angeles and New York
Peter Saville, Peter Saville Associate, London
Rafael Horzon, modocom, Berlin
Rick Poynor, visual culture critic, London
In his keynote speech, visual culture critic Rick Poynor will look at the way in which design has changed from creating actual things, a practice rooted in the here and now, to something less material and more geographically dislocated. Ease of interconnection with clients and exposure to distant audiences brought new opportunities, but also intensified the unease that 'here' matters less than elsewhere. Forecasters predict a continuing retreat of skilled labour into the digital cocoon of the networked home. How to reconnect with reality?
GraficEurope is an annual conference for the pan-European graphic design community, examining the realms of art, design, motion graphics, advertising, and new media. The aim of GraficEurope is to provide high-level professional information and effective networking opportunities to designers at all levels of the profession from all over Europe. This year's edition of the conference will be held 14-16 October 2004 at the Berliner Congress Center, Berlin, Germany.
---
For further information please contact:
E:
info@graficeurope.com
W:
www.graficeurope.com
GraficEurope 2004 is endorsed by Icograda. Icograda endorsement is a guarantee that the design event complies with approved international guidelines.