AGDA DESIGN RESEARCH JOURNAL SPECIAL ISSUE CALL FOR PAPERS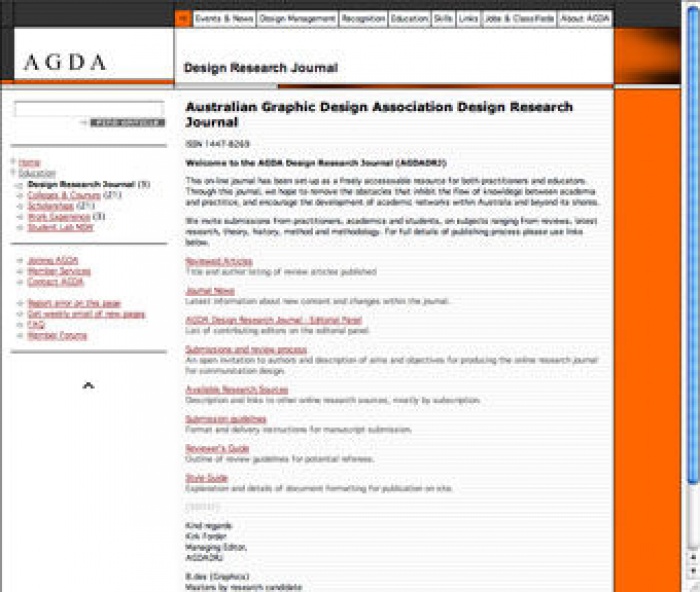 27.06.2004 News
Brussels (Belgium)
- Australian Graphic Design Association (AGDA) Design Research Journal invites article submissions for a special issue on the topic of Graphic Design/Visual Communication. AGDA Guest Editor, Mark Roxburgh, requests articles outlining case studies describing the development and evaluation of research models for graphics/visual communication practice. These case studies can be professional applications or applications at an undergraduate/post-graduate level. The authors are required to provide a framing theory, rationale and critical analysis of the project, rather than a 'how to' account or a theoretical proposition. As the journal is electronic, all articles accepted on recommendation of the peer reviewers will be published. The submission deadline is 5 November 2004.
Design research and design knowledge have been the topics of hot debate in the international forum for the best part of a decade. Much of the discourse addresses largely theoretical issues and focuses on design activities other than graphic design/visual communication/communication design (for example, architectural, engineering and industrial design). The special issue of the AGDA Journal of Design Research aims to articulate the value of research in graphic design and visual communication. Submission criteria is available at
www.agda.asn.au/education/designresearchjournal
Mark Roxburgh is Guest Editor of the AGDA Design Research Journal and the Director of the Visual Communication Program, University of Technology Sydney, Australia. Roxburgh states: "The assumption that is often made about design being a generic activity, with little consideration for the media that one is working in, is problematic. Though different fields of design have commonality, the implications for each in relation to notions of research and knowledge are potentially varied. It is with this in mind that I am calling for articles that deal with these topics, as they relate to graphic design/visual communication."
---
Please submit articles to:
Mark Roxburgh
Director, Visual Communication, Faculty of Design Architecture and Building, University of Technology Sydney, Australia
T: 61 2 9514 8903
E:
Mark.Roxburgh@uts.edu.au