IDN MAGAZINE JOINS IDMN, OFFERS SPECIAL SUBSCRIPTION PACKAGE TO ICOGRADA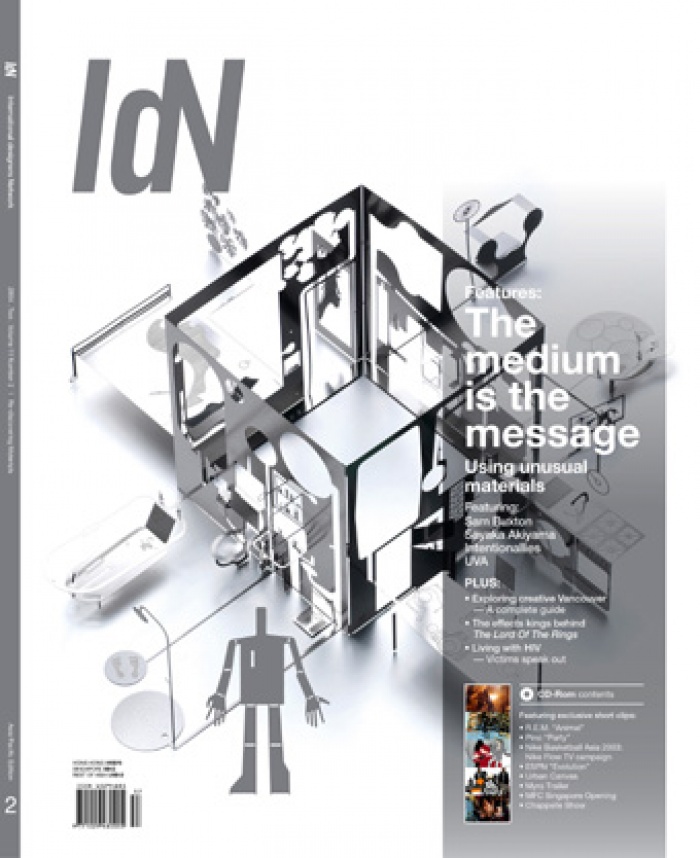 28.06.2004 News
Brussels (Belgium)
- IdN, a bimonthly digital design magazine, has joined the Icograda Design Media Network (IDMN). IdN, or International designers Network, is published by Systems Design Limited and is currently distributed in six editions: Asia Pacific, Australia and International (in English), China, Hong Kong and Taiwan (in Chinese). As a member of the IDMN, the magazine is offering a special subscription package to Icograda and its network participants. The special offer expires 31 July 2004.
Since 1992, IdN has established a solid foundation and has become a leading authority in the digital design publication field, covering the Asia-Pacific region and beyond. It has earned a reputation as a reliable source for up-to-date information on current market situations within the design community. IdN has been an active organiser of creative and design related events which facilitate international networks for designers. Examples of this include the biennial IdN Design Awards that have attracted over 15,000 works in the past years, IdN Gallery which has organised six exhibitions in the past year, digital film festivals, IdN Fresh Conference and the IdN My Favorite Conference (the last four of these international creative events have drawn a total of more than 15,000 attendees).
IdN is extending a special subscription offer until 31 July 2004 to Icograda Members, members of Icograda Member Associations, participants of the Icograda Education Network and Friends of Icograda. For every one-year subscription order, IdN will also send three IdN Magazine Special Editions, four IdN Magazine Regular Editions, 'Give Them Names, For Memory's Sake' Supplement and binder, and a special IdN 'Design-oid' Vinyl Figure.
To access this offer, click on the link below:
www.idnworld.com/idn_sub_offer_icograda.pdf
Icograda Members and their members can also access this offer by logging into the 'Members Only' area of the Icograda website at
www.icograda.org/web/membersonly.shtml
To see a list of available publications from IdN, visit:
www.idnworld.com/proshop
---
For further information please contact:
Systems Design Ltd.
Shop C, 5-9 Gresson Street
Wanchai Hong Kong
T: +852 2528 5744
F: +852 2529 1296
E:
info@idnworld.com
W:
www.idnworld.com
---
The Icograda Design Media Network (IDMN) brings the world's design media together in an online community - a single, convenient source at
www.media.icograda.net
Formed by Icograda at the request of the international design media, the IDMN is dedicated to establishing and promoting standards and ethics in design journalism. It creates a forum for sharing ideas and information, fostering discourse among participants and with Icograda, and contributing to the furtherance of a meaningful body of knowledge regarding design and the role that design plays in modern society. Bona fide design media receive a free listing and a website link, provided as a service to the international design community. Design media publishers wishing to become IDMN Participants on a voluntary, no-fee, advertising-exchange basis may apply directly to Icograda - for an application/agreement contact the IDMN administrator at
admin@media.icograda.net
To see
2+3D
's IDMN profile, visit
www.media.icograda.net/
To see other publications participating in the Icograda Design Media Network, visit the IDMN website at
www.media.icograda.net