ANNOUNCING THE WINNERS OF EULDA '07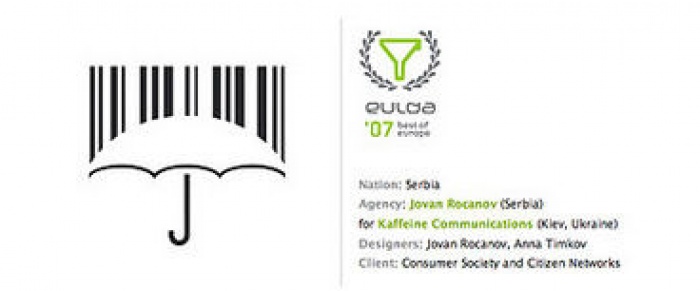 11.09.2007 News
Milan (Italy)
-


Eulda, the European Logo Design Annual, is the high-profile graphic design award scheme that rewards the finest logos designed in Europe.
Eulda is proud to announce the winners of its 2007 edition: 201 logos selected from nearly 1000 entries from 33 different countries, with a 40% increase in entrants from Eulda '06. Eulda is the only award scheme in the world endorsed by Icograda, AIGA, PDA, BEDA, ADCE and more than 65 other design associations around Europe and part of its success is in the innovative international three-tier jury consisting of 10 top design professionals, 10 marketing managers from major international clients and finally 10 members of the public selected respectively by BEDA, AQUENT and CONSUMERS INTERNATIONAL.
The "Best of Europe" and the "Best of Nation" winning entries are displayed online at
www.eulda.com
and all the winning logos will be published towards the end of December in the 2007 annual, a substantial hard bound volume of exceptional quality printed on SAPPI acclaimed papers by Fontegrafica, recently winner of three gold medals in the "Sappi 2007 European Printer of the Year Award".
Building on the success Eulda has achieved so far, and acting on the requests of many designers from all over the world, we have decided to expand our horizons and launch a truly global awards scheme: Wolda, the Worldwide Logo Design Annual that will be launched in January 2008 on exactly the same lines as Eulda (which it replaces) with some new interesting features (see
www.wolda.org
for details).
---
For further information please contact:
Eulda Books
18 Corso San Gottardo
20136 Milano Italy
E:
info@eulda.com
About Eluda '07
Eulda '07 was made possible by its prestigious sponsors
FONTEGRAFICA
and
SAPPI
as well as the various design associations that have granted us their valuable endorsement (see the full list at
www.eulda.com
). Thanks also to our various media partners DESIGN DUMP, DEXIGNER, FWA, IDENTITY, KAK, LINO, NETDIVER, NOVUM, TAXI, TAPES, DIGITAL THREAD and TYPO, greatly supporting and publicising Eulda around the world.

Further information can be found at www.eulda.com (see Press area) or by contacting Miss Areti Maniati at areti@eulda.com or on +39 02 5811 8572. If you would like to receive our press releases regularly, please send a short email with your contact details to press@eulda.com.

This press release has been translated by
KIEN
, technical sponsor of Eulda.