ICOGRADA ANNOUNCES CANDIDATES FOR THE 2007-2009 EXECUTIVE BOARD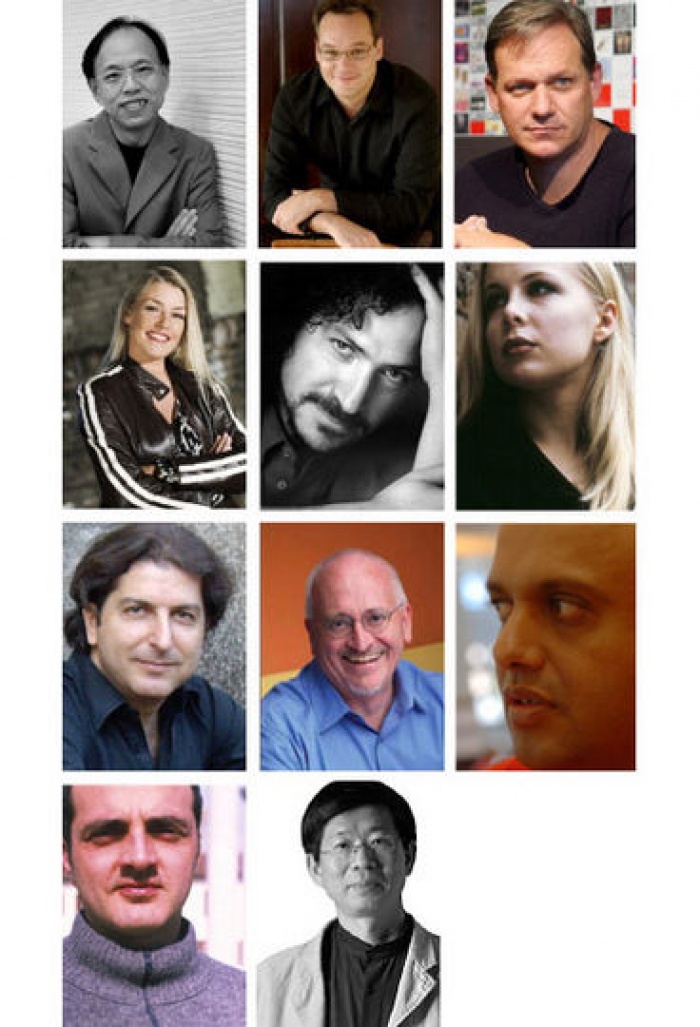 04.09.2007 News
Montreal (Canada)
- La Habana will be the international capital of graphic and communication design from 20-26 October 2007 - a place for designers, consultants, design managers, design researchers, buyers of design services, educators and students to gather, to share, and to learn.
Design/Culture: Icograda World Design Congress 2007
will close with the Icograda General Assembly 22, where delegates will elect the new Executive Board of Directors for the 2007-2009 term. The successful candidates will join the 2007-2009 Icograda President, Don Ryun Chang (Korea), who was named President Elect at the General Assembly 21 in Copenhagen, Denmark. Jacques Lange (South Africa), Icograda's current President, will become Past President.
Don Ryun Chang
(Korea)
Don Ryun Chang was born to diplomat parents and grew up on five continents: Asia, Europe, North and South America, and Africa. He was educated at the University of British Columbia in Canada, the Parsons School of Design, and received his MFA from the California Institute of the Arts. He has received numerous international design awards and conducted seminars and workshops around the globe on branding and design management. In additon he has served as a Vice President of the Visual Information Design Association of Korea (VIDAK) and was the Executive Organising Director for the
2000 Icograda Millenium Congress
in Seoul. Don was elected as Icograda's President Elect for the 2005-2007 term. He is currently the Dean of the Graduate School of Advertising and PR of Hongik University and Executive Advisor for Interbrand Asia Pacific.
Jacques Lange
(South Africa)
Jacques qualified with a BA (FA) Information Design Degree in 1988 from the University of Pretoria and spent time in the television and advertising industries before joining Bluprint Design. At Bluprint, Jacques is a partner responsible for strategy consulting, as well as R&D of integrated visual communication programs for a client portfolio spanning the public and private sectors. Jacques has served as an Icograda Board Member since 2001, was Chairperson of the
Continental Shift 2001 Icograda Congress
in Johannesburg and President of Design South Africa from 1998-2003. He is an advisory committee member of the academic journal,
Image & Text
, board member of the South African Graphic Design Council (think) and a steering committee member of the SABS Design Institute's
Design Achievers Awards
. He has received numeous professional awards, served on adjudication and moderation panels and authored more than 100 articles relating to visual communication. Jacques is fluent in English and Afrikaans and has travelled to over 25 countries.
President Elect :
Russell Kennedy
(Australia)
Russell Kennedy is a senior faculty member with the Department of Design at Monash University. He has served on the Icograda Executive Board since 2003 and is responsible for the Icograda Education Network (IEN). Russell is a Fellow of the Royal Society for the encouragement of Arts, Manufacture and Commerce (RSA), a member of the Australian Graphic Design Association (AGDA) and of the Design Institute of Australia (DIA). Before joining Monash, he was the principle of Russell Kennedy Design Pty Ltd. and Co-Director of Onset Productions Pty Ltd. Russell has a research interest in the relationship of Indigenous culture to national Identity. He actively promotes a network interface between design education and the profession, often assisting other educational institutions within the Oceania/Asian region. He has conducted workshops in the United States and Korea. If elected as President Elect, Russell plans to advocate for the value of design as an economic driver and strategic tool for innovation, promote the importance of cultural diversity in both the practice and teaching of Communication Design, and advocate responsible design practice on issues relating to ethics, discrimination, culture, sustainability and the environment.
Secretary General
Lise Vejse Klint
(Denmark)
Lise Vejse Klint is the former President of Danish Designers (2001-2005). In 2005, she was elected Secretary General of Icograda and has been a member of the Executive Committee of IDA in the period 2005-2007 as well. She has a Master's Degree in Architecture from the Royal Academy of Fine Arts School of Architecture and many years of experience in teaching at institutions such as The Royal School of Library and Information Science, the University of Copenhagen and the Royal Academy of Fine Arts School of Architecture. In addition, she is a board member for the Danish Arts Foundation and in 2006 was appointed by the Minister of Trade and Economics to join a special committee on strengthening Danish design. In August 2006, Lise was appointed as Program Director of
INDEX: Design to Improve Life
, the world's largest design prize.
Treasurer
David Berman
(Canada)
David Berman has over 20 years of experience in communications design and has worked extensively in the adaptation of printed materials for electronic distribution. As an expert speaker, graphic designer, communications strategist, public speaker, typographer and consultant, his professional work has brought him to over a dozen countries in the past few years. David's work for a diverse portfolio of clients includes award-winning projects in the application of plain writing and design. David drafted the Code of Ethics that embraces social responsibility for the Society of Graphic Designers of Canada (GDC). He has served as the National Ethics Chair for the GDC since 2002. David has also served as President of the Association of Graphic Designers of Ontario (RGD), North America's first accredited graphic design organisation, leading the development of the association's General Bylaw and Rules of Professional Conduct and Ontario's accreditation examination section on ethics and professional responsibility.
Vice President
Iva Babaja
(Croatia)
Iva Babaja was born in Zagreb, Croatia. She graduated from high school in Orlando, Florida and studied graphic art at Universitat f r Angewandte Kunst (Academy of Applied Arts) in Vienna. Iva is a member of the Association of the Artists of Applied Art of Croatia (ULUPUH), the Croatian Association of the Freelance Artists (HZSU), the Croatian Designers' Society (HDD) and co-founder and president of the Association for Promotion of Visual Culture and Communications (VIZUM). She has worked extensively as a photographer, art director and freelance artist for agencies such as Digitel Advertising, TBWA\ Zagreb, Fraktura Publishers, McCann Erickson and Proximity Zagreb (part of BBDO group). She is committed to doing pro bono work for worthy projects. Within ULUPUH, Iva deals mostly with the recognition and respect of the profession in the transitory society of Croatia, where most clients and institutions still do not recognise its importance. She is involved in the organisation and execution of ZGRAF and helped organise the 2001 Icograda Regional Meeting in Zagreb, Icograda Regional Meeting in Cuba and Congress in South Africa. Her work has been published in
Print European Annual
(2004),
Anthology of Croatian Women Photographers
(2007) and
Anatomy of Design
(Mirko Ilic and Steven Heller, 2007), as well as numerous other Croatian publications.
Vice President
Halim Choueiry
(Qatar)
Originally from Lebanon, Halim Choueiry is a design educator and practitioner based in Qatar. He has served on the Icograda board since 2004. He is currently an Assistant Professor at Virginia Commonwealth University, School of the Arts in Qatar and undertaking a PhD in Design at Brighton University in the United Kingdom, focusing on the effect of visual information systems upon human memory structures. Halim is a collaborator with the Center for Research in Design at VCUQ, contributing in the development of the
IDA World Design Report
and the
Design Zone
in Qatar. Through Cinnamon, his own design studio, he specialises in identifying cultural patterns, visual development of bilingual corporate identities, and the simultaneous typographic representation of Latin-based languages and Arabic. Halim co-created, designed, an contributed Comma, the monthly pan-Arab graphic design publication, between 2001 and 2004. He has won several national and international design competitions and featured work in various design publications. Halim has extensive experience in judging for student competitions and advertising awards. He is dedicated to bringing about sustainable changes in the approach and thinking patterns of design in the Middle East and the Gulf region.
Vice President
David Gibson
(United States)
David Gibson is an internationally recognised and published designer, a pioneer in the field of public information design. He is co-founder and managing principal of Two Twelve Associates, Inc. His leadership in projects for the Chicago Park District, the Partnership for Downtown Baltimore, and Sound Transit in Washington State are just a few examples of his commitment to making the public his most important client. David studied architecture at Cornell University before earning his MFA at Yale. For him, design and architecture are always in dialogue. He was an early proponent of the Americans with Disabilities Act (ADA) and helped develop some of the first disability-aware design guidelines for the Society for Environmental Graphic Design (SEGD) David attended the AIGA's Advanced Leadership Summer Program at Harvard. He maintains an active speaking calendar around the world, and has taught at the Central Academy of Fine Arts in Beijing, Philadelphia's University of the Arts and the Cooper-Hewitt National Design Museum. David has also served as a consultant to the National Endowment for the Arts and the Metropolitan Transportation Authority.
Vice President
Mohammed Jogie
(South Africa)
Mohammed Jogie studied Fine Art at the University of Durban Westville and Graphic Design at the Vaal Triangle Technikon. Wanting a more South African angle to his work, he took a certificate course at Funda Community College in Soweto. He has done a number of short courses in management and design software. Mohammed cut his teeth by working as an assistant to cartoonist Vella Padayachee before moving onto struggle newspaper The Indicator where he came through with top honours on their media training programme. He then embarked on a design consultancy before moving onto an in-house design division of the Premiere Group. In the nineties, he art directed magazines before starting his design company Morning Star Design. He also worked as a design and software application trainer. Mohammed is a practising designer and works for Adobe looking after marketing, PR and creative pro products in Africa, the Middle East and Indian Ocean Islands.
Vice President
Omar Vulpinari
(Italy)
Omar was born in the Republic of San Marino and raised in the United States. Today he lives in Treviso, Italy. Since 1998, he has been the creative director of the Visual Communication Department at Fabrica, the Benetton research center on communication founded by Oliviero Toscani. Fabrica's communication design work under his direction has been featured by major international press and exhibitions. In 2006 it was featured in the exhibition 'Fabrica: Les Yeux Ouverts' at the Centre Pompidou in Paris. He has been co-curator for Phaidon's
Area
and contributor to Steven Heller's
Becoming a Graphic Designer
and
The Education of a Graphic Designer
. His design work has recently been selected by Taschen for the upcoming
Contemporary Graphic Design
. Omar teaches at the University of San Marino - University of Venice, where he also directs the lecture series 'Graphic Design and Social Concern'. He is a frequent speaker, juror and workshop leader for major international design events. He studied at the University of Bologna and the Albe Steiner Center in Ravenna.
Vice President
Min Wang
(China)
Min Wang is Professor of Graphic Design at China Central Academy of Fine Arts (CAFA), one of the most important art schools in China. He currently serves as the Dean of School of Design and the Design Director for Beijing 2008 Olympic Games Committee (BOCOG). Min Wang received his B.A.(1982) in Graphic Art from China National Academy of Fine Arts and M.F.A. (1988) from Yale University School of Art. Since 1998, he has been the Design Director at Square Two Design. From 1990-98 he served as Design Manager, Senior Art Director, Senior Designer at Adobe Systems. He has been a visiting fellow in Germany at Akademe der Bildenden Kunste, Munich and Hochschule der Kunste, Berlin. In 1989, he began lecturing in graphic design at Yale University School of Art, teaching graduate students until 1997. Min's work has been exhibited internationally in showcases such as the Biennial of Graphic Design, Brno, Czech Republic; Graphic Design Show in Beijing, China; Type Directors Club Exhibition, New York; Print Annual; and the International Poster Biennial, Lahti, Finland and in the collection of Museum fur Kunst und Gewerbe in Hamburg, Germany, Museum f r Gestaltung Z rich Kunstgewerbemuseum, Switzerland. Min has been appointed Honorary Professor by Shanghai University, Fine Art College.
---
For further information please contact:
Icograda Secretariat
455 Saint Antoine Ouest, SS10
Montreal, QC
H2Z 1J1 Canada
E:
secretariat@icograda.org
About Icograda

The International Council of Graphic Design Associations (Icograda) is the world body for professional communication design. Founded in 1963, it is a voluntary assembly of associations concerned with graphic design, visual communication, design management, design promotion and design education. Icograda promotes communication designers' vital role in society and commerce and unifies the voices of graphic designers and visual communicators worldwide. The vision, mission and core values of the council are collectively embodied in the statement 'leading creatively' and manifested through our members' diverse activities to use design as a medium for progressive change. www.icograda.org