CONCLUSION OF 21ST BIENNIAL OF INDUSTRIAL DESIGN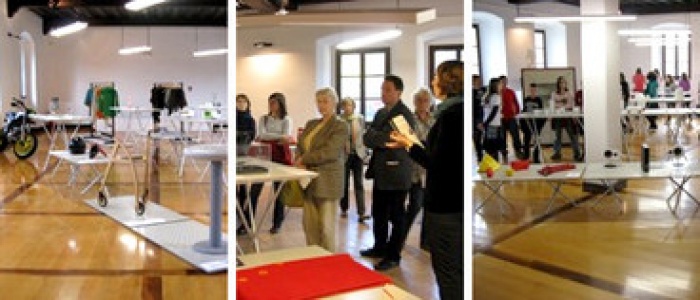 09.11.2008 News
Ljubljana (Slovenia)
- The , an Icograda endorsed event, was concluded on Sunday, 2 November 2008. The international exhibition, which was on display for one month at the Architecture Museum of Ljubljana (at Fuþine Castle), presented 126 works from 18 countries covering industrial design, visual communications, and design concepts.
9,963 visitors viewed the BIO 21 exhibition and participated in its accompanying program; the visitors primarily included university students, schoolchildren, experts from Slovenia and abroad, and other design enthusiasts. BIO 21 was covered by Slovenian and international journalists; in addition, journalists from important international design media were invited for a special study visit, during which they familiarised themselves with contemporary Slovenian design and design-aware companies in addition to viewing the BIO 21 exhibition.
In addition to the main exhibition and nine expert guided tours, an interesting accompanying program aimed at various target groups was prepared. Through professional talks, an international conference on creativity and innovation, and prominent design exhibitions, the organisers wished to emphasise the importance of design and the challenges it faces in today's society. Preschoolers, schoolchildren, and university students attended the design-related creative workshops in large numbers. The BIO Secretariat is happy with the overall attendance of the entire program of thirteen BIO 21 accompanying events.
Although the 21st Biennial of Industrial Design has already closed its doors, you are cordially invited to the following exhibition, which is part of the Biennial's accompanying program:
Created in Slovenia: Presentations of Slovene Creativity, which will be on display until 13 November 2008 at the Chamber of Commerce and Industry of Slovenia.
BIO 21 catalogue
The BIO 21 catalogue, which accompany the exhibition, contains information about the design works, designers, commissioners, and manufacturers. The catalogue is published in Slovene and English.
The price of the BIO 21 catalogue is €20. Entrants are entitled to a 50% discount on the price of the catalogue. Award-winners will receive a free copy of the catalogue.
To order the catalogue, send a message to:
bio@aml.si
About Bio 21
The Biennial of Industrial Design (BIO) is a comparative international exhibition of industrial design, visual communications and design concepts. It is a cultural event directly connected to industry, the economy, the design profession, innovation, education and development.
The BIO 21 exhibition, showcasing works that have been carefully selected and critically evaluated by an international jury, will remain open until 2 November 2008, from 10:00 am - 6:00pm daily.
About BIO
BIO, now in its forty-fourth year, is one of the few major international exhibitions to present, every two years, the best products and prototypes from the fields of industrial design, visual communications and design concepts from Slovenia and abroad.
---
For more information, contact:
Architecture Museum of Ljubljana
BIO Secretariat
T: +386 1 54 00 348
T/F: +386 1 54 00 344
E:
W:
www.bio.si