VIRGINIA COMMONWEALTH UNIVERSITY IN QATAR CELEBRATES 10 YEARS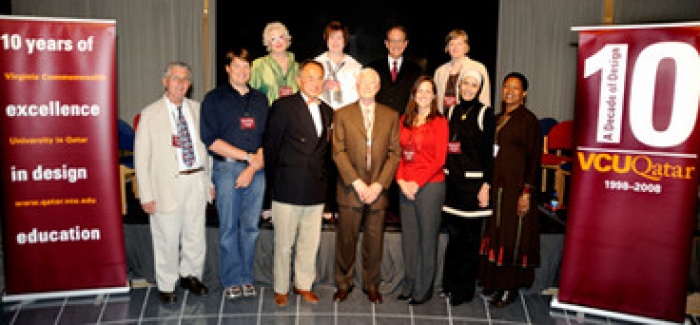 11.11.2008 News
Doha (Qatar)
- Today, in celebration of its 10 year anniversary, , an Icograda Education member and organiser of the upcoming
Icograda Design Week in Qatar 2009
, hosted a special presentation, entitled "VCUQatar in the Beginning."
For this event, the Founding Director and inaugural faculty were brought from around the world to Doha, Qatar, to speak about the partnership with the Qatar Foundation in 1997 and the initial challenges they overcame when they began classes in 1998.
In August 1997, representatives of the Qatar Foundation visited Virginia Commonwealth University (VCU), in Richmond, United States, with an invitation to open a design school in Doha, Qatar. A VCU delegation came to Qatar in November to meet with Sheikha Mozah and an agreement was made to establish the Shaqab College of Design Arts (SCODA) in December of 1998.
Recruitment began the following spring with the first classes offered in September 1998. The programs were nearly identical to those in Virginia and the process to gain campus status was begun. In April 2001, The State Council of Higher Education for Virginia, United States, granted approval for VCU to open a campus in Doha with the authority to grant degrees effective May 15, 2002. In 2001 Shaqab College of Design Arts changed its name to become the VCU Qatar College of Design Arts and then in 2002 became an official campus under the name VCU School of the Arts in Qatar (VCUQatar). The first BFA degrees were awarded in June 2002 to 21 students. VCUQatar was the first university campus in Education City and the first accredited American campus in the Gulf region.
At "VCUQatar in the Beginning", Paul Petrie, Founding Director for the Shaqab College of Design Arts, spoke about the "special bond that was created between the faculty and students from the beginning; both on the academic and social levels." Paul served as the Founding Director for the operations when VCU provided curricula and faculty for SCODA. After returning to the states for one year, Mr. Petrie rejoined the VCUQatar faculty to serve as the Area Coordinator of the Interior Design Program. Under Paul's leadership the VCUQatar campus achieved its Council for Interior Design accreditation in the year 2005; making it the only university outside of the continental United States and Canada to hold this honor.
Other notable faculty that served on the panel included Majdoleen Till (98-04), Alexina Fagan (98-00), Tom Adair (98-00), Barbara Spies (98-00), Kathleen Frank (99-04), Peter Martin (98-08), Sandra Wilkins (99-08) and Lisa Clayton (99-08). Dr. Charles Bleick, Associate Dean for Academic Affairs, who has served VCU since 1976 and VCUQatar since 2004, served as the moderator for the panel of inaugural faculty. He noted, "It has taken a lot of hard work of many faculty and staff to bring VCUQatar to this decade of achievements in design education, and I am excited to have been part of such a landmark achievement."
Administration officials involved in the initial operations who were present at the event included Allan Hing, Director (01-02) and Faculty (99-03), Nancy Scott, Associate Director (99-00), John Demao, VCUArts Associate Dean for Qatar (02-08) and Christina Lindholm, Dean (02-07).
Since 1998 the Qatar campus offers an opportunity to people of all backgrounds to earn a Bachelor of Fine Arts degree in graphic design, fashion design, or interior design. Highly qualified professors provide rigorous curricula that prepare students to assume leadership roles in the professional field of their choice. VCUQatar organises exhibitions, gallery events, Islamic Art lectures, community classes and world-class fashion shows.
In May of 2008, VCUQatar graduated its fifth class of 34 students, bringing the total number of Alumna to 182. The graduates are participating in the growth and development of Qatar working in various fields of design in a range of public and private sector vocations including Planning and Development Authority, Al Mana Company, Qatar International Hotels, Kharamma, Qatar Tourism Authority, Qatari Diar, Al Jazeera International, and Al Jazeera Children's Channel. In 2008/2009 academic year VCUQatar hosts 209 students.
---
For more information, please contact:
Moamer Qazafi
Virginia Commonwealth University in Qatar
T: +974 492 7277
M: +974 551 0239
E:
mcazafi@qatar.vcu.edu
W:
www.qatar.vcu.edu