DESIGN> launches DESIGN>ART magazine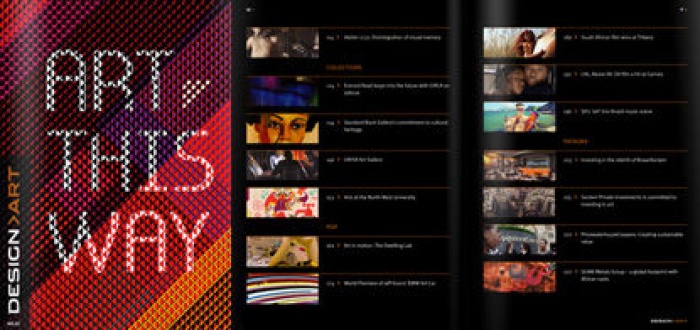 26.07.2010 News
Johannesburg (South Africa)
-
DESIGN>ART
is the latest addition to the DESIGN> stable of publications. Launched in collaboration with the Johannesburg Art Gallery, DESIGN>ART focuses on promoting the arts and its relationship to design from South Africa, the African continent and beyond.
DESIGN>ART puts the spotlight on current exhibitions and happenings in the arts industry. It also looks at corporate art collections and activities of major patrons. On the lighters side, it features contemporary trends in popular culture spanning all of the creative industries.
Spanning twenty one articles and two hundred and thirty one pages, DESIGN>ART is structured to cover four areas – Spotlight, Collections, Pop and Patrons – featuring seminal exhibitions, corporate art collections, popular culture, automotive art, film and music, among others, ensuring a great read for all art lovers and design enthusiasts alike.
We invite you to make art life and make it live by reading DESIGN>ART magazine.
---
For more information, please contact:

Jacques Lange
Group editor, DESIGN>
e: kacquesl@iafrica.com


About DESIGN>
DESIGN>
is a free subscription information platform where creativity, innovation, knowledge, technology and business converge.
DESIGN>
, with its stable of dynamic digital publications, seeks to engage and inspire designers from all disciplines, the design conscious and the design curious throughout Africa and beyond. The
DESIGN> Information
stable of publications now includes
DESIGN> magazine
,
DESIGN> IN TECHNOLOGY
,
DESIGN> LIVING
,
DESIGN> EDUCATION
and
Special Reports
.
www.designmagazine.co.za
About the IDMN
The Icograda Design Media Network (IDMN) brings the world's design media together in an online community - a single, convenient source. Formed by Icograda at the request of the design media, the network consists of IDMN Participants and bona fide design publications and media. This network is dedicated to establishing and promoting standards and ethics in design journalism. It creates a forum for sharing ideas and information, fostering discourse among participants and Icograda, and contributing to the furtherance of a meaningful body of knowledge regarding design and the role that it plays in modern society.