DESIGNERS MEET THIS WEEK AT KYOORIUS DESIGNYATRA IN GOA, INDIA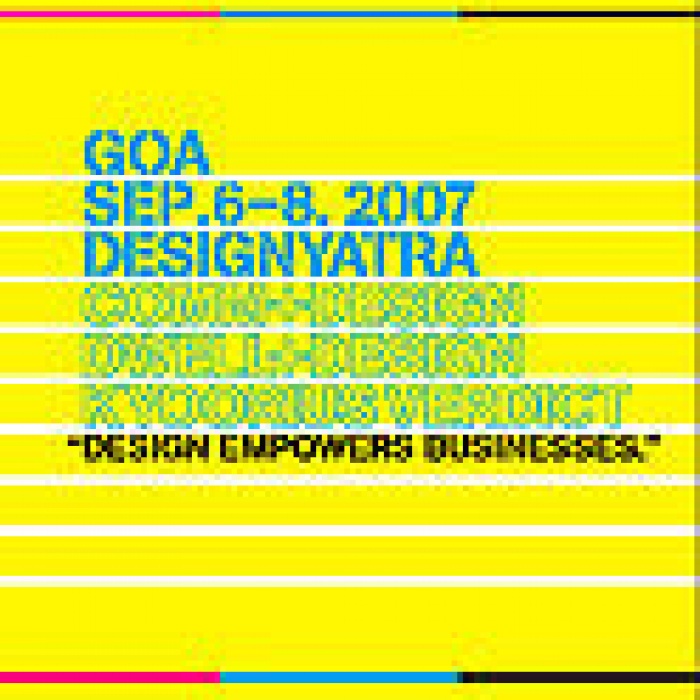 03.09.2007 News
Goa (India)
- From 6-8 September, India's designers will gather at Kyoorius Designyatra. Kyoorius Designyatra is an annual design event organised by Kyoorius Exchange, a platform initiated in the Visual Communications space by Transasia Fine Papers and guided by top designers and creative heads. The conference content celebrates design excellence and creativity, reinforcing the sense of community among creative professionals. Kyoorius Designyatra is an Icograda endorsed event.


Theme: "Design Empowers Businesses"
The theme for Kyoorius Designyatra 2007 is "Design Empowers Businesses." Thomas J. Watson, Jr., the CEO who was responsible for introducing electronic computers into IBM's business direction and one of TIME Magazine's 100 most influential people of the 20 century, once famously declared, "Good design is good business." The theme for Kyoorius Designyatra 2007 is inspired by Watson's statement.
Kyoorius Designyatra 2007 aims to connect design business to foster strategic partnerships for mutual growth. Kyoorius Designyatra 2007 invites participants to look beyond the boundaries of design and explore the future of design as a business and as a tool to empower businesses. As global design business is moving towards convergence of multidisciplinary solutions, the timing is becoming increasingly critical to reevaluate and reassess, both from the design firm's point of view or from the businesses'. Kyoorius Designyatra 2007 encourages business owners and design buyers to reappraise the values of design to provide a competitive edge to their business.
Through Kyoorius Verdict, Designyatra encourages looking at design practice, not just from delivering creative and visually pleasing solutions, but also to measure the effectiveness of design solutions in the marketplace. Panel discussions will focus on growing business by design and will have eminent heads of top corporate as panelist.


Event Overview
DESIGN CONFERENCE: A design conference with prominent international practitioners in the fields of design, web, branding and marketing, including Wally Olins, Stefan Sagmeister and Harry Pearce, among others. Special focus on interactive technology and multidisciplinary brand communications, and integrating traditional channels with new media.
WORKSHOP AND PANEL DISCUSSIONS: Breakout sessions to provide more insight into specific area of interest.
MINT: A traditional expo area, a hotbed for striking deals - new business deals are struck or explored here, where possible long-term relations are fostered. The expo area provides the space for sponsors and partners to exhibit their products and services to the creative community. Kyoorius Designyatra is the place where designers and design-driven businesses meet to share ideas and innovations, explore possibilities for collaboration, and provide opportunities to experience first-hand products and services.
WALLET: Stores to make or spend money on souvenirs, gift articles or just plainly make something a part your collection or hobby.
SHOWOFF: A pavilion for Professional Photographers to showcase their outstanding unpublished work to a highly focused target group - creative directors/visualisers, designers and corporate professionals. An opportunity unparalleled to any other forum where one gets to meet, engage and influence the core audience to generate new business.
KYOORIUS VERDICT: All India Design and Print Awards - setting the benchmark for design and print excellence. The Awards Night recognises and appreciates the winners. Exhibition showcases the winning entries on location.


Venue
SAG Grounds, Panjim,
Goa, India
---
For further information please visit:
W:
www.designyatra.com