GOOD 50X70 IS OFFICIALLY LAUNCHED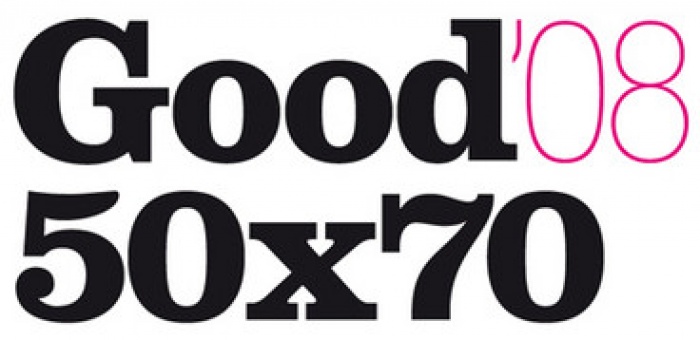 18.02.2008 News
Italy
-
Good50x70. The project that helps social communication.
Good 50x70, the initiative to promote awareness amongst the creative community of the power they have to be a force for good, is back for its second year.
This year the scope of the competition has widened to include more charities (Unicef and WWF joined Amnesty, Amref, Emergency, Greenpeace and Lila) providing briefs and a bigger jury of leading designers including: Timo Berry, Bulent Erkmen, Cao Fang, Yossi Lemel, Alain Le Quernec, Chaz Maviyane-Davies, Armando Milani, Woody Pirtle, Gunter Rambow, Liza Ramalho, Dan Reisinger, Leonardo Sonnoli, Massimo Vignelli and Lourdes Zolezzi.
The competition is endorsed by: AGI, ICOGRADA, BEDA, ADI and AIAP.
However Good 50x70's focus remains the creative competition based on briefs provided by charities on seven issues which affect thousands of people around the world.
Entrants are asked to design posters (on as many briefs as they wish) and the posters selected as the best by the jury of graphic design luminaries will be given to the charities to use for potential campaigns and exhibited around the world.
Last year Good 50x70 surpassed all expectations for its debut edition and received 1659 entries from all over the globe. Exhibitions of the best posters were held at the prestigious Triennale Gallery in Milan and Istanbul Design Week before touring Italy. Workshops at design schools and colleges were run alongside the competition to promote the value of social communication to the young creatives who will be responsible for the next generation of communication.
This shows Good 50x70's commitment to its cause - it's not simply a competition, it aims to produce work that really makes a difference.
The communications industry is the best in the world at grabbing people's attention and getting them to act on what it says.
It's time to use these skills for more pressing issues than beer and trainers.
Good 50x70 is open for entries from February the 18th, 2008. The entries close on midnight April the 20th, 2008.
---
For more information please visit
http://good50x70.org
About Good 50x70
Good 50x70 is a Good Design cultural association project by Pasquale Volpe in collaboration with Tommaso Minnetti.