ICOGRADA WORLD DESIGN CONGRESS OPENING AT MUSEO NACIONAL DE BELLAS ARTES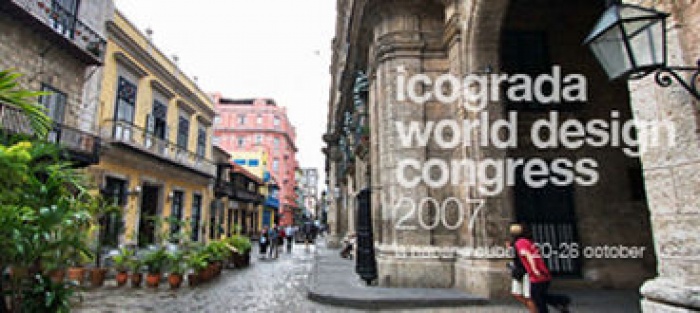 06.07.2007 News
La Habana (Cuba)
- The opening celebrations of
Design/Culture: Icograda World Design Congress 2007
will take place on 20 October, Cuba's national Day of Culture, and feature two unique exhibitions. Whether you plan to attend the Education Conference, the International Conference, or take in all five days of the Congress, you'll want to be sure to arrive in time to share in this special day.
Posters for Cultural Diversity
The international exhibition 'Posters for Cultural Diversity' was inspired by the desire to reflect on peoples' rights to preserve the cultural diversity and the challenges posed by the globalisation of communications. Organised under the patronage of UNESCO's Office for Latin America and the Caribbean, 100 designers from 26 countries have been invited to express their interpretation of cultural diversity as a "common legacy of mankind." The exhibition has been curated by Hector Villaverde, president of Prografica. The opening will take place at the Universal Arts Building of La Habana's Museo Nacional de Bellas Artes.
Eduardo Munoz Bachs: Imagenes de Cine
From the Universal Arts Building, Congress delegates will proceed to the Cuban Art Building of the Museo Nacional de Bellas Artes for the opening of 'Eduardo Munoz Bachs: Imagenes de Cine'. Bachs had a lifelong relationship with the Instituto Cubano de Arte e Industria Cinematografica (ICAIC). He is widely regarded as the most important creator of Cuban film posters. Bach's last poster was for Icograda's June 2001 regional meeting in La Habana.
Welcome reception
A welcome reception at the Cuban Art Building will follow the two exhibition openings, offering all Congress delegates the opportunity to experience Cuba's renowned hospitality.
Plan to join us, meet friends from around the world, and make new connections.
---
For further information please contact:
Icograda World Design Congress 2007
455 Saint Antoine Ouest, SS10
Montreal, Quebec
H2Z 1J1 Canada
T: +1 514 448 4949 x230
E:
events@icograda.org


About Design/Culture: Icograda World Design Congress 2007
The Congress will offer a memorable gathering of the international design community. We invite you to share a week of dynamic programming and explore the possibilities of the relationship between culture and design. La Habana will be the international capital of graphic and communication design in October 2007 - a place for designers, consultants, design managers, buyers of design services, educators and students to gather, to share, and to learn.
havana.icograda.org

Register now: Take advantage of a 33% discount when you
register
before 31 July 2007.

Organising Partners
The Congress is being planned in collaboration with Prografica, Icograda's Cuban member association, and their sponsor, El Consejo Nacional de las Artes Plasticas (CNAP).

Official Media Partners
Colors (Italy), d[x]i (Spain), egodesign (Canada), Etapes (France), form (Germany), IdN (Hong Kong), Lino (Australia), Package and Design (China), netdiver (Canada)