Jacques Lange receives University of Pretoria's first Alumni Award of Excellence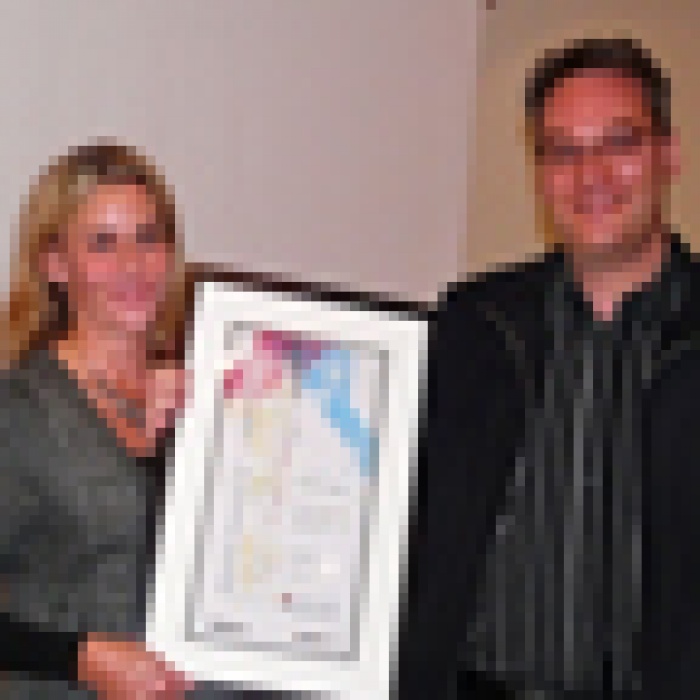 03.06.2010 News
Pretoria (South Africa)
- , Icograda President 2005-2007 and a graduate of the University of Pretoria in 1988, became the first recipient of the Department of Visual Arts' Alumni Award of Excellence at a function held at the Van Wouw House in Pretoria, South Africa.
Above: Nicole Cunningham presents Jacques Lange with the Department of Visual Arts Alumni Award of Excellence. Source:
web.up.ac.za
Lange received the award in recognition of his outstanding achievements in the design profession, locally and internationally, as well as for his ongoing contribution to the development of the Information Design programme at the Department of Visual Arts at UP.
As past president Icograda and founding co-chair of the International Design Alliance from 2005 to 2007, Lange became a trailblaser for the strategic role of design and multi-disciplinary collaboration over the years. He is currently group editor of the stable of publications where he is part of a core management team responsible for expanding the group's titles from one to five, and expanding its readership from one to more than 100 countries in a mere 18 months. Lange is also creative director and partner at Bluprint Design, a communication design consultancy based in Pretoria and an advisor to various governmental, education and NGO institutions.
Throughout his career, Lange has actively engaged in the fields of design practice, profession management, education, design promotion and policy advocacy. His professional output as a designer has also earned him many industry awards and his work has been featured in numerous publications and exhibitions.
For the past 20 years, Lange has been a part-time lecturer in Information Design at UP where he has inspired many fledgling designers to pursue their careers with passion and dedication. In handing over the award, UP Information Design course director, Nicole Cunningham, said that Lange is a staunch advocate for design as a strategic asset in sustainability, corporate social responsibility and development of professional practice, ethics and design education.
Other of Lange's recent achievements that were highlighted during the award presentation was that he acted as curator and creative director of UP's Centenary Information Design exhibition: 'X-ings: Changing culture through design', on behalf of the Department of Visual Arts in 2008. The collection has subsequently formed the foundation for establishing the first virtual, multi-disciplanary design archive at an academic institution in Africa. In addition, Lange chaired the 2010 SABS Design Institute's Design Achievers Award scheme in the past week, an initiative which fosters design leadership and entrepreneurship in Africa. Lange was the second recipient of this award in 1988 and has been actively involved as a steering committee member since 1997.
According to Suzette Snyman, head of the Imaging programme in Information Design, the Alumni Award of Excellence will be presented to worthy recipients as and when they are identified.
The award presentation formed part of Design Chat, an initiative initiated by the UP Visual Arts Department in 2009 as part of the institution's strategy to keep in contact with alumni and to share contemporary viewpoints. The line-up at the second Design Chat included presentations by Donavan Fourie, of the company 3minutefilm, on changing technology and the move towards a computer-less world. Rudo Botha of Rex spoke on the influence of the global village on a designer's work environment and Johan van Wyk spoke about designing beyond a recession.
---
For more information, please contact:
Jennie Fourie
Department of Visual Arts at the University of Pretoria
South Africa
E:
jfourie@bpsupport.com