MORTEZA MOMAYEZ RECEIVES ICOGRADA LIFETIME ACHIEVEMENT AWARD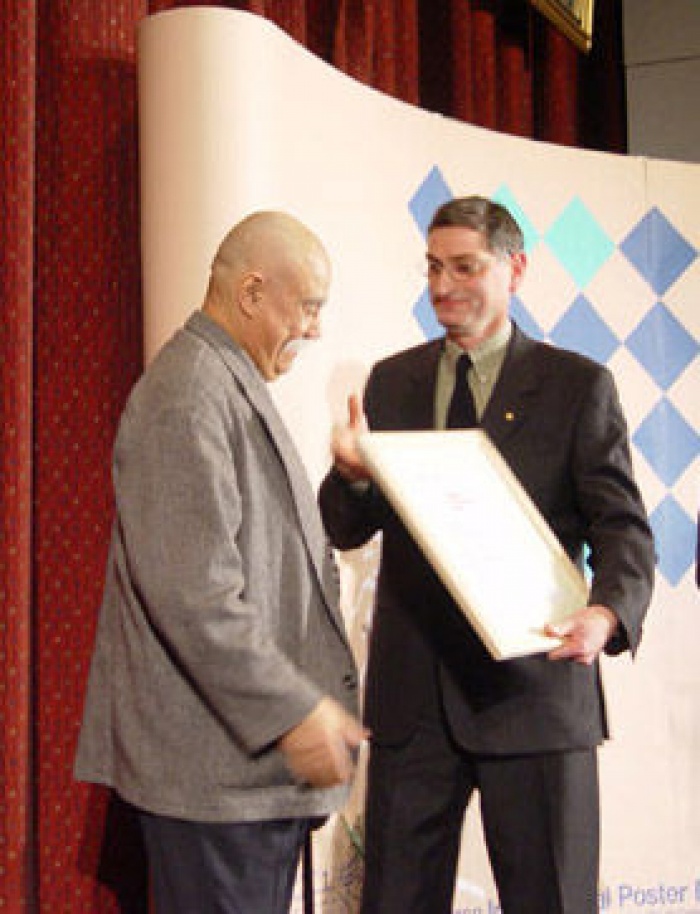 18.04.2004 News
Brussels (Belgian)
- Icograda awarded a Lifetime Achievement Award to Iranian designer, Morteza Momayez, at the 8thTehran International Poster Biennial.* The award is one of several prizes given at a well-attended ceremony in the Tehran Museum of Contemporary Art, Iran. The award ceremony marked the closing of the biennial exhibition that was held at the Saba Cultural Complex from 24 February to 12 April 2004 and featured over 312 social and cultural posters from around the world.
Former Icograda President 1997-1999, Guy Schockaert (Belgium), presented the Icograda Lifetime Achievement Award to Morteza Momayez for his contributions as a professional designer, educator and author. Momayez specialises in posters, books, magazines, Persian lettering and lighting and stage design. His works have been presented in dozens of international magazines since 1968 and he has actively participated in exhibitions around the world and in film festivals in the Middle East. He has also lectured at the Faculty of Fine Arts at University of Tehran. Momayez is a member of Alliance Graphique International (AGI), Vice President of Iranian Artists Forum (IAF) and Chairman of the Iranian Graphic Designers Society (IGDS).
Mr. Schockaert also awarded an Icograda Excellence Award to Tahamtan Aminian for "...and our world is still alive" 2003. Other prize winners include: First prize - Reza Alavi (Iran) for "New flag of Iraq" 2003; Second prize - Anette Lenz and Vincent Perrotte (France) for "Theatre d'Angoulme" 2003; Third prize - Parsia Tashakori (Iran) for "Let's create blue sky for children" and Firooz Shafei (Iran) for "The 10th Anniversary of Sadeg Hedayat's (a prominent Iranian writer) birthday" 2002. The 8thTehran International Poster Biennial was organised by the Iranian Graphic Designers Society in co-operation with Visual Art Center and Tehran Museum of Contemporary Art. Works of biennial exhibition prize-winners, participants and jury members can be viewed on the biennial website.
---
For further information please contact:
www.tehran-poster-biennial.com
*This event was endorsed by Icograda, which guarantees that the design event complies with approved international guidelines.