NAGOYA DESIGN DO! 2010 competition open for applications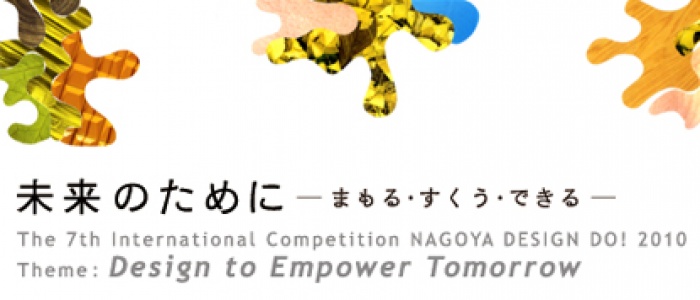 16.02.2010 News
Nagoya (Japan)
- The Nagoya International Design Competition Committee is accepting applications for the
7th International Design Competition NAGOYA DESIGN DO! 2010
, themed 'Design to Empower Tomorrow.'
Nagoya Design DO!
is an international competition held every other year with the goal of encouraging the development and interaction of talented young designers from all around the world. Its Design Competition Committee consists of Nagoya City, (a Promotional Member of Icograda) and the Council of Chubu Design Organization.
Call for applications
Applications for the first screening will be accepted between 1-23 April 2010.
Application is possible by any individual or group between the ages of 18 and 34. All areas of design are applicable for entry. Innovative design based on the competition theme is encouraged.
Prizes
Grand Prix (one award): 1 million yen
Division Prize (4 awards): 100,000 yen each
In addition to prize money, award winners of the
Nagoya Design DO!
competition will be given the privilege of participating in a workshop held in Nagoya. At the workshop, themes will be discussed through joint cooperation with students and young designers from both Japan and overseas. Furthermore, participants will have the opportunity to give a public presentation regarding the results of the discussions.
Detailed information regarding application can be found on the
NAGOYA DESIGN DO! 2010 website
.
---
For more information, please contact:
Nagoya International Design Competition Secretariat
International Design Center NAGOYA Inc.
Design Center Building 6F, 18-1, Sakae 3-chome, Naka-ku
Nagoya
460-0008 Japan
T: +81 52 265 2105
F: +81 52 265 2107
E:
designdo2010@idcn.jp