:output award 14 call for entries now open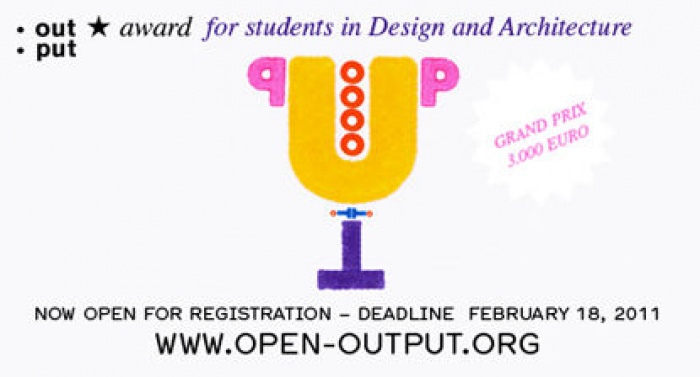 04.01.2011 News
Amsterdam (The Netherlands)
- :output, one of the biggest international competitions for students in design and architecture, has announced the 2011 call for entries.
Works carried out by students usually disappear into drawers after presentation to a relatively small college audience. There the work remains invisible. :output wants to change that.
Every year more than 1500 students from more than 40 different countries submit their best projects to the competition. The deadline for submission for is 18 February 2011.
An international jury will select the best projects of a year to be published in the :output publication. The jury for this year's competition will meet in April 2011 in Amsterdam.
The 2011 jury is composed of:
Fons Hickmann (graphic design | Germany)
Keetra Dean Dixon (graphic design | United States)
N.N. (architecture)
Pieke Bergmans (product design | Netherlands)
Florian Pfeffer (:output foundation | Netherlands/Germany)
The best project from all submissions to the :output competition is honoured with the :output Grand Prix which includes also a scholarship of EUR 3000.
All participants will be informed by email about the outcome of the competition (within 4 weeks after the jury meeting). Additionally a list with the winning projects will be published on
www.inputoutput.de
All projects submitted to the :output award will also be visible on the online portfolio plattform
open-output.org
---
For more information, please contact:
:output foundation
Peperstraat 7
1011 TJ Amsterdam
The Netherlands
T: +31 20 423 24 25
E:
info@inputoutput.de