poster for tomorrow announces call for entries 2010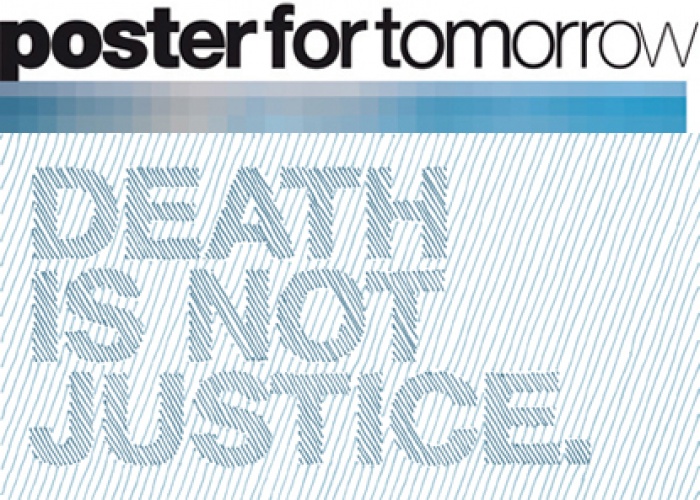 25.05.2010 News
Paris (France)
- 10 October 2010 (10/10/10) is the World and European Day against the Death Penalty. On this day will hold 100 exhibitions in 100 cities of posters calling for universal abolition of the death sentence. Designers everywhere are invited to submit an original poster for the competition to be one of the 100 exhibited around the world.
poster for tomorrow believes in design, and posters, as a medium to inspire social change. What you create as an artist, graphic designer or art director can inform, provoke emotion and motivate people to action. It's a great gift. And a gift you can use to inspire change in the world. poster for tomorrow believes the death penalty is a violation of human rights and that it has no place in modern society. And that's what it wants to change in 2010.
Working with Amnesty International, the Council of Europe, Reporters Without Borders and the World coalition against the Death Penalty, poster for tomorrow will raise awareness of this cause. One poster is a start. But hundreds, thousands, become a movement that cannot be denied.
Bianca Jagger: "As Council of Europe Goodwill Ambassador for the Abolition of the Death Penalty, I am pleased to support poster for tomorrow. Artists are an integral part of the fabric of society; and if they choose to, they can have a great impact on people's hearts and minds. They can vividly illustrate the horror of capital punishment. I urge artists to participate in the poster for tomorrow initiative."
Call for entries
poster for tomorrow will reward the best 100 designs (as selected by the
online jury
) by including them in the "Death is not Justice" exhibition, to be held in 100 locations worldwide on 10 October 2010. A book about the exhibition will be published.
Ten designs, as chosen by the
live jury
, will become part of the permanent collection of a number of prestigious design museums worldwide.
Find out more about awards.
Key dates

10 April: call for entries opens
18 July: call for entries closes (12:00 pacific daylight time).
For more details, visit:
www.posterfortomorrow.org
---
For more information, please contact:
Setareh Farsi
Press Office Manager
8 Rue Myrha
75018 Paris
France
T: +331 5341 4161
E:
setareh@posterfortomorrow.org