RGD ONTARIO HOSTS LATERALTHINKERS CONFERENCE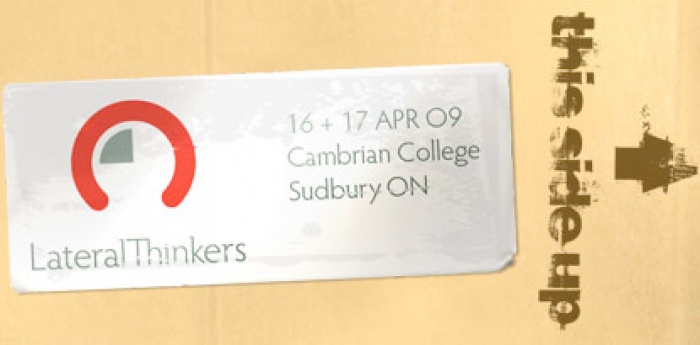 03.03.2009 News
Toronto (Canada)
- On 16-17 April, the Association of Registered Graphic Designer (RGD Ontario) will host the LateralThinkers annual northern conference in Sudbury, Canada. LateralThinkers gathers prominent experts, innovative graphic design practitioners and key buyers for a multi-layered, multi-faceted dialogue on the emerging influences and digital-driven changes informing strategic design thinking today and tomorrow.
Lateral thinking, a term coined by Edward de Bono, is defined as methods of generating ideas that are not immediately obvious and may not be obtainable using traditional logic and analysis. LateralThinkers will bring top, international thinkers to Sudbury to offer their thoughts on out-of-the-box thinking. Attend LateralThinkers to perceive problems in novel ways, challenge your customary approach to the creative process, and, learn to identify original and more creative strategies and solutions.
By presenting speakers virtually using cutting edge technology, LateralThinkers offers an unprecedented line-up at a low cost and in an environmentally responsible manner.
The conference will include live virtual presentations by Brian Collins, Joe Duffy, Dave Mason and Wally Olins and an in person presentation by Gary Ludwig R.G.D.
As part of the Opening Ceremony on 16 April, the 2009 Cambrian Graduate Exhibit will feature the best work from this year's graduating design class at Cambrian College Student Center. Also featured will be the 2008 Design at Work exhibit, celebrating the best professional design solutions from the past year.
Register before 25 March and receive early bird rates.
For more details on DesignThinkers go to:
www.lateralthinkers.ca
---
For more information, please contact:
The Association of Registered Graphic Designers of Ontario (RGD Ontario)
96 Spadina Avenue, Suite 503
Toronto ON
M5V 2J6 Canada
T: +1 888 274 3668
T: +1 416 367 8819
F: +1 416 367 9150
E:
events@rgdontario.com
W:
www.rgdontario.com