RGD Ontario to host Creative Business Summit 2010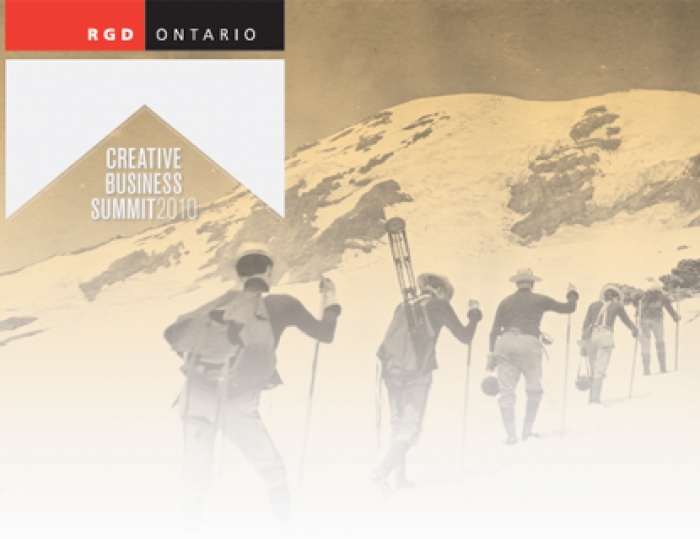 31.08.2010 News
Toronto (Ontario)
- invites participants for the Creative Business Summit 2010, taking place in both Kingston and Toronto (Canada). Through these one-day conferences, attendees will be able to refine their relationships with clients and collaborators, improve the performance of their creative team and build their understanding of key issues impacting their business and those of their clients.
Dates and locations
28 September, 9:30 - 16:00
St. Lawrence College
Kingston, Canada
29 September 9:00 - 17:00
St. Michael's College
University of Toronto, Canada
Programme (both venues)
Creative Briefs - Aligning expectations and measuring results
What is a creative brief? Why do you need one? As a consultant to creative professionals, Emily Cohen helps corporations, designers, marketers and strategists improve how they collaborate. Creative briefs can provide a clear set of expectations and define measurable objectives to guide the progress and success of a project. Learn how the creative brief and the development process can support thoughtful, strategic design and achieve creative, results-driven solutions.
Designing with a purpose: Strategy's role in the creative process
It is not enough to have great design: we need great design that gets the right things done. Including strategy in the design process makes for more valuable designers. Thought leader and author David Berman R.G.D. introduces some of the proven and celebrated techniques that unleash imagination, establish control, avoid hurdles and fully exploit opportunities... in language that demystifies the strategic communications process.
Design as research
Traditionally, a client hires a designer, hands over a creative brief and expects the agency to come back with design concepts and solutions. Organizations assume they understand their audiences. But their conclusions, gleaned from internal assumptions, focus groups or conventional analytical tools, often miss the mark. President of Pivot Design Group, Ian Chalmers R.G.D. presents a Design Research approach that will improve the work of designers and ensure crucial information about customers' real world experiences is incorporated into the creative process.
Progamme in Toronto
Curiosity - The designer's secret weapon
Curiosity "killed the cat" and definitely got a monkey named George into lots of trouble, but it makes for better design. Founding partner and creative director of Hambly & Woolley, Bob Hambly R.G.D. takes a closer look at curiosity - how it can be nurtured and encouraged - rather than feared and under-valued. Bob shows you how to better assess and understand your own curiosity and isolates 5 areas where improvements will help spur your creativity.
Protecting your brand online
Lawyer and trade-mark agent at Keyser Mason Ball, LLP, Ashlee Froese examines brand management issues specific to the online world. Learn the fundamentals of cybersquatting and typosquatting and how to tackle them. Find out about the coming release of new gTLDs and internationalized domain names and how to factor these when strategizing your online portfolio. Whether you manage one website or handle the many online experiences of your clients, you'll be better equipped on the legal issues surrounding the most powerful media for any brand.
Risky business: The top ten employment risks facing employers
In this interactive session, we examine today's most critical issues in employment law. Topics to be discussed include: overtime, vacation, "independent contractors" vs. employees, termination vs. quitting, severance, maternity/parental leave, medical leave and medical information. Ruben Goulart is Managing Partner at Keyser Mason Ball, LLP, and a senior practitioner with particular expertise in the areas of management labour relations and Human Resources workplace law.
Registration
Please register by 27 September via:
www.rgdontario.com/pd
If you have any questions please call +1 888 274 3668 x24 or email:
events@rgdontario.com
---
For more information, please contact:
The Association of Registered Graphic Designers of Ontario (RGD Ontario)
96 Spadina Avenue, Suite 210
Toronto ON M5V 2J6 Canada
T: +1 888 274 3668 / in Toronto: +1 416 367 8819
F: +1 416 367 9150
W:
www.rgdontario.com