SAPPI PROGRAMME SUPPORTS ITALIAN DESIGNERS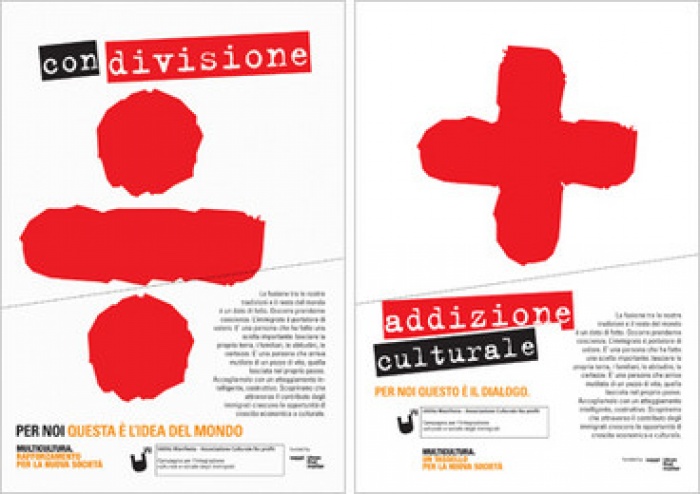 20.05.2008 News
Brussels (Belgium)
- Sappi's Ideas that Matter programme has enabled graphic designer Francesco Maria Giuli, from the agency molly&partners in Terni, and design students Alessandro Pozzati, Nikolina Popovic, Irene Callegari and Laura Cortini from Accademia d'Arte e Design L. Cappiello in Florence to implement their own print-based communications campaigns on behalf of charities of their choice.
Manuela Stocco (Marketing & Communications) from Sappi Italia with Francesco Maria Giuli and colleagues from molly&partners, Terni.
Utilit? Manifesta, a Terni-based charity addressing social issues, benefited from the campaign created by Francesco Maria Giuli. It comprised advertisements, posters, bus sides and leaflets, as well as a book which described the activities of the charity in promoting an open dialogue and goodwill towards immigrant communities. Each element of the campaign made strong graphic use of mathematical symbols to emphasise the benefits that these were bringing to the local community.
Manuela Stocco, Sappi Italia with teacher, Mr. Gianni Dorigo, from Accademia d'Arte e Design L. Cappiello in Florence.
The students from Accademia d'Arte e Design L. Cappiello, a private design school in Florence, also used posters to help the 'Vogliamo la Luna' organization in Castelnovo Monti to raise funds to build a children's Aids treatment centre in eastern Romania. With the headline 'Esprimi un desiderio', the posters illustrated the basic wishes of the children through their own eyes.
Mr. Gianni Dorigo with the campaign by students of the Accademia d'Arte e Design L. Cappiello, which helped raise funds to build an Aids treatment centre for children in Romania.
Both campaigns ran last December. To recognise the achievements, Sappi recently presented Ideas that Matter trophies to Francesco Maria at a meeting organised by the Bologna graphic designers association and to the students' teacher, Mr. Gianni Dorigo, at a reception at paper showroom Paper & People in Milan. The showroom, a cross between a paper shop, paper information point and paper school, is a focal point for the Milan graphic design community (
www.paperandpeople.com
).
Manuela Stocco (Marketing & Communications) from Sappi Italia and Francesco Maria Giuli were also guests on 27 March 2008 at Bologna's OPEN SOURCE, a cultural centre for meetings around the theme of art and design, to present the Ideas that Matter initiative and the specific experience of molly&partners in implementing its campaign.
"Both campaigns made very effective use of paper," said Peter Tielemans, Sappi Marketing Communications and Business Development Manager in Europe. "Franco Maria Giuli's combined a strong graphic concept with excellent typography to capture attention, while the students' imaginative interpretation of Romanian children's needs created a real emotional pull. Students from the Accademia L. Cappiello have participated in the Ideas that Matter programme for several years so we were delighted that that the judges chose one of their projects this time."
The campaigns were among 11 in Europe selected by an international committee of design experts. Each year, the Sappi Ideas that Matter programme awards grants worth US$1 million to designers around the world to enable them to promote social, environmental or humanitarian causes. Applicants are required to submit their creative ideas supporting their chosen cause, a description of the campaign and its objectives, information about the charity involved, a cost estimate for its implementation and metrics for its success.
Deadline for the 2008 Ideas that Matter programme is 1 June 2008.
Application forms are available at
www.sappi.com/IdeasThatMatter
or by e-mailing
IdeasThatMatter@sappi.com
.
---
For more information, please contact:
Peter Tielemans
Marketing Communications and Business Development Manager
Sappi Fine Paper Europe, Brussels
T: +32 2 676 9739
F: +32 2 676 9665
E:
peter.tielemans@sappi.com
W:
www.sappi.com/IdeasThatMatter
About Sappi
Sappi is the world's leading producer of coated fine paper. Its brands include Magno, HannoArt, Tempo, Quatro and Royal graphic papers, as well as Algro, Leine and Parade speciality labelling and packaging papers and boards. Customers in more than 100 countries worldwide specify these for the highest quality publishing, promotional and packaging applications. The papers are produced in mills accredited with ISO 9001, 14001 and EMAS certification and Sappi is the first paper company in Europe to hold group chain-of-custody certification for its entire European operations under both the Forest Stewardship Council (FSC) and the Programme for the Endorsement of Forest Certification (PEFC) schemes.