SEGD recognises 2010 Fellows Cloud and Gehshan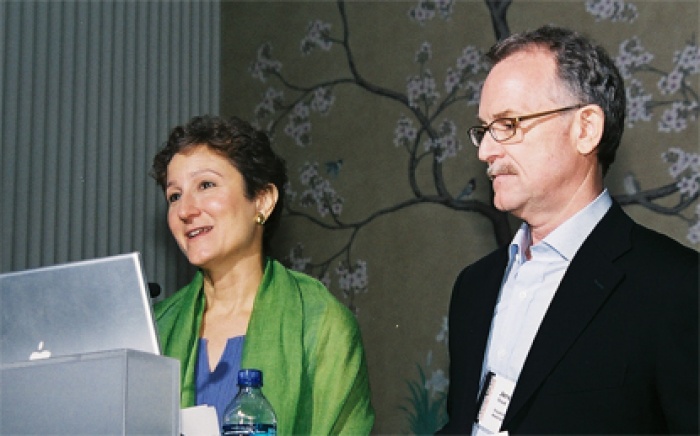 27.06.2010 News
Washington, D.C. (United States)
- Virginia Gehshan and Jerome Cloud, partners in Philadelphia-based Cloud Gehshan Associates, have been named the 2010 SEGD Fellows, environmental graphic design's highest professional honour.
Gehshan and Cloud join the ranks of EGD laureates Massimo Vignelli, David Gibson, Deborah Sussman, and others who have been recognised for promoting the highest values in EGD and significantly contributing to the direction and growth of the field.
"Theirs is a humanistic approach to design," notes 2009 SEGD Fellow David Gibson. "For over two decades, Cloud Gehshan has provided beautiful solutions that engage the mind and elevate the spirit."
Gibson and other colleagues cite Cloud Gehshan's award-winning UniversityCenter project in Baltimore, a comprehensive wayfinding, identification and information system for an urban area encompassing the University of Maryland Medical Center, the University of Maryland at Baltimore, and the neighbourhood of Ridgely's Delight. Other seminal Cloud Gehshan projects include their wayfinding system for the University of Texas at Austin, branding and identity for Penn's Landing in Philadelphia, and interpretive projects including the first-of-their-kind "smart" kiosks at Johns Hopkins University.
SEGD's Excellence Awards were announced during the 2010 SEGD Conference + Expo in Washington, D.C. As part of SEGD's mission to promote best practices and ethical standards in environmental graphic design, the annual awards recognise the individuals, companies, and organisations that - through their commitment to human-centred, effective design in the built environment - help define those practices and standards.
In addition to the 2010 Fellows, SEGD bestowed a special Gold Arrow Award as well as its Distinguished Member, Arrow, and Insight awards.
Leslie Gallery Dilworth
, the retiring CEO of SEGD, was presented a special
Gold Arrow Award
. Hired as a consultant to SEGD in 1997 and then as executive director in 1998, Dilworth was honoured for her vision in transforming SEGD from a small association focused solely on signage to an international, education-focused non-profit that encompasses a diverse array of design disciplines, technologies, media, and educational resources. She is also founding editor of the award-winning segdDESIGN magazine, SEGD's quarterly design journal.
"Leslie's extraordinary vision has made a dramatic and lasting mark on SEGD and the field of environmental graphic design," says Jill Ayers, an SEGD Board member and chair of the Excellence Awards committee. "Her most valuable legacy may be her focus on the multidisciplinary nature of EGD and her leadership in fostering inter-disciplinary partnerships that enrich the built environment through environmental graphics."
Wayne Hunt
, principal of Hunt Design, was presented with the SEGD
Distinguished Member Award
for demonstrating outstanding commitment to the organisation while fostering growth and excellence in SEGD programs.
"Wayne's longstanding commitment and wise counsel to SEGD have greatly benefited our organisation and enriched SEGD programs," says Ayers. In the past year, Hunt has led the selection committee hiring a new executive director for SEGD.
Nova Polymers
, manufacturer and distributor of photopolymer sign products, received the SEGD
Arrow Award
, given to an SEGD member company for demonstrating exemplary service or dedication to advancing technologies and manufacturing in EGD.
Nova was recognised for its leadership role in promoting sustainable approaches to EGD and for building strategic partnerships with other companies and organisations providing solutions that reduce environmental impacts.
Portland, Oregon's,
Tri-County Metropolitan Transportation District of Oregon
, which uses environmental graphics as a primary tool to communicate with users of its newly expanded light rail and bus lines, was presented SEGD'S
Insight Award
. The Insight Award recognises a design patron for consistently commissioning EGD programs that significantly enhance or promote opportunities for the field and EGD education, and for demonstrating a longstanding commitment to recognise the field.
"Tri-Met embraces design excellence as a tool for creating a transit system that is not only iconic, but that is responsive to user needs," said Michael Reed, principal of Mayer/Reed, in his nomination of TriMet. "From train and bus stop signage to real-time transit information, ticket machine user interface, branding, and print collateral, TriMet recognises that good design enriches the public realm and is a necessary component of livable cities and memorable public spaces."
For an archive of past SEGD Excellence award winners, visit
www.segd.org
---
For more information, please contact:
Ann Makowski
T: +1 202 638 5555
E:
ann@segd.org
About SEGD
Founded in 1973,
(the Society for Environmental Graphic Design) is the global community of people working at the intersection of communication design and the built environment. Through educational programs, research, and publications, SEGD's mission is to provide learning opportunities and resources for professionals involved in EGD, promote the importance of the discipline in establishing place, and continue to refine standards of practice for the field.