segdDESIGN wins American Society of Association Executives and Sappi Awards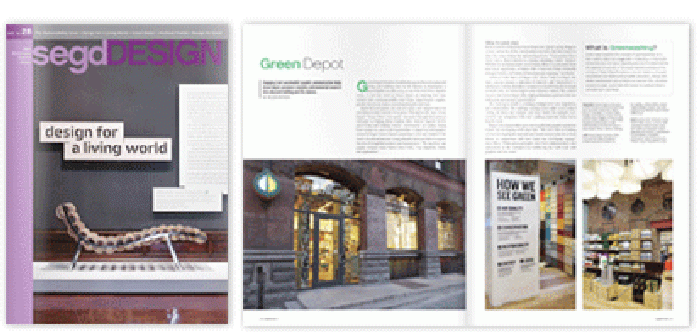 01.08.2010 News
Washington, DC (United States)
- segdDESIGN, the international journal of environmental graphic design published by the (SEGD), recently won awards from the American Society of Association Executives and Sappi Fine Paper North America.
segdDESIGN received the ASAE's Gold Circle Award for Excellence in Association Communications, Magazine category. segdDESIGN was the top magazine winner in the small association category.
The Gold Circle Award competition is the premier association communications award. Entries are judged based on established criteria for excellence in association communications. More than 80 judges nationwide participated in the 2010 program.
"segdDESIGN is among Gold Circle Award winners who have taken their publications to the next level, integrating the fundamentals of effective communication with elements of creativity, design, technology, and innovation," says Cecilia Sepp, chair of the ASAE's Communication Section Council.
segdDESIGN was also recognised in Sappi Fine Paper North America's 2010 Printers of the Year competition. The magazine's printer, The YGS Group (York, Pa.), received a Judges Award in the sheetfed category for the high quality of printing demonstrated by segdDESIGN.
"We're proud to say we've printed segdDESIGN since its inception in 2003, and it is a highlight of our portfolio," says Matthew Meyers, The YGS Group's vice president of sales.
"We're proud to receive these awards and to continue publishing a world-class magazine that illustrates the scope and value of environmental graphic design," says Ann Makowski, SEGD's interim executive director.
Published quarterly by the SEGD staff, segdDESIGN is available in print and on the SEGD website at
www.segd.org
. It is a free membership benefit for SEGD members. Subscriptions are available on the SEGD website or by calling 202.638.5555. The magazine is designed by Wayne-William Creative (Beacon, New York).
---
For more information, please contact:
Ann Makowski
T: +1 202 638 5555
E:
ann@segd.org
About SEGD
Founded in 1973, SEGD (the Society for Environmental Graphic Design) is the global community of people working at the intersection of communication design and the built environment. Through educational programs, research, and publications, SEGD's mission is to increase awareness of the environmental graphic design community, promote the importance of the discipline in establishing place, and continue to refine standards of practice for the field.
About ASAE
ASAE is a membership organization of more than 22,000 association executives and industry partners representing more than 11,000 organizations. Its members manage leading trade associations, individual membership societies, and voluntary organizations across the United States and in nearly 50 countries around the world.