SHARED DREAMS ON DISPLAY AT ICOGRADA DESIGN WEEK IN SEATTLE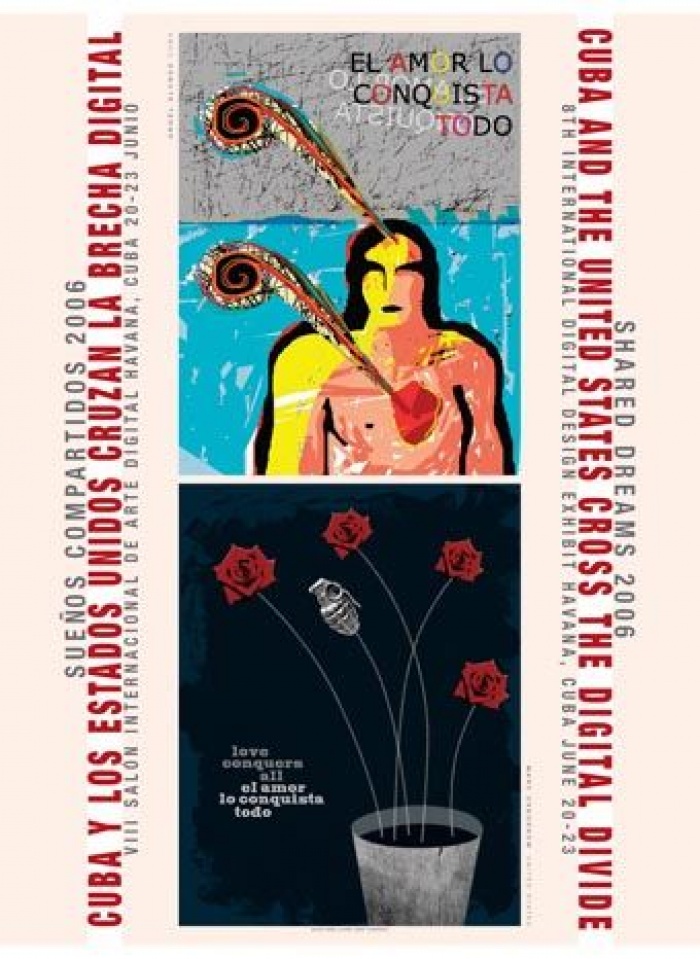 20.06.2006 News
Seattle (United States)
- A critically acclaimed project of the AIGA Center for Cross Cultural Design and Prografica, Icograda's member association in Cuba, will be on display at Icograda Design Week in Seattle. With
Shared Dreams 2006
, Cuban and U.S. designers were selected to collaborate using the language that they know best: visual design and digital technology. The result is a collection of posters that demonstrates how both Cubans and Americans think surprisingly alike when it comes to their respective viewpoints about peace and security in their lifetimes.
Through their collaboration, the event participants have shown that ideas about political and social awareness are strikingly similar. Despite the 40 year embargo by the US government and the steadfast commitment by Fidel Castro to a communist regime in Cuba, the average person on the street in each country has a similar vision of what peace and security looks like for themselves and their families.
This collection is unique in that it was designed and created solely through collaboration over the internet. Each of the last 3 years of this International collaboration, there has been a theme guiding the artists. The theme of this year's event was "Love Conquers All". The resulting posters provide a dramatic and passionate glimpse into the future of relations between the U.S. and Cuba. The 2005 theme was "Dreams of Peace", and the inaugural event in 2004 was simply "Shared Dreams". All 36 original pieces from the last 3 years of this event in Cuba and the U.S. will be on display in this showing.
Special Reception:
On 13 July at 18:00 there will be a special reception marking the premier of Shared Dreams 2006 at Icograda Design Week in Seattle. This event is for members of the media and conference delegates.
Register for Icograda Design Week in Seattle:
The conference runs from 9-15 July 2006. Visit
www.seattle.icograda.org
.
---

For further information please contact:
Brenda Sanderson
Icograda Director
E: bsanderson@icograda.org

Icograda's World Design Congress will be hosted in La Habana, Cuba from 20-26 October 2007.