VIP: CREATIVE WAVES 2007 ENTER DESIGN PHASE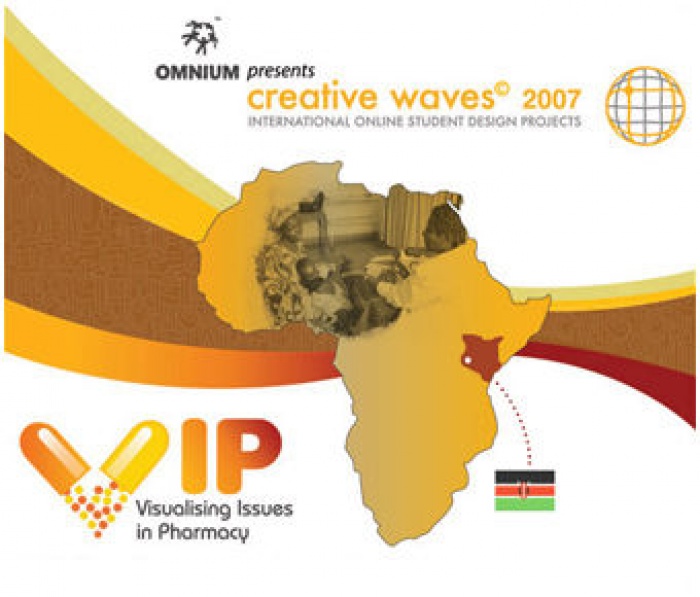 02.06.2007 News
Sydney (Australia)
- Communication design students from a variety of universities and colleges around the world are tackling the topics of adherence, malaria, tuberculosis, sexually transmitted infections, chronic disease and immunization in Creative Waves 2007: Visualising Issues in Pharmacy (VIP), a unique online educational programme developed by Australian based Omnium Project in collaboration with Icograda.
The seven week design phase is the second stage of the VIP project and includes 50 communication design students working in online collaborative teams. The design teams are defining creative concepts that aim to visually communicate the specific pharmacy-related issues and promote awareness to the local community of Winam, Kenya.
Icograda Executive Board members Russell Kennedy (Australia) and Veejay Archary (South Africa), along with Managing Director Brenda Sanderson, will join the project as special guests during the design phase, sharing international perspectives as part of the online discussions.
Phase One of the project took place over a seven-week period and linked more than 50 pharmacy students and their teachers from a variety of universities and colleges around the world. Participants interacted in small working teams of five (with each student in each team residing in a different global location) to explore one specific pharmacy related health issue from their own geographic settings and cultural perspective. Teams were joined by expert teacher/mentors to guide them through their working process. Detailed research reports formed the basis of the briefs that the communication design students are now carrying forward.
VIP has identified rural communities and local hospitals in Kenya to focus the project. Winam lies in Kisumu, the provincial headquarters of Nyanza Province. The Nyanza Provincial General Hospital (NPGH) is a referral point for over 16 district hospitals in western Kenya, which each year deal with hundreds of abandoned patients. Reasons for abandonment can be related, amongst other things, to a lack of appropriate knowledge within the community to deal with certain diseases. The VIP project aims to help raise awareness and knowledge within such communities, to ultimately reduce abandonment levels and reduce the reliance on the hospitals such as NPGH.
Additional collaborators in Creative Waves 2007: Visualising Issues in Pharmacy include the International Pharmaceutical Federation (FIP), International Pharmaceutical Students' Federation (IPSF) and Universitas 21, The Network for International Higher Education.
Guest can view the project by logging in as a visitor at:
http://creativewaves.omnium.net.au
---
For further information please contact:
The Omnium Project
College of Fine Arts (COFA)
The University of New South Wales
PO BOX 259
Paddington, NSW 2010
Australia
T: +61 2 9385 0683
E: vip@omnium.net.au

About VIP
VIP is produced, directed and funded by The Omnium Research Group at the College of Fine Arts, University of New South Wales (Australia) and written in collaboration with the School of Pharmacy (University of Auckland, NZ). VIP is the second in a series of free, non-profit, international Creative Waves* projects for students and their teachers. Icograda and Omnium collaborated on the first Creative Waves project in 2005.