VISIONUNION BECOMES NEWEST MEMBER OF ICOGRADA DESIGN MEDIA NETWORK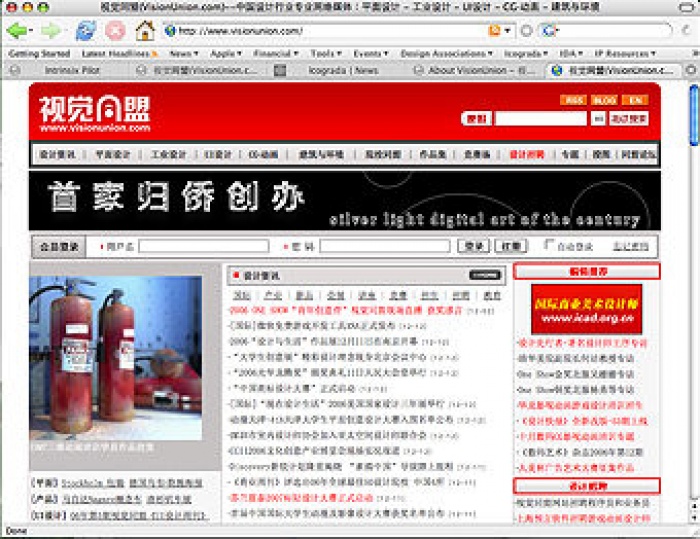 12.12.2006 News
Beijing (China)
- VisionUnion.com was founded in July 2004, to serve designers and students of design. With continuously updated information, the content of VisionUnion covers the complete design industry. The site features 12 columns -- News and Information, Plane Designing, Industrial Designing, Multimedia Designing, CG animation, Architecture and Environment, School Union, Members' Works, Union Arena, Picture Searching, BBS, and onvision Store of Designers' Works. VisionUnion.com provides information, work appreciation, theory and documents, interviews and feature stories. Every channel is different and requires that every chief editor be responsible for the achievements of its channel.
VisionUnion is the first among the design websites in China that can boast a completely new graphic searching engine -- Sou Tu (meaning Picture Searching). Readers can find related pictures inside the website by using this fantastic search engine. It is fast, accurate and convenient. Readers can also find those pictures by catalog.
VisionUnion possesses a team of professionals. Having co-designed, produced and operated the ChinaVisual website together with the Beijing Visual Interactive Technological Company Ltd, the VisionUnion staff has rich experience in managing professional design websites. The goal is to establish VisionUnion.com as a platform for study, as well as a platform for idea exchange for all designers and students.
VisionUnion timeline:
21 May 2005 - VisionUnion published.
21 April 2005 - VisionUnion beta online for users test.
15 April 2005 - VisionUnion registered as legal commercial website with the approval from the Beijing Industrial and Commercial Administration Bureau.
22-25 March 2005 - VisionUnion held the MUDC 3/5 Designing Exhibit in Beijing Industrial and Commercial University.
5 Nov > 5 Dec 2004 - VisionUnion held the first "OPEN!" VisionUnion Plane Graphic Designing Contest.
2 Nov 2004 - VisionUnion granted Certificate of Operation in Telecommunication and Information Business and Certificate for Bulletin Boards System (BBS)
19 Sep 2004 - VisionUnion BBS published.
---

For further information please contact:

Mr. Peng Fan,
Vice editor-in-chief
VisionUnion
Xueyuan south RD
Haidian district,Beijing 100081
China
E: fanpeng@onvision.com.cn