WORLDWIDE IDENTITY BOOK LAUNCHES GLOBALLY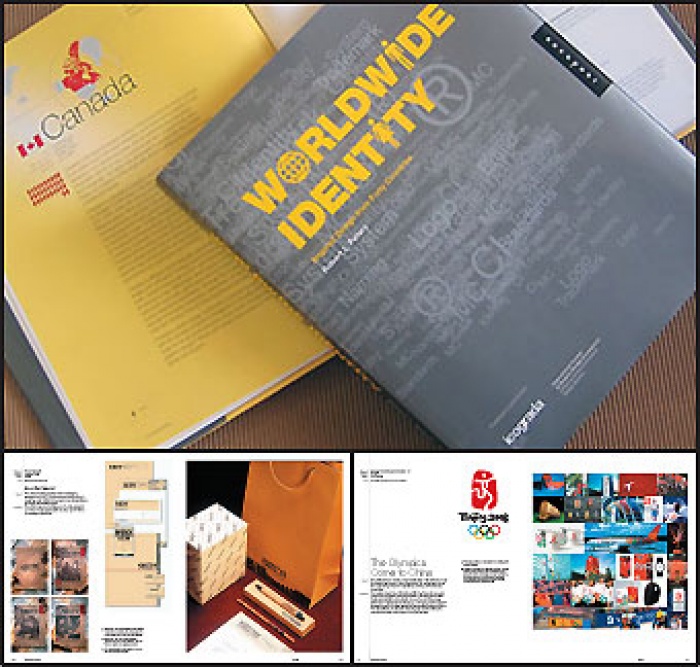 13.11.2005 News
Montreal (Canada)
-
Worldwide Identity: Inspired Design from Forty Countries
is a new book published by Rockport in partnership with the International Council of Graphic Design Associations (Icograda). It showcases identity projects from around the globe, and is now available worldwide. As stated in Rockport Publishers' news release, ''
Worldwide Identity
offers inspiration from 40 countries and showcases more than 300 identities from around the globe - from branding the City of Sydney in Australia, to private-label Hong Kong tea, to Brazilian supermarkets, to Levi's in Singapore, to Danish crown corporation heraldry, and wine in South Africa.
Worldwide Identity
, compiled in collaboration with Icograda, explains the process of identity design by defining both the 'Brief' and the 'Solution.' This clear and concise manner assists us in seeing how innovative, distinctive, and appropriate identities arise from designers' thorough understanding of mandate and cultural context.''
The book's author, Robert L. Peters (Icograda President 2001-2003, founding principal of CIRCLE in Winnipeg, Canada), states: ''Designers have given shape to the identities of corporations, organizations, locations, events, products, and services that surround us. Information, ideas, and communication are the new currency in today's virtual world - and in this age of ideas, graphic designers play an increasingly vital role in creating economic success, shaping communities, and forming culture. Identity lies at the very core of society, and is the key to our understanding of self. Understanding culture is imperative in avoiding identity crisis and rootlessness, and is a prerequisite for the effective shaping of identities and communication. Everywhere in our shrinking world, we can witness increased homogenization, erosion of indigenous culture, the emergence of serial monotony, and the loss of both individual and collective identity. However, at the same time, the world is literally 'brought to the doorstep' of designers, along with the opportunities this presents.''
Worldwide Identity
showcases designers' works submitted from countries in which Icograda had member associations in September 2004, when the book's call for entries went out. Along with introductory essays and definitions regarding identity design, the book includes a contextual essay about each of the 40 countries from which works are drawn, accompanied by information including maps, flags, and comparative metrics such as national population, area, languages, and GDP per capita. It also includes directories of Icograda member associations around the globe, and all contributors.
Worldwide Identity
is receiving favorable reviews from various sources. Jeff Fisher (Portland, USA), author of 'The Savvy Designer's Guide to Success' by HOW Design Books describes <
Worldwide Identity
as ''...one of the most unique and interesting corporate identity books I've come across in some time... a beautiful volume... with well-written explanations.'' He suggests: ''Any designer, feeling limited by their own geographic surroundings, should take a trip around the world via the pages of this incredible book." Giancarlo Illiprandi (Milano), editor of the book series 'Grammatica del comunicare' by Lupetti-Editori di Comunicazione, describes the book as: ''A beautiful edition and, above all, interesting and stimulating.'' Marketing consultant and writer Linda Cooper Bowen (New York), author of ''The Graphic Designer's Guide to Creative Marketing: Finding and Keeping Your Best Clients'' by John Wiley & Sons refers to the book as: ''...an especially welcome addition to the design library... unquestionably a rich resource of creative inspiration... offering important insights." She concludes: ''
Worldwide Identity
is a thoughtful, richly instructive contribution to a designer's knowledge of the complex world we live in... required reading for both students and veteran practitioners.''
---

Worldwide Identity: Inspired Design from Forty Countries
Author: Robert L. Peters
ISBN: 1-59253-187-3, Rockport Publishers, Inc.
Hardcover, 256 pages, 400 color images.
Size: 228 x 280 mm (9 x 11 inches)
$45.00 US / 29.99 GBP / $63.00 CAN
---
For further information please contact:
Publicity:
For publicity contacts in the UK and Europe,
Susan Spratt, UK Marketing Director Rockport
E:
susans@rotovision.com
For publicity contacts (outside of UK and Europe), and media
review copies, excerpt material, images, and author interviews, contact:
Liz Polay-Wettengel, Quayside Publishing Group
33 Commercial Street, Gloucester, MA 01930 (USA)
T +1 978 282 3511
F +1 978 283 2742
E:
liz@rockpub.com
W:
www.quaysidepublishinggroup.com
---
To buy the book:
'Worldwide Identity' is now available in bookshops worldwide,
or online (e.g. www.amazon.com, www.amazon.co.uk, etc.).
To find a distributor/bookseller near you, visit:
W:
www.rockpub.com/order.asp
For bulk purchase discounts (e.g. for associations), contact:
Rory Juel, Special Market Sales Representative
Quayside Publishing Group
33 Commercial Street, Gloucester, MA 01930 (USA)
T: +1 978 282 3528
F: +1 978 282 7702
E:
rory@Rockpub.com
For educational sales worldwide
(outside of North America), contact:
E:
sales@creativepub.com
For North American educational sales and desk copies,
contact (e-mail or fax preferred):
Tricia George, Rockport/RotoVision Academic Sales
3538 Maple Park Drive, Kingwood, TX 77339 (USA)
T: +1 281 358 2884 [Toll Free: +1 888 489 7493]
F: +1 888 844 5519
E:
grdedusales@cebridge.net
'Worldwide Identity' was co-published by Page One in Singapore,
ISBN: 981-245-286-9
For information on Page One retail outlets and distribution in South-East Asia, contact:
T: +65 6742 2088
F: +65 6744 2088
E:
enquiries@pageonegroup.com
W:
www.pageonegroup.com