FINALISTS SELECTED IN FIRST ANNUAL INDEX: | AIGA ASPEN DESIGN CHALLENGE, "DESIGNING WATER'S FUTURE"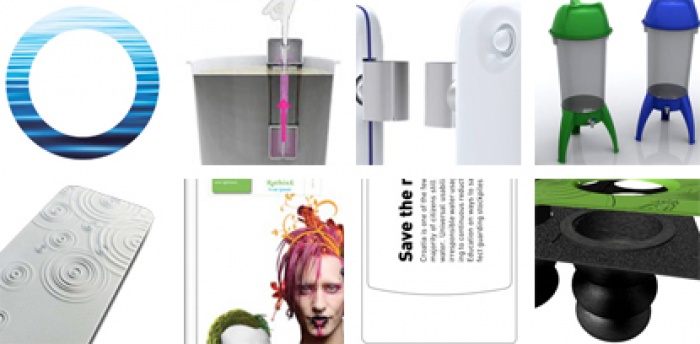 17.03.2009 News
New York (United States)
- Tasked with developing design solutions to address the global water crisis, design students across the world rose to the challenge in force, dreaming up wildly different solutions ranging from print design to web applications, physical devices to data presentation tools, and print campaigns to environmental design. More than 450 students at 115 universities from 27 countries participated in the INDEX: | AIGA Aspen Design Challenge, "Designing Water's Future", drawing from their diverse and disparate backgrounds to help solve a truly global crisis.
"I was amazed by the proposals that came in. There was a wide range of thinking from communications to environmental design and product design. Most of all, I was inspired by the broad, systemic thinking and team collaboration the designers did to find good answers," said Brian Collins, creative chairman of Collins:, a New York-based design firm.
A global call to action for design students
in the United States and a Professional Member of Icograda, and INDEX:, a global nonprofit network for design, together issued this ambitious call to action in August 2008, calling on the next generation of creative thinkers to develop solutions to the global water crisis in the first annual INDEX: | AIGA Aspen Design Challenge, "Designing Water's Future." The international contest challenges cross-disciplinary students to develop design solutions that encourage responsible water use, provide access to fresh water to those in need and increase awareness about the importance of water conservation.
"I've always believed that the design holds much, much larger potential than just merely generating beautiful stuff. I think design truly can make a difference, and this is exactly what this competition is about," said
Lise Vesje Klint
, director of programming for INDEX:, and Icograda Secretary General.
"There's an opportunity here to educate creative youth, to work together in order to solve a complex problem, and to recognize that these issues are their issues," added , executive director of AIGA and Lifetime Friend of Icograda. "We can equip them, we can nurture them, and we can launch them, but they are going to have to come up with the solutions that will really be implemented at the human level."
In late February, a panel of distinguished judges convened in New York City to select seven Finalists and ten Honorable Mentions. In July, students behind the selected proposals will have the opportunity to share their ideas with design thinkers; draw up business plans and improve their concepts during a meeting in Aspen, Colorado. In August finalists will be invited to Copenhagen, where the winning project will receive the $10,000 INDEX: | AIGA Aspen Design Challenge Prize - sponsored by the JL Foundation - to implement its solution. Selected finalists will also present their concepts at the United Nations Climate Change Conference in Copenhagen in December.
"This is clearly not a problem that's going to be solved by technology, and it's clearly not going to be solved just by economics or just by politicians, as smart as they might be or as committed as they might be," Peter Gleick, president and co-founder of the Pacific Institute, noted during the jury meeting. "We need every tool in our arsenals to tackle unresolved water issues."
Seven outstanding projects selected in February 2009
"The vibrancy with which some of the global water issues, like less than optimal use of water, got translated into issues like how you actually water your lawns was amazing," said juror Margaret Catley-Carlson. "You can discuss it globally, you can compare models, you can find out what's going on, but water is local, water is local, water is local."
From more than 225 entries, seven projects were chosen as Finalists for successfully addressing the Challenge in terms of form, context, potential impact and feasibility, including a student from Icograda Education Network (IEN) Member,
Monash University
.
Ten projects were awarded Honorable Mention for outstanding work, which included students from Monash University and from IEN Member, .
To see images of all Finalist projects, download copies of the students' presentations, and read full-text statements submitted with each project, visit
www.aspendesignchallenge.org
.
---
For more information, please contact:
Jennifer Bender
Manager, communications and marketing
AIGA | the professional association for design
T: +1 212 807 1990
F: +1 212 807 1799
E:
jennifer_bender@aiga.org
W:
www.aiga.org
About the INDEX: | AIGA Aspen Design Challenge
The Aspen Design Challenge is a joint project developed by AIGA and INDEX: with the purpose of engaging the millennial generation in solving an emerging set of global issues. The idea for "Designing Water's Future" grew out of discussions at the World Economic Forum in Davos, Switzerland, led by Brian Collins, chairman of Collins:, New York-based communications and design firm, and journalist J. Carl Ganter, co-founder of Circle of Blue, the international network of leading journalists, scientists and communications designers that reports the global fresh water crisis.
www.aspendesignchallenge.org