Icograda announces presenters for 25GA Special Sessions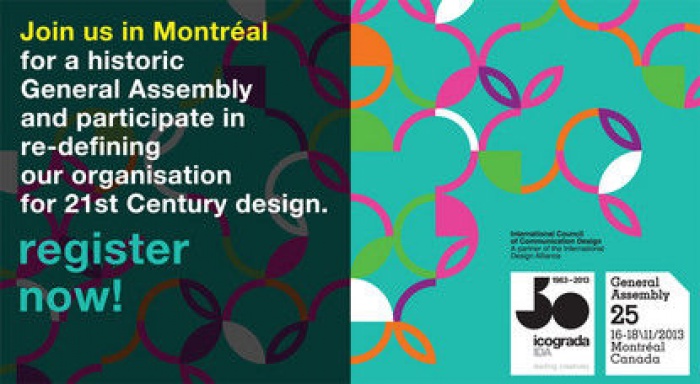 08.10.2013 News
To all Icograda members: this is an opportunity to actively influence the future of our organization!


16 November: Special Sessions for Icograda
Educational,
Professional and Promotional members
The upcoming 25 Icograda General Assembly promises to be a historic event. Not only will fifty years of Icograda service to the international design community be celebrated, but very important proposals to change the organization's structure and programs will be considered.
Members will decide on a major overhaul of the organization to ensure 21st century relevance.
Amongst the proposals submitted by the Board: conversion to a fully multidisciplinary approach; creation of dedicated platforms to address the specific needs of membership categories (professional, educational, promotional); enhanced oversight and auditing functions; IDA reform; etc. (see:
Board Message
).
In order to maximize member input and participation, and so as to to ensure more effective decision-making at the GA, special sessions will take place on 16 November at the Hilton Bonaventure Hotel.
These sessions will permit members to better understand the important proposals submitted by the Board for GA consideration and will permit members to contribute to the discussion and take a more active part in defining the agenda for the next term.
These meetings will also initiate organization of the international 2-day member-category-specific events planned for 2014 for which steering committees will be formed.
Please take advantage of the
special hotel package
for attendees.
Registration for the Sessions and General Assembly can be entered via the
registration system
. If unable to attend, Icograda members are encouraged to assign a Proxy vote in the registration system.
For further information, please contact Jovana Milovic at
jmilovic@icograda.org
Educational Session schedule
16 November 9:00 - 12:30
9:00-9:30
Registration, Introductory remarks, Intended outcomes

9:30-10:00
Icograda Board proposals
10:00-10:50

Presentations: a representative cross-section of educational members will make short presentations focusing on desired outcomes from membership in an international design organization. Amongst the presenters (partial list):


Essam Abu-Awad (Jordan)

Vivian Cheng (Hong Kong)
Heidrun Mumper Drumm (USA)

Kyle Kim (South Korea)
Saki Mafundikwa (Zimbabwe)
Ziyuan Wang (China)
Lawrence Zeegen (UK)

10:50-12:10
Open discussion: all members invited to participate
12:10-12:30

Summary: GA implications, Establishment of steering committee for 2014 event
Professional and Promotional Session schedule
16 November 13:00 - 17:30
13:00-13:30
Registration, Introductory remarks, Intended outcomes

13:30-14:10
Icograda Board proposals
14:10-15:20
Presentations: a representative cross-section of professional and promotional members will make short presentations focusing on desired outcomes from membership in an international design organization. Amongst the presenters (partial list):


Rebecca Blake - Graphic Artists Guild
Alain Dufour - Mission Design
Lionel Gadoury - Association of Registered Graphic Designers
Ric Grefe - AIGA
Adrian Jean - Society of Graphic Designers of Canada
Gavin Mageni - South African Bureau of Standards
Yuri Nazarov - The Association of Designers of Russia
Umut Suduak - Turkish Society of Graphic Designers
Ahmad Zainuddin - Malaysia Design Council

15:20-15:40
Break
15:40-17:00
Open discussion: all members invited to participate
17:00-17:30

Summary: GA implications, Establishment of steering committee for 2014 event