Icograda names Herman Pi'ikea Clark and Russell Kennedy as 2011-2013 INDIGO Advisory Group Co-Chairs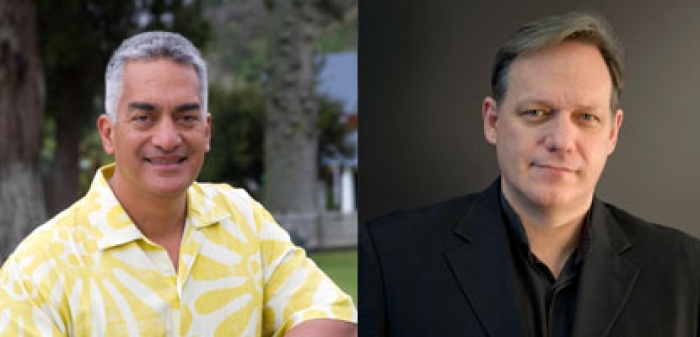 30.11.2011 News
Montréal (Canada) - President Leimei Julia Chiu is pleased to announce that Dr. Herman Pi'ikea Clark (New Zealand) and Russell Kennedy (Australia) will co-chair the 2011-2013 INDIGO Advisory Group.
The new Co-Chairs replace Jason Fan (Taiwan, Chinese Taipei) who retired from the position following the Icograda General Assembly 24.
Dr. Clark said, "I am looking forward to co-chairing the INDIGO Advisory Group with Russell Kennedy. It is an honour to bring my experiences as an educator, designer, researcher and indigenous Polynesian Hawaiian to this platform for exchange."
Russell Kennedy added, "There is a need for global leadership in regard to the commercial creation and use of Indigenous graphical representations. As more and more designers work within a global context, INDIGO offers an online community to reflect on how design practice contributes to the formation of national and cultural identity."
The INDIGO Advisory Group is an international network of individuals, appointed by the Icograda Executive Board, who have agreed to offer the project their expertise on a regular basis in many different areas, including programme development, policy and outreach. They support the Icograda Executive Board in its strategic development of the network, and advise on issues of appropriateness and ethical practice amongst others. A key initiative for 2012 will be contributing to the programming of Rediscovery: Icograda Design Week Sarawak from 15-21 October 2012.
As the Icograda lead for the Design Week, President Chiu pointed out that one of the main objectives would be to develop a sustainable business model by forging strategic alliances amongst craft industries, policy makers, manufacturers and designers across all disciplines.
Dr. Herman Pi'ikea Clark
Born and raised in Honolulu, Hawaii, Dr. Herman Pi'ikea Clark is a Kanaka Maoli or indigenous Polynesian Hawaiian. A practicing visual artist/designer, Dr. Clark's creative artwork is housed in both private and public collections in Hawaii, the United States and the Pacific. In 2003, he and his wife established 'Pili,' a Design studio specialising in Indigenous Pacific identity. His commissioned projects include works for architectural and interior design as well as fashion, identity systems and print communications.
Pi'ikea has served as a university academic for over twenty years. He holds a Master's of Fine Art in Visual Communication Design from the University of Hawaii at Manoa and a Doctorate in Education from Massey University in New Zealand. His research focuses on the applied intersection of indigenous knowledge, design methodologies and technology. In 2011, Dr. Clark was appointed the Mark Laws Endowed Professorial Chair and Director of the Tokorau Institute for Indigenous Innovation at Te Whare Wananga o Awanuiarangi indigenous university in New Zealand.
While a graduate student at the University of Hawaii, Dr. Clark initiated the first course in Kanaka Maoli/Indigenous Hawaiian visual art/design studies to be taught within the University of Hawaii system. Since then, Dr. Clark has pioneered the field of Indigenous art/design education and research in the Pacific, establishing new pathways for development in Pacific and indigenous education through Design. Dr. Clark's research has contributed to the formation of national policy for Pacific Arts in New Zealand as well providing commentary on the formation of contemporary Pacific and indigenous identity and culture.
Russell Kennedy, FRSA
Russell Kennedy is currently serving on the Icograda Executive Board as Past President. He initiated INDIGO, Icograda's international indigenous design network, launched in October 2007 at the Icograda General Assembly 22 in La Habana, Cuba.
Russell is an adjunct Research Fellow at Swinburne University of Technology in Melbourne, Australia, where his research focusses establishment of protocols for designers to engage appropriately with indigenous knowledge. Prior to joining Swinburne, he was a senior lecturer at Monash University. He has also been the principal of Russell Kennedy Design, a corporate identity consultancy, and co-director of Onset Productions, a motion picture and documentary company.
Russell is a Fellow of the Royal Society for the encouragement of Arts, Manufacture and Commerce (RSA), a Fellow of the Design Institute of Australia (DIA) and a member of the Australian Graphic Design Association (AGDA). He is a Regional Ambassador to INDEX: 'Design to Improve life', the Danish Government's International Award program and was an advisor to the City of Seoul for the Seoul Design Olympiad (2009) and World Design Capital® (2010).
Russell actively promotes a network interface between design education and the profession. He often assists education institutions within the Oceania/Asian region and has conducted workshops with the University of Hartford (Connecticut, United States), Hongik University (Seoul, Korea) and the International Design Center (Nagoya, Japan).
In June 2002, Russell was invited to speak on design education at the inaugural Icograda Education Network (IEN) Symposium in Brno, Czech Republic. Since joining the Icograda Board in 2003, he has been active in the development of the IEN and the deployment and promotion of worldwide educational exchange initiatives.
---
For more information, please contact:
Diala Lada
Project Manager
T +1 514 448 4949 x 230
F +1 514 448 4948
E diala@indigodesignnetwork.org
About INDIGO
Established in 2007, INDIGO, the International Indigenous Design Network, is an open platform that connects designers worldwide in an effort to explore our understanding of indigenous design. It provides an online forum for sharing ideas and information, fostering discourse among participants and contributing to the furtherance of indigenous and local design. Through its participants and projects, INDIGO seeks to gain some insight into what makes design distinctive to its home, the connections to the place where it is made and for whom it is made. As more and more designers work within a global context seemingly without borders, INDIGO provides an online medium for design practice as it contributes to the formation of national cultural identities. In October 2012, the Icograda Design Week in Sarawak will be an international platform to further develop INDIGO's mission and vision.
indigo.icograda.org