Iridescent, Volume 1 released at Icograda General Assembly 24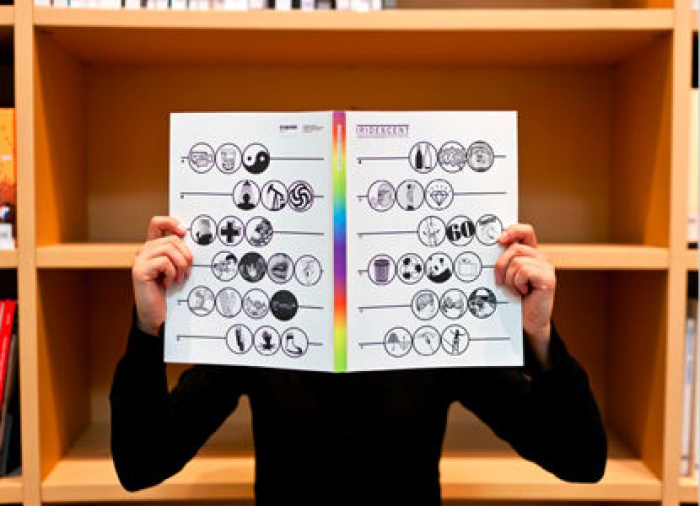 31.10.2011 News
Taipei (Taiwan - Chinese Taipei)
- The inaugural printed volume of
Iridescent: Icograda Journal of Design Research
was launched on 27 October 2011 at the Icograda General Assembly 24 in Taipei, Taiwan (Chinese Taipei).
"Through the global reputation and network of Icograda,
Iridescent
has become a distinct contributor to the international design research journal community." said Omar Vulpinari,
Iridescent
Editorial Director. The initial volume includes papers from the Education Conference of
Xin: Icograda World Design Congress 2009
and the
International Design Research Lab
presented at
agIdeas International Design Week 2011
.
Above: Omar Vulpinari presents Iridescent, Volume 1 to the Icograda General Assembly 24 delegates. Photo: Sean Teegarden.

Iridescent
provides a comprehensive resource to educators worldwide and strives to ameliorate and impact design research dedicated to communication design. The journal is an open access platform for all papers published online.
Iridescent, Volume 1
was designed by , the Benetton Group's communication research center, based in Treviso, Italy. Omar Vulpinari, Icograda President Elect, supervised a team of Fabrica students to represent the spirit of the journal through the vibrant design. The journal cover was inspired by the Ig Nobel Prize, an American parody of the Nobel Prize, with the intent to spur people's interest in science, medicine and technology through laughter and fun.
Beijing
sponsored the print production of
Iridescent, Volume 1
. "The generous sponsorship of these two Icograda members has resulted in a publication that will be a reference for educators internationally," said Vulpinari.
Above: Spreads from the inaugural print volume of Iridescent. Photo: courtesy of Fabrica.
The peer reviewed publication is available to all Icograda members and non members alike. Interested individuals may contact the Icograda Secretariat to order a copy of the publication.
Download
Iridescent, Volume 1
[
PDF - 5.98 MB
] .
---
For more information contact:
Diala Lada
Icograda Secretariat
455 Saint Antoine Ouest, SS10
Montreal, Quebec
H2Z 1J1 Canada
T: +1 514 448 4949 x230
F: +1 514 448 4948
E:
iridescent@icograda.org
W:
iridescent.icograda.org
About Iridescent
Iridescent: Icograda Journal of Design Research
is an online journal established to advance Icograda's strategic aim to support the development of design education (theory, practice, and research). This peer-reviewed publication invites researchers and scholars worldwide to submit innovative design research in any of the six official language of the United Nations.
iridescent.icograda.org