new name. new space. new projects | ico-D launches its new Secretariat space in Montréal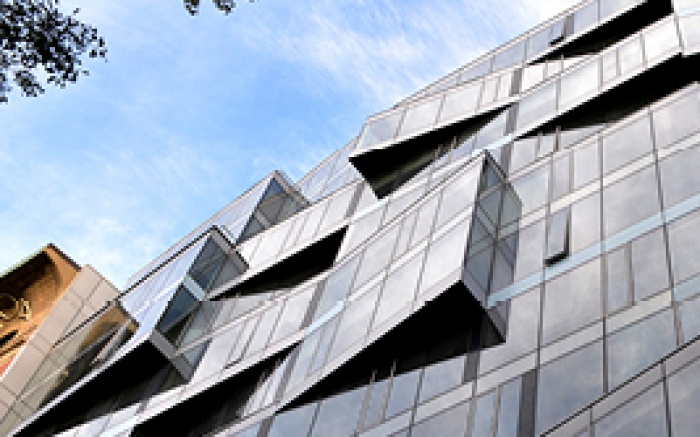 06.10.2015 News

After ten years in the Herald Building, ico-D renewed its host-city agreement with Montreal International in June 2015, and hit the 'refresh' button—re-locating offices in the same neighbourhood between the city's financial district and Old Montréal, only blocks away, to face St. Patrick's courtyard and Basilica.
The space was inaugurated with informal talks given by Pierre Bernard, President of orangetango, Benoît Lefèvre, Project Director of Montreal International, Ana Masut, Managing Director of ico-D, and David Grossman, President-Elect of ico-D (who was representing Iva Babaja, President of ico-D) and received by a gracious crowd full of professional designers and their associations as well as local and international partners who are invested in design and the leading role it plays in the community.
The launch was held on the evening of the inaugural press conference of the World Design Summit 2017, and meeting of the WDSO Steering Committee. In attendance at the launch were: local and international designers and Members of the WDSO Steering Committee, the orangetango team, and representatives of the three partners for the Summit: Kathryn Moore, President of the International Federation of Landscape Architects (IFLA )(U.K), Regitze Marianne Hess, Chief Operating Officer of the International Federation for Housing and Planning (IFHP) (Denmark), David Grossman, President-Elect of International Council of Design (ico-D) (Israël).
"multidisciplinary is a reality"
David Grossman, President-Elect of ico-D, welcomed the large gathering, expressing his thrill to be in Montreal in a moment of crystallization for the International Council of Design: with its new name, new space, and new staff members poised to lead a number of new, exciting projects for the Council. As the value of design as a profession is becoming more recognized, and technology is re-shaping its applications, the shift to become more inclusive of many design disciplines reflects what has been a natural evolution across the globe. Design professionals and ico-D Members are becoming increasingly more multidisciplinary—and Icograda, a 52-year old Council, is in the process of 'becoming ico-D' in order to best serve the needs of our Members.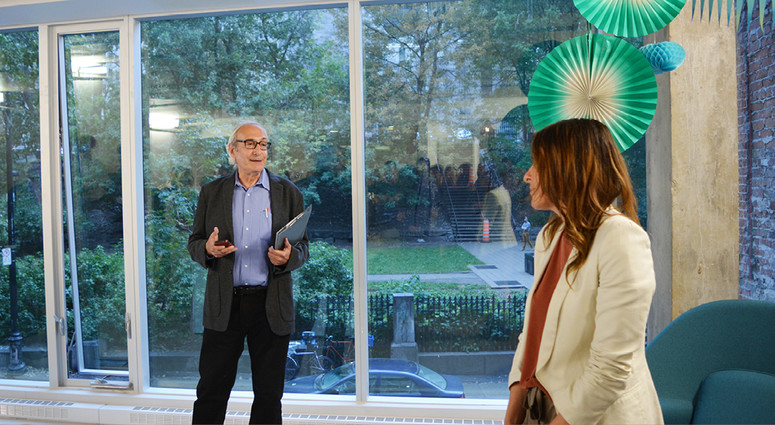 David Grossman, ico-D's Present-Elect, gives inaugural talk in new Secretariat space in Montréal.
Supporting a large team of creatives who work day-to-day in-collaboration, ico-D's new neighbours, orangetango, exemplify one reality of professionals working to build relationships between fields to optimize the quality, content and relevance of their output. Specializing in development, creation, brand management, graphic design, environmental design, advertising campaigns, web, interactive tools, and marketing strategy, orangetango's clients include high-ranking cultural bodies, from Canadian Museums such as the Musée d'art contemporain in Montréal, to DesignThinkers Conference in Toronto, to the Opéra de Montréal. President Pierre Bernard suggested that working alongside ico-D would create a hub for the sharing of unique, interdisciplinary strategies and goals.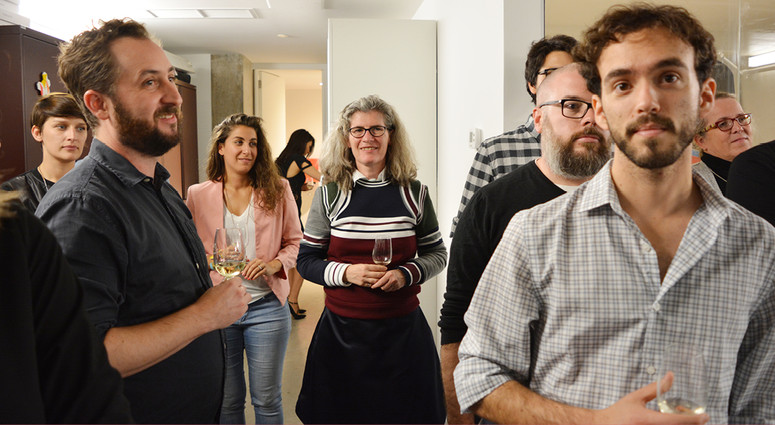 Regitze Marianne Hess, Chief Operating Officer of the International Federation for Housing and Planning (IFHP) (Denmark) among ico-D's new neighbours: the creative team at orangetango.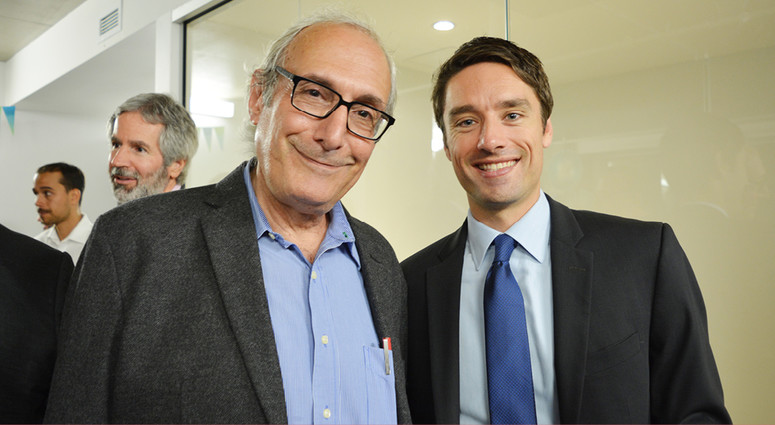 David Grossman, President-Elect of ico-D and Benoît Lefèvre, Project Director of Montreal International.

orangetango graciously opened their offices for the day's WSDO luncheon which gave participants a lived experience of the functionality and potentiality of the varied Secretariat spaces—which include main office spaces, a large board room with projector, a kitchen and other small and large meeting spaces, spread across the joined ico-D and Orange Tango wings.
the U building: "truly outstanding design"
The U building is a project commissioned by Developer, Federico Bizzotto, and carried out by the Montréal architecture firm Atelier Big City. "U" is the third project developed over the years in relation to the historic Unity Building—a concrete structure composed of 14 floors of both rental apartments and ground floor commercial units. The building is being recognized as a cutting-edge model for the development and restoration of former industrial buildings in Montreal:

"Creating excellence within this context demands thoughtful strategies and a cunning sense of priority. This project is a superlative example of what can happen when a talented design team has a mature understanding of typology and context in addition to the making of commercially viable housing."
— Canadian Architect, 1 December, 2010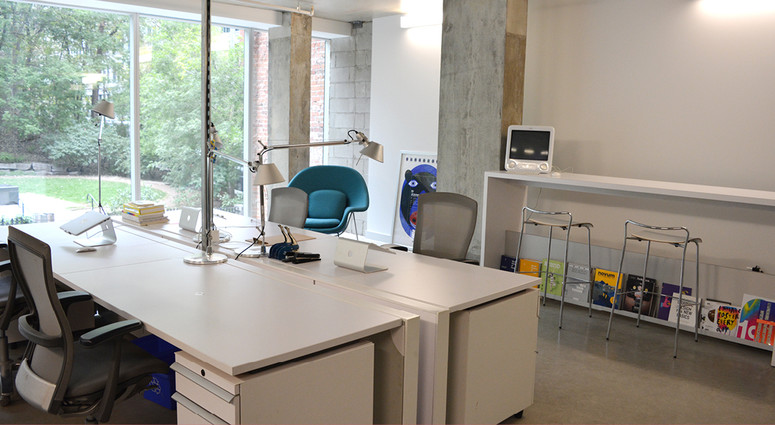 The new ico-D space.
In addition to being a sophisticated solution to urban development on account of what is termed "an innovative unit planning and stacking plan," some other distinguishing features include the U building's curtain wall facade, and its deeply set-back entrance which evokes Montreal's typical porte cochère, a "coach gate" or covered entrance large enough for vehicles to pass through, typically opening into a courtyard.
Inspired by Montreal typologies, and responding to its adjacent buildings Unity 1 and Unity 2, the floor-to-ceiling windows of mullion-free glazing, with coloured glass spandrel panels and Stanstead granite vertical piers, undulate to expose at times, the red brick and concrete frame of Unity 1. While public and private spaces retain separate boundaries, a relationship between them happens through a play of light, via light wells, privacy screens and handrails arranged so that daylight can pass through into the interior courtyard from the interior of the building. Considered a moment of brilliance with regards to its approach to high-density commercial housing project, Canadian Architect magazine writes:
"This is a truly outstanding design—intelligent, careful, and spare—grammatically correct keeps coming to mind. The variegation of the front elevation is a four-for-one story, relating the contemporary with the heritage, offering individual identity within a larger whole, which gives an urban edge and an exegesis of curtain-wall potential." The project was designed to make the impressive view of St. Patrick's Basilica and its garden the focal point, in a complementary relationship between urban and green space."


'Intelligent', 'careful', and 'spare' are words that also characterise the Council's new strategic approach as its renews its clarity of vision. Acting as a vital anchor in Montréal, with aim to serve the larger global design network, ico-D's goal for the coming years is to provide effective advocacy, services, networking, promotion, and outreach programmes for its Members. With clearer goals in view, and the capacity in place to carry them out, ico-D will uphold, as always, the legacy of the Council's value as a Member-driven, people-oriented design body. The launch of the new ico-D space marks this positive new milestone.