Walter Jungkind to receive Icograda Achievement Award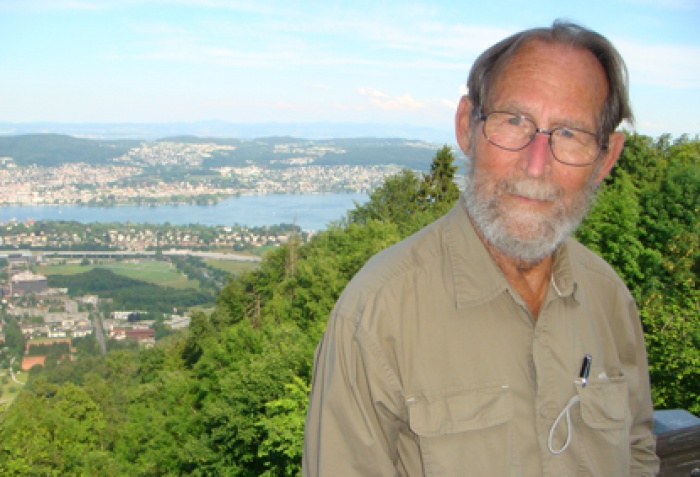 26.08.2012 News
Montreal (Canada)
– Based on the successful nomination from the (GDC) this past May, the Icograda Board is pleased to have selected
Walter Jungkind
(Icograda President, 1974-1977) to receive an Icograda Achievement Award.
Created in 2001, the honours an outstanding career. The Award may be presented to an individual or a team in recognition of outstanding and consistent achievement in the practice, education or promotion of communication design. Recipients receive a signed certificate and engraved trophy.
Matt Warburton (CGD, FGDC), who currently serves as the Ethics Chair of the BC Chapter of the GDC states that, "For me personally, I have always looked to Walter as the model by which I dedicate myself to the GDC and our design community. His selfless contributions and ongoing concern for our profession not only in Canada, but around the world, is inspiring and humbling and I cannot think of a more appropriate way to recognise this wonderful man."
GDC members, family and guests will share in the celebration for Walter Jungkind on Friday, 19 October 2012. The presentation will be hosted by the GDC/Alberta North chapter at the Union Bank Inn in Edmonton, Alberta (Canada), where Walter presently lives. Robert L. Peters (Icograda President, 2001-2003) will be presenting Walter with this distinguished honour.
About Walter Jungkind
Walter Jungkind has been a pioneering graphic design educator and practitioner in Canada, Switzerland, and England for over 40 years.
Walter is a Fellow of the Society of Graphic Designers of Canada and a Fellow of the Chartered Society of Designers of Great Britain. He was a founding member of the Society of Graphic Designers in Canada, first serving as chairman of the Education Committee, and subsequently three years as National President. He also served as president of Icograda, and for many years served as Canadian delegate to
ATypI
(Association Typographique Internationale).
In 1968 he was invited as Visiting Professor to the in Edmonton, Canada, where he was instrumental in establishing the Division of Visual Communication Design and where he subsequently was promoted to Professor.
Among his honours are the Icograda Award for Design in the Educational Field, Vienna 1972, the Medal of the Royal Canadian Academy of Arts 1976, an Award of Excellence from the Type Director's Club of New York in 1979, the Chairman's Award of Merit of the National Design Council of Canada 1979 and a Citation of Merit from the Chairman of the National Design Council in 1982. He served several years as Chairman of the Canadian Advisory Committee on International Signs and Symbols of the Standards Council of Canada and as Canadian delegate to the International Standards Organization (ISO) in Geneva.
Walter provided the theme and structure, 'Design for Public Service', for the 1977 Icograda World Design Congress in Zürich and Lausanne. He was on the organising committee and represented Icograda at the Icograda World Design Congress on 'Design Evaluation' in Chicago in 1979.
An active contributor to the design profession, he co-wrote the definition of Graphic Design for GDC National in 2006 and continues contributing and participating with the Alberta North Chapter on an advisory capacity.
Since retirement, he has been establishing a bibliography of his approximately 5,000 books and written some articles on typography. Select pieces of his design work have can be found in the Canadian Art Database at
www.ccca.ca
Read Walter's full bio on the
GDC website
.
---
International friends and those wishing further information are asked to contact:
Ana Herrera CGD
E:
president.abnorth@gdc.net
About GDC
Founded in 1956, GDC is the Canadian national organisation for professional graphic designers and represents more than 1300 of Canada's leading practitioners. The Registered Graphic Designers of Ontario (RGD Ontario), the first accredited body of graphic designers in North America, was created by the GDC in 1996 and was a Member Association of the GDC until 2003.
www.gdc.net