2011 ADAA semifinalists announced for period II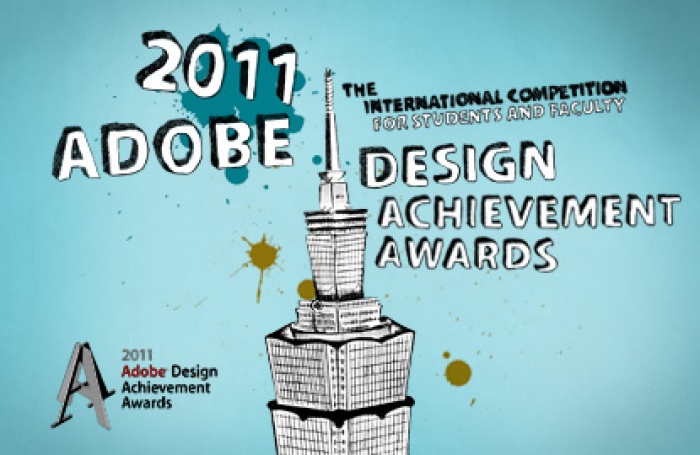 06.06.2011 News
San Jose (United States)
- The
2011 Adobe® Design Achievement Awards
is pleased to announce the semifinalists for Period II of the competition. Projects received between 29 February and 29 April have been thoroughly reviewed by the Pre-selection panel and Category Jury who have selected deserving semifinalists in each category. The names of the 137 student semifinalists for this period have been announced on the
ADAA website
.
Period III
The third and last period of this year's competition is currently in progress and will close on 24 June 2011 at 17:00 Pacific time. Free to enter, the competition is open to students, faculty members, and staff members of higher education institutions throughout the world. Students may submit work up to 2 times in each of the 15 student categories. Faculty and staff may submit up to 2 times in 3 faculty and staff categories. Read the
competition rules
for more details.
Faculty submissions
This is the first year that the ADAA is accepting submissions in three new faculty and staff categories: Innovation in Traditional Media in Education, Innovation in Video and Motion in Education and Innovation of Interactive Media in Education. All entries in these categories received from 30 November - 24 June 2011 will be evaluated throughout June. Faculty semifinalists and student semifinalists for Period III will be announced in July.
Prizes
Student and faculty finalists will receive Adobe software and a trip to Taipei, Taiwan (Chinese Taipei), where they will be honored in an awards ceremony that will take place during the
2011 IDA Congress
set for 24-26 October 2011. Category winners also will receive a cash award of USD $3000.
Find out more at:
adobeawards.com
---
For more information, please contact:
Diala Lada
Projects Manager
Icograda Secretariat
E:
dlada@icograda.org
About Adobe Systems Incorporated
Adobe is changing the world through digital experiences.
adobe.com
About Icograda
Icograda (International Council of Graphic Design Associations) is the world body for professional communication design. Founded in 1963, Icograda promotes communication designers' vital role in society and commerce.
icograda.org
© 2010 Adobe Systems Incorporated. All rights reserved. Adobe and the Adobe logo are either registered trademarks or trademarks of Adobe Systems Incorporated in the United States and/or other countries. All other trademarks are the property of their respective owners.