COMING SOON: MY DUTCH DESIGN 2008/2009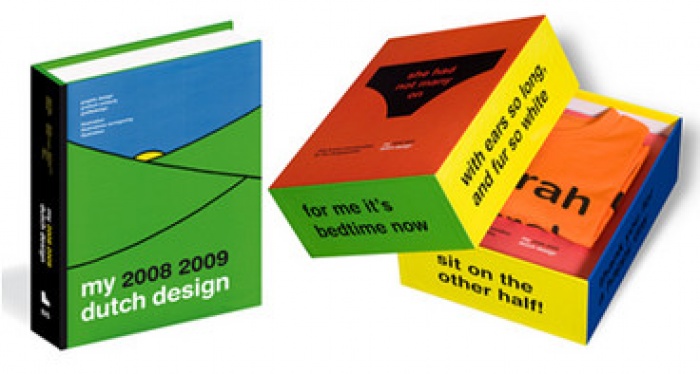 04.09.2008 News
Amsterdam (The Netherlands)
- The jubilee edition of the yearbook of the Association of Dutch Designers (BNO), entitled My Dutch Design 2008/2009, will be released on 25 September 2008. This tenth edition offers a broad and up-to-date overview of the best design work of more than 350 Dutch designers and agencies. The design of this near-900 page design bible is eye-catchingly spectacular.
Dutch Design icon Dick Bruna drew the covers, while the graphic design was created by the relatively young design agency De Designpolitie, known in part for the graphic column Gorilla on the front page of the daily paper De Volkskrant. The result is a marvellous symbiosis of two generations of designers, making it a Dutch Design classic in its own right. The jubilee edition will be published in four languages: in Dutch, English and German to start with, to be followed later this year in Chinese.
The Designpolitie's creative director Richard van der Laken, for who Bruna has also been a major inspirational figure, sees the yearbook as a tribute to this world famous graphic designer, illustrator and writer. "It turned out to be quite a challenge to create your own design alongside a giant the size of Bruna, but in the end I believe it worked out very well", says Van der Laken. "And Bruna was also satisfied with the result, by the way", he adds smilingly. My Dutch Design 2008/2009 sports the recognisable colour schemes of Bruna's 'Nijntje' (in English: Miffy), and is further adorned with well-known quotes from the children's book series, acquiring an entertaining new significance outside that context.
To mark the ten-year jubilee of this publication, BIS Publishers is complementing the regular version with a limited edition in a robust box with lid, which can subsequently serve very well as an attractive storage box. The limited edition also comes with a Dick Bruna/Dutch Design T-shirt (shown above). The limited edition with a T-shirt of one's choice is only available via
www.bispublishers.nl
. The yearbook will be presented on 25 September 2008 in the Dutch Design Centre in Utrecht, as part of the Utregse Diezijnprijs event.
My Dutch Design 2008/2009 consists of two parts:
Part 1: graphic design and illustration, 576 pages
Part 2: industrial design, packaging design, free design, spatial design and interactive media, 280 pages
Complete set € 95
ISBN 978-90-6369-180-6
Publisher:
BIS Publishers
in collaboration with BNO
---
For more information, please contact:
Association of Dutch Designers
Danzigerkade 8a
1013 AP Amsterdam
The Netherlands
T: +31 20 624 47 48
F: +31 20 627 85 85
E:
bno@bno.nl
W:
www.bno.nl