DEADLINE 31 MARCH: SAPPI SUPPORTS THE EURO-EFFIES TO REWARD EFFICIENT PRINT CAMPAIGNS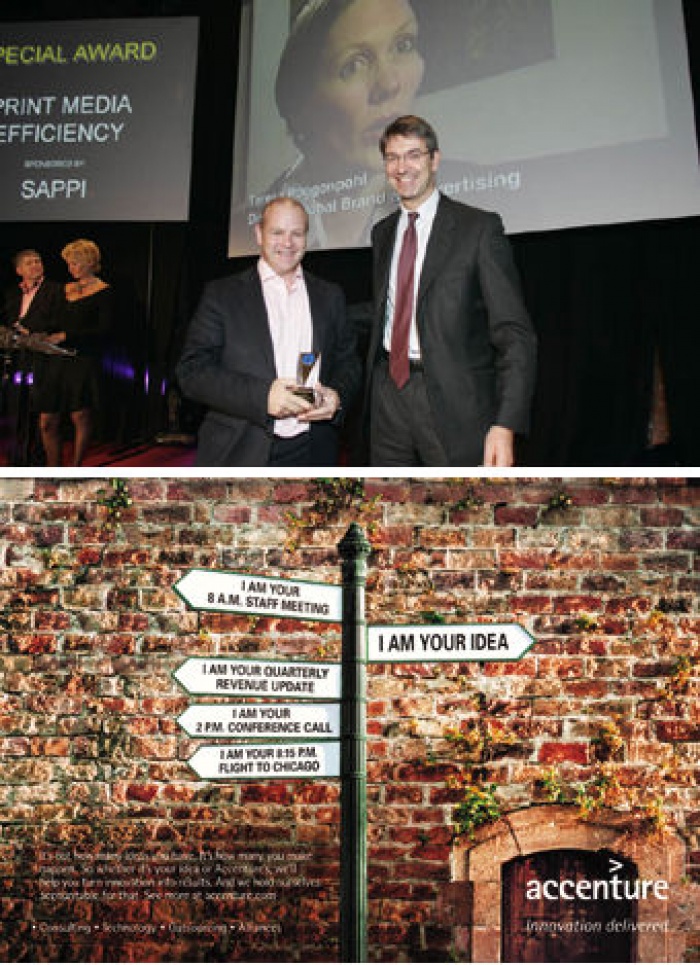 20.02.2005 News
Brussels (Belgium)
- Sappi, the world's leading producer of coated fine paper, invites the advertising industry to once again submit their integrated print campaigns into the EACA EURO EFFIES competition.
The campaign that has proven its effectiveness in integrating print media in the most efficient way will be rewarded with a special EURO-EFFIE award from Sappi. Whether print-only or in combination with other media, it will need to demonstrate how print has added measurable value to the brand it promoted.
The award, known as the Sappi Print Media Efficiency Award, was won by Young & Rubican in 2004 for the "I am Your Idea" Accenture campaign. Its highly efficient integration of print, broadcast and airport media, in which print accounted for 69% of media expenditure, resulted in a dramatic 34% increase in consultancy bookings.
"To communicate effectively in today's marketplace, it is vital to understand the special role and function of different media," says Craig Halgreen, Communications Manager at Sappi Fine Paper Europe. The Sappi Print Media Efficiency Award is intended to stimulate both advertisers and agencies to think about the effectiveness of integrated marketing communications using print as a key driver. Print media, whether it is advertising, direct mail or sales promotion material, is an essential part of the media mix and can substantially expand the reach of a campaign, communicate brand messages in different ways and often give them greater depth.
Advertising agencies and designers are invited to make electronic submissions for the 2005 Sappi Print Media Efficiency Award via the EURO-EFFIE site
www.euro-effie.com
before the 31 March 2005. Interested entrants may also visit
www.sappi.com/PrintMedia
for more information on this award and Sappi.
Notes:
Introduced in 1996 to reward advertising that builds brands across borders, the EURO EFFIES were the first pan-European advertising awards to be judged on the basis of effectiveness. Sappi has joined forces with the organisers of the awards, the European Association of Communications Agencies (EACA), to draw attention to the importance of demonstrating the effectiveness of advertising and promotional campaigns with a particular emphasis on the integration of print media.
The Sappi Print Media Efficiency Award and the EURO EFFIES will share the same jury, consisting of senior professionals representing a variety of communication and marketing disciplines, including media and creative agencies, advertisers, media owners, market researchers and marketing consultants.
---
For further information please contact:
Craig Halgreen
Corporate & Marketing Communications Manager
Sappi Fine Paper Europe
T: +32 2 676 9785
F: +32 2 676 9669
E:
craig.halgreen@sappi.com
Sappi is the world's leading producer of coated fine paper, the fastest growing sector in the paper industry. Sappi's coated fine papers include Magno, HannoArt, Presto and Royal and are specified by customers in more than 100 countries world-wide for high quality books, annual reports, brochures, calendars, magazines and promotional material.