DESIGN IGNITES CHANGE CHANNELS DESIGN THINKING TO IGNITE SOCIAL CHANGE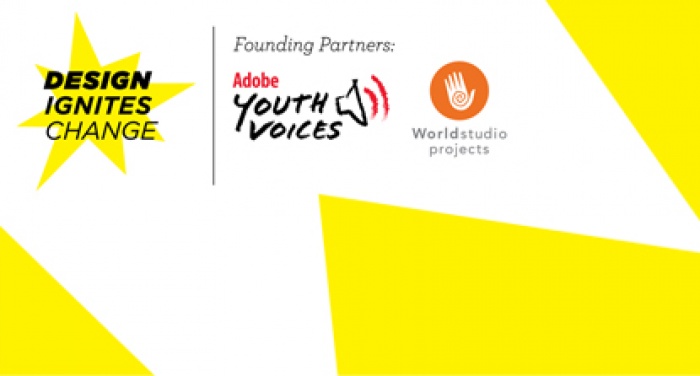 24.03.2009 News
New York (United States)
- Adobe Youth Voices and Worldstudio have announced the launch of Design Ignites Change, a programme that strives to foster a positive social change in the future generation of creative professionals.
Participants in this initiative include several Icograda partners and Member organisations: , Icograda Lead Corporate Partner;
AIGA
, Icograda Professional Member; and , an IEN member.
A major component of the initiative is a mentoring program through which college and university students, educators and creative professionals, work with underserved high school students to develop projects that will benefit their own communities, while giving them a voice around important social issues. The program will also serve to introduce these high school students to the creative professions as a career option. A guided option for the mentoring program will result in community billboard campaigns around the theme of tolerance.
"The response from the education and business communities has been phenomenal," said Worldstudio's Andréa Pellegrino. "They see Design Ignites Change as a breakthrough initiative that will bring visibility to innovative solutions addressing a range of social issues, happening at the college level, as well as a way to instill the importance of giving back to one's community in the next generation, through the high school mentoring component."
Advisors to the project include: Marc Alt, Marc Alt and Partners; John Bielenberg, Project M; Elan Cole, Johnson & Johnson; Steven Heller, School of Visual Arts; Debbie Millman, Sterling Brands. Visit
www.designigniteschange.org
for a complete list of advisors.
The Design Ignites Change website showcases students' process and project results. In the spirit of recognising meaningful work, projects submitted by December 31, 2009 will be considered for selection in the first annual Design Ignites Change Awards Program. A jury of leading professional designers will convene to select the most effective and innovative solutions. Winners will be announced in March 2010.
Design faculty from the following schools have committed to participating in this inaugural year of the Design Ignites Change program: Academy of Art University, San Francisco, CA; Alberta College of Art and Design, Calgary, Canada; Art Center College of Design, Pasadena, CA; College for Creative Studies, Detroit, MI; Corcoran College of Art + Design, Washington, DC; C.S. Mott Community College, Flint, MI; IIT Institute of Design, Chicago, IL; Otis College of Art and Design, Los Angeles, CA; Massachusetts College of Art and Design, Boston, MA; Metropolitan State College, Denver, CO; Parsons The New School for Design, New York, NY; Portfolio Center, Atlanta, GA; Rocky Mountain College of Art + Design, Lakewood, CO; University of Pennsylvania, Philadelphia, PA; University of Tennessee, Knoxville, TN.
Design Ignites Change is a joint project developed by Adobe Youth Voices and Worldstudio with support from AIGA, the professional association for design; Citizen Scholar Inc.; Cooper-Hewitt, National Design Museum; Core 77; Design Observer; Frog Design; Graphic Design USA; Williams & House.
If you represent a school or youth program and would like to find out how to participate, or a corporation or foundation wishing to support the program, please visit:
www.designigniteschange.org
---
For more information, please contact:
Design Ignites Change
E:
info@designigniteschange.org