DMI ANNOUNCES UPCOMING DESIGN, COMPLEXITY AND CHANGE CONFERENCE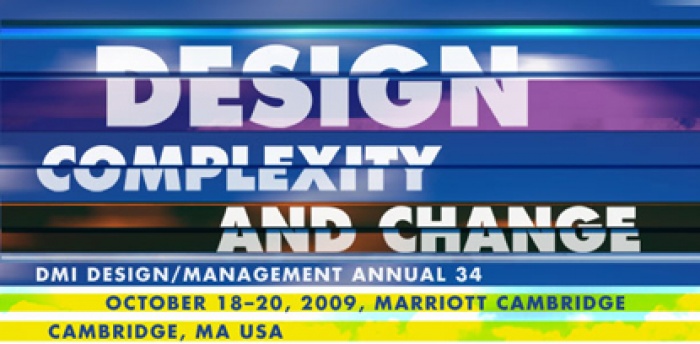 21.07.2009 News
Cambridge MA (United States)
- This October, the Design Management Institute, an , will host Design, Complexity and Change, DMI Design/Management Annual 34. Organised in collaboration with MIT, DMI's Annual 34 will be a different conference for different times.
In the midst of widespread turmoil, there are thought leaders and practitioners - in industry, government and academia - who are demonstrating the way forward. They're using design to solve the new challenges of profitability, sustainability and well-being.
In times of change, design managers need to think, work and execute beyond the normal - to drive business and industry in new directions and be better equipped as change agents. We need to help solve complex problems, rebuild systems, find new meanings, tell new stories, and drive organisational change. No longer is yesterday's "normal" the standard to achieving success. Leading in the future requires a deeper involvement to tackle both daily issues and the big picture.
Design, Complexity, and Change is about the people and practices who are designing at the edge of change. This conference will highlight their stories, and draw out lessons for how design can help us to reframe, rethink and reinvent our future.
To help us navigate, DMI is assembling a series of thoughtful and provocative sessions that address three key areas:
Indicators (explaining what is going on)
Projectors (how to interpret and project current changes into the future)
Leaders (how to help us adapt and solve greater problems)
Be a part of this change with leaders, including:
Watts Wacker, CEO, Futurist, FirstMatter LLC
John Maeda, President, Rhode Island School of Design
Michael Schrage, Fellow, MIT Sloan School of Management
Dori Tunstall, Associate Professor of Design Anthropology, and Associate Dean of Learning and Teaching, Swinburne University
Stephen Randall, CEO, LocaModa
Dev Patnaik, Founder and Principal, Jump Associates
Agnete Enga, Co-Founder Femme Den and Senior Industrial Designer, Smart Design
Dr. Thomas Kurmel, Colonel (Ret.), US Army, former Senior Advisor to the Assistant Secretary of Defense for Health Affairs
Michael Conard, Research Scientist, Urban Design Lab and Adjunct Associate Professor, Graduate School of Architecture, Planning, and Preservation, Columbia University
More speakers will be announced shortly.
DMI's Annual 34 will be short and succinct, focused and intense, easy to get to, yet hard to forget. DMI is mindful of your time and your budget. Organised with the Collaborative Initiatives at MIT, Design, Complexity, and Change will take place at the Marriott Cambridge and the MIT campus for a unique immersive experience.
For more details, visit the
DMI website
.
---
For more information, please contact:
The Design Management Institute
101 Tremont St.
Boston, MA
02108 United States
T: +1 617 338 6380
F: +1 617 338 6570
E:
dmistaff@dmi.org
W:
www.dmi.org